We've previously talked about the most unsettling, if you will, feature of iOS 14: the limitation of the IDFA. With the reveal of iOS 14 at the 2020 WWDC (You can catch our recap here), Apple had announced that developers would have to specifically ask users to allow tracking. This had big implications for revenue tracking companies such as AppsFlyer and Adjust.
IDFA in iOS 14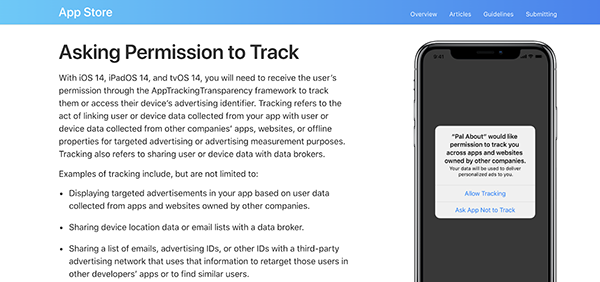 In case you missed our article about the implications of a limited IDFA, here's a quick recap: IDFAs are essential to tracking revenue on the App Store, especially from Apple Search Ads. Currently, the only option to limit such tracking is the "LAT On" option. To do this, a user has to hunt for it in their settings. According to Adjust, about 20% of iOS users are LAT on users. With iOS 14, users would be faced with a pop up for every new app asking if they would allow the app to track them. It's safe to bet that the number of "untraceable" users would jump up from 20%.
An Optional Option to Optionally Opt-In
Apple just announced that they would be making the new "Opt-in Option" for users an optional measure for developers. Per Apple:
"We want to give developers the time they need to make the necessary changes, and as a result, the requirement to use this tracking permission will go into effect early next year."
App Store marketers everywhere can breathe a sigh of relief. Instead of losing your trackable users in mere weeks, you know have a few months to come up with a solution. Which, honestly, AppsFlyer and Adjust both need more time to figure out how to (potentially) save their businesses. It's very possible that push back from advertising companies has caused Apple to delay their new tracking requirement. Facebook recently warned that iOS 14 could have such serious implications that they might pull their Audience Network off the platform altogether.
Is Apple Developing Their Own Solution?
There's no doubt that limiting user tracking will affect Search Ads. If you don't know how much money you're making (or at least where it's coming from), why would you pour money into advertising? This is purely speculation, but Apple's delay might hint at the idea that they could be developing their own solution. Instead using third parties such as AppsFlyer or Adjust, maybe revenue tracking will be available in Search Ads itself. This would allow Apple to limit third party tracking, while still maintaining the profitability of its Search Ads.