The long wait for the highly anticipated iOS 13 update is nearly coming to an end. Back in  June at WWDC19, Apple announced a few big changes that were coming down the pipeline with their annual September software change-up. Apple always appreciates when developers adopt the newest technologies and features in iOS and regularly creates featured groups or listings highlighting the apps that have. Here are some of the ways you can prep your app now for iOS13:
Dark Mode
Who isn't excited for Dark Mode?? With the introduction of Apple's Dark Mode on Mac, many iOS apps began to integrate their own versions. Now that Dark Mode is officially coming to iOS, developers need to make sure that their app fits into Apple's new API. iOS 13 could be a great time to update your screenshots to show off your UI in dark mode. We can definitely assume Apple will be featuring apps with this adoption built-in.
Sign In With Apple
An important new guideline involves Apple's new "Sign In with Apple" feature. Similar to logging in with Facebook or Google, users will be able to sign in with their Apple ID from their devices. "Sign In with Apple" generates a random apple email address that will forward emails to the user's actual email. Now, developers won't always have access to a user's email address. It's currently available for beta testing, but will become a requirement for any apps that offer sign-in options:

App Store for Apple Watch
WatchOS 6 will bring the App Store to people's wrists everywhere. If you already have a Watch app, this can be huge as you can increase your downloads through users who already have your app on their phone, but haven't installed it on their watch. Developers can also now upload watch-only apps to App Store Connect. 
App Store Search Note: In conjunction with the new Watch App Store, the App Store will start displaying results for Apple Watch Apps. Screenshot example below: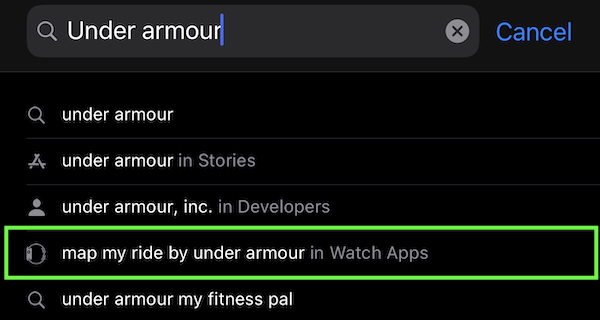 Custom fonts
Apple is loosening up on the uniform look that it's become famous (or infamous) for. With iOS 13, Apple will be allowing users to download pre-approved fonts from the App Store to customize your iPhone just a little bit more. Users have the ability to choose where fonts appear. While Apple hasn't released yet which of its apps will support its new fonts, it could be a good move to add in your own font support.
Bringing iOS apps to MacOS
Creating macOS apps is going to get much easier. Apple has streamlined the process of creating macOS apps from existing iPad apps. Apple is hoping to revamp the Mac App Store by making it extremely easy to make MacOS apps. Their whole tagline was that "now one team can make iPhone, iPad and Mac apps."
Updates to Apple Review Guidelines
Apple will be rolling out additional new guidelines for developers. These mainly deal with protecting user privacy. Any new apps going on the App Store are expected to comply with the new guidelines. Apps that are already on the App Store will be required to follow the guidelines starting September  3 of this year. One of the major changes deals with apps targeted towards kids. According to Guidelines 1.3 and 5.1.4 Apple will deny any apps that include third-party advertising or analytics software (ex: Appsflyer, Adjust, etc…).

Whenever Apple updates both its software and devices (you can be sure that new iPhones, iPads and more are coming), it creates such a hype amongst users that you'd be crazy to not try to take advantage of it for your app. Thankfully, you can prepare your app to be best positioned now for when iOS 13 becomes available to the public.