In case you missed it, Apple had their annual Worldwide Developers Conference (WWDC) yesterday. During the keynote, Apple introduced iOS 13, watchOS 6, iPadOS, macOS Catalina and some other exciting products & news. The overwhelming focus of WWDC this year was user privacy and better software performance for devices. Following the typical Apple calendar, iOS 13 will be available later in the fall of this year, but we'll take a look at some of the biggest changes for developers and app marketers.
Here are some of the key highlights:
Apple Watch App Store
The Apple Watch will be getting its own App Store where users can now download standalone apps for their watches. You will also have the ability to browse and download apps directly from your watch. Apple will also be bringing in some of their staple iPhone apps to WatchOS 6, including Audiobooks, Calculator and Voice Memos. 
App Store Search Note: In conjunction with the new Watch App Store, the App Store will start displaying results for Apple Watch Apps. Screenshot example below (#darkmode):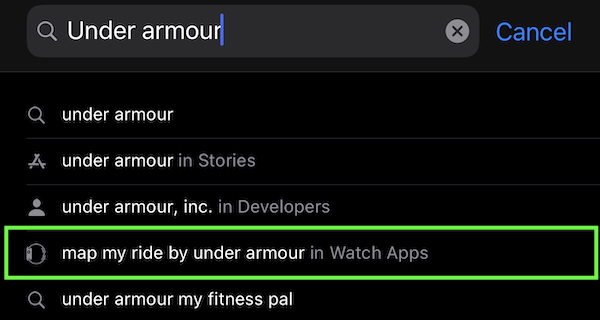 Guideline Changes
Apple will be rolling out additional new guidelines for developers. These mainly deal with protecting user privacy. Any new apps going on the App Store are expected to comply with the new guidelines. Apps that are already on the App Store will be required to follow the guidelines starting September  3 of this year. One of the major changes deals with apps targeted towards kids. According to Guidelines 1.3 and 5.1.4 Apple will deny any apps that include third-party advertising or analytics software (ex: Appsflyer, Adjust, etc…).

Sign In with Apple: An important new guideline involves Apple's new "Sign In with Apple" feature. Similar to logging in with Facebook or Google, users will be able to sign in with their Apple ID from their devices. "Sign In with Apple" generates a random apple email address that will forward emails to the user's actual email. Now, developers won't always have access to a user's email address. It's currently available for beta testing, but will become a requirement for any apps that offer sign-in options:

Project Catalyst
When Apple announced Project Catalyst, you could hear the audience saying "wow" — even from the live stream. Project Catalyst is a new technology that will let developers easily transfer their existing iPad apps to MacOS. Apple is hoping to revamp the Mac App Store by making it extremely easy to make MacOS apps. Their whole tagline was that "now one team can make iPhone, iPad and Mac apps."
iPadOS: Apple announced that iPads would be getting their own OS. iPadOS will allow a user to use an iPad to function more as a laptop. It comes with custom fonts that can be downloaded from the App Store, new shortcuts and gestures and an improved Apple Pencil responsiveness.
*Important note: Project Catalyst will only transfer apps that have iPad compatibility. So if your app is only offered for iPhone, you won't be able to transfer it to the Mac App Store
iOS 13
Of course, no WWDC would be complete without the unveiling of the newest iOS. First and foremost, the much anticipated "Dark Mode" is finally here which will allow users to toggle the theme of the iOS UI to a darker setting. With the functionality built in to iOS, users who choose to opt for "dark mode" might start to expect ALL of their apps to function in "dark mode" as well. This is something for developers to consider when creating or updating apps for iOS 13.
Additionally, iOS 13 will debut "quick path" typing, the equivalent of Google's "glide typing" allowing users to swipe across the keyboard for text entry. Another major change for developers is the modification to the location sharing permission. Users can now choose to allow an app to access their location on a use by use basis, rather than a blanket "confirmation" to use location. If the user chooses to always share their location, iOS will provide detailed reports on how an app is using their location.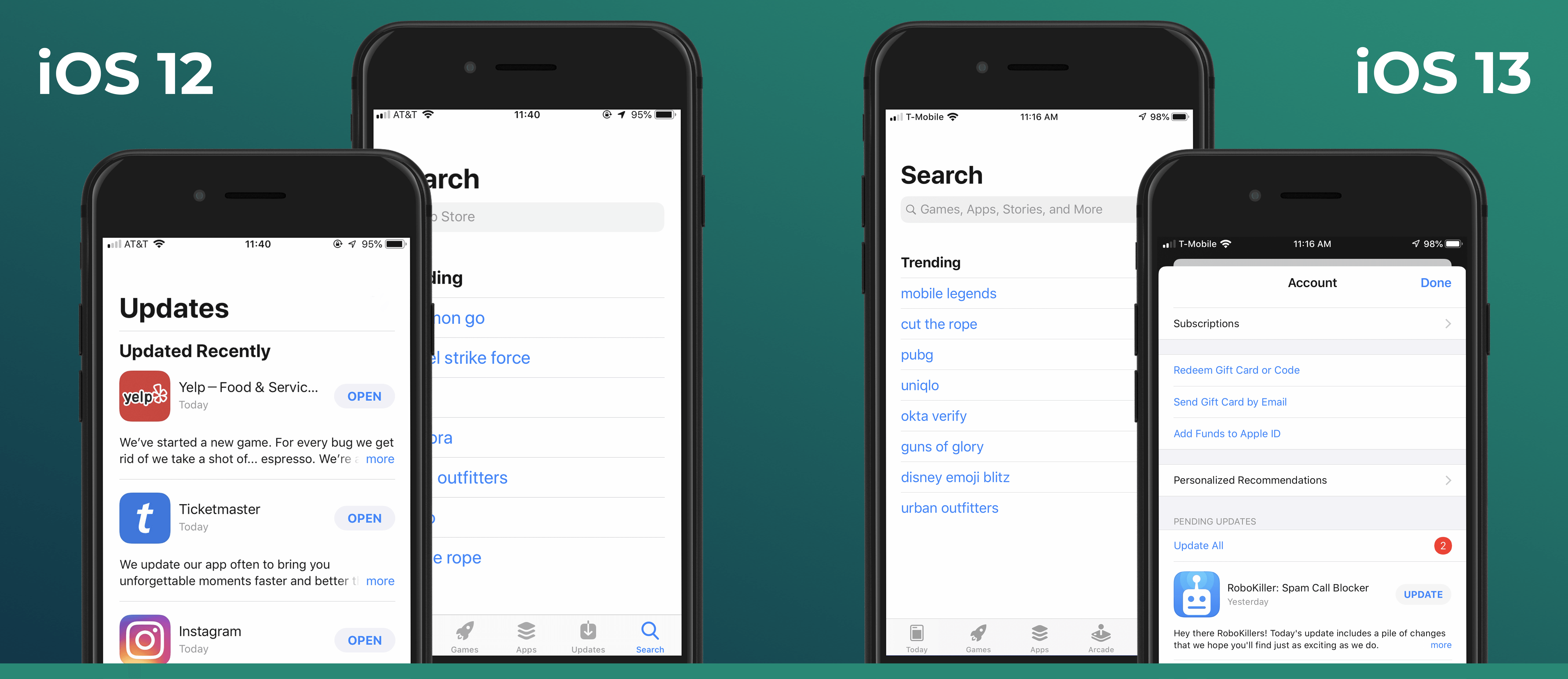 App Store Changes: You no longer need to waste time coming up with a clever "What's New" description for your app updates because Apple has rearranged the App Store to make the list of app updates a less prominent feature. Instead, Apple Arcade will be taking a seat at the App Store navigation bar, and the "Pending Updates" will be in a separate view accessed when the user taps their profile image.
Smaller App Sizes: Apple is decreasing the sizes of apps in an attempt to improve iPhone performance. This will allow apps to download twice as fast as they currently do. Additionally, this will also allow users to download larger apps over cellular networks instead of waiting for WiFi. This will be huge for the conversion rates of developers with larger games.
Exciting changes are coming down from Apple's development team. The developer betas for all of the new software are already available. Public betas will be released in July before everything goes public sometime this fall. Developers should definitely get a head start and download the beta versions of software to start experimenting and testing these new features. Apple will undoubtedly feature apps utilizing new technologies when iOS 13 is launched!