The Apple Search Ads platform has proven to be an extremely effective source for acquiring users, and has given a lot of insight into keyword volume on the App Store. As the platform has expanded to new countries, it's provided developers with additional opportunities for expansion and growth.
In addition to creating campaigns where you define specific keywords to bid on, an effective tactic is implementing a "Discovery" campaign in which you don't necessarily define specific keywords, but rather rely on Apple's "Search Match" capability to help discover new keywords that are [hopefully] relevant for your app.
Here are a few tips to make sure your Discovery campaign is as successful as possible:
1) Run an Exact Match Campaign with your Discovery Campaign
A typical structure for an Apple Search Ads strategy will contain an "Exact Match" campaign in which you are bidding on specific terms in their exact form, rather than broad match. It's important to toggle Search Match OFF on this campaign so that your ad is only displaying for the specific keywords that you've entered.
Then, when you create your Discovery Campaign, you don't need to define any specific keywords, but you DO need to add all of your Exact Match Campaign keywords as "Negatives" in your Discovery Campaign. The purpose of this is to prevent the Discovery Campaign from duplicating and bidding on keywords that you're already targeting.
This concept will allow the Discovery Campaign to do its job and actually "discover" new keywords for you.
2) Fine tune discovery with negatives
The key to any successful Apple Search Ads strategy is relevancy. You need to target keywords that are relevant for your app in order to generate a high tap-through-rate (TTR) and conversion rate (CR). Apple's bidding auction will prioritize apps that are achieving high TTR and CR for specific keywords.
That being said, it's important to constantly monitor and audit the Search Terms that your ad is being displayed for in your Discovery Campaign. The Search Match function is not perfect, and you will undoubtedly see Search Terms in your Discovery Campaign that are not relevant for your app. In order to further "teach" and "improve" the discovery of keywords, make sure to add these irrelevant terms as Negative Keywords for the campaign.
Examples of irrelevant keywords in ASA:
"buy electronics" results in an ad for Cars.com 
"cars.com" results in an ad for Chewy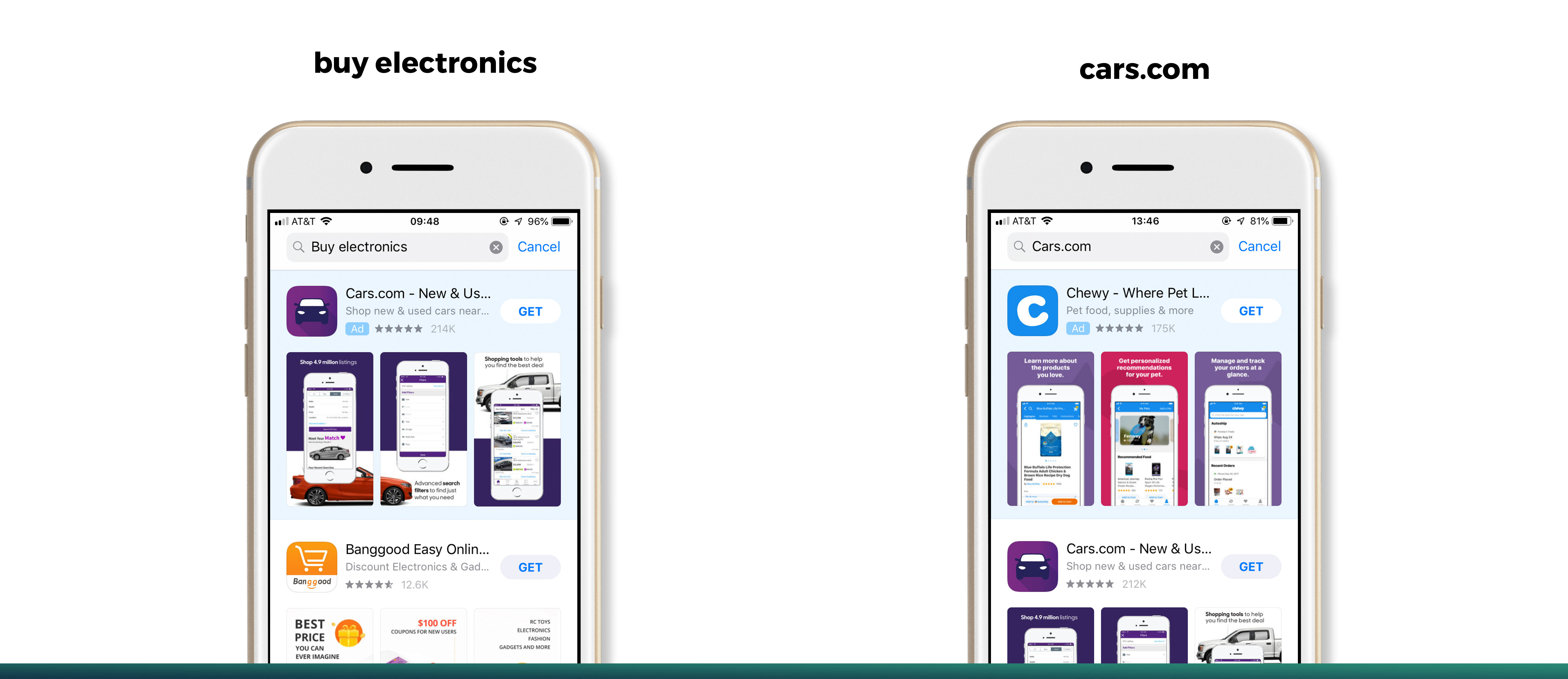 3) Move the best keywords
When you find a keyword in your Discovery Campaign that is relevant and performing well (high TTR, CR, etc…), add it as a Negative Keyword for the Discovery Campaign, and then add it as a targeted keyword in your Exact Match campaign. By adding the keyword as a negative in your Discovery Campaign, you're allowing the Search Match algorithm to continue discovering additional terms. Obviously if the keyword is performing well, you need to keep bidding on it, so that's why we move it over to the Exact Match campaign. That way, you can target the term with a specific bid, and be able to track the downstream performance in your attribution analytics (like AppsFlyer).
Ultimately, the cycle never ends. You should be constantly monitoring the Discovery Campaign to be sure that you're not wasting money on irrelevant terms and you're making the most out of the keywords that are performing well.