The App Store is like a gladiator arena for apps: there are winners and losers, legends, one hit wonders and everything in between. It doesn't matter if you've been around for 10 years or one — in the App Store, everyone is competing for the same keywords. So how do you get to the top?
Everyone say it with me now: App Store optimization. Having a solid ASO strategy isn't something that just smaller companies need to do. You could be the biggest fish in the tank and be beat out for downloads by smaller, newer companies. In fact, that's exactly what's happened to JPMorgan Chase & Co. 
Previously, we explored whether or not big name brands can benefit from ASO by highlighting some opportunities for the Panera Bread app, now let's take a look into the Chase Mobile on the Apple App Store.
JPMorgan Chase is the largest bank in the country, the sixth-largest in the world and controls over $2.5 trillion in total assets. Sounds like they'd be a big contender in the App Store. However, when you search "mobile banking", they don't pop up in the first top 10 apps… or the top 50… or the top 100. How can the largest bank in America, which ranks #7 in finance, become a contender in what should be an area where they're crushing the competition?
Here are a few ways ASO can help Chase climb the ranks:
1. Keywords, keywords, keywords
We're right in the thick of the digital age. More and more people are comfortable with an online-only bank and rarely need a brick and mortar location. For any app, including the finance category, if you want to ensure longevity for your company nowadays, you need to be capturing the younger generation — and they're all on their phones! 
Let's take a look at some keywords and their respective rankings for the Chase Mobile app: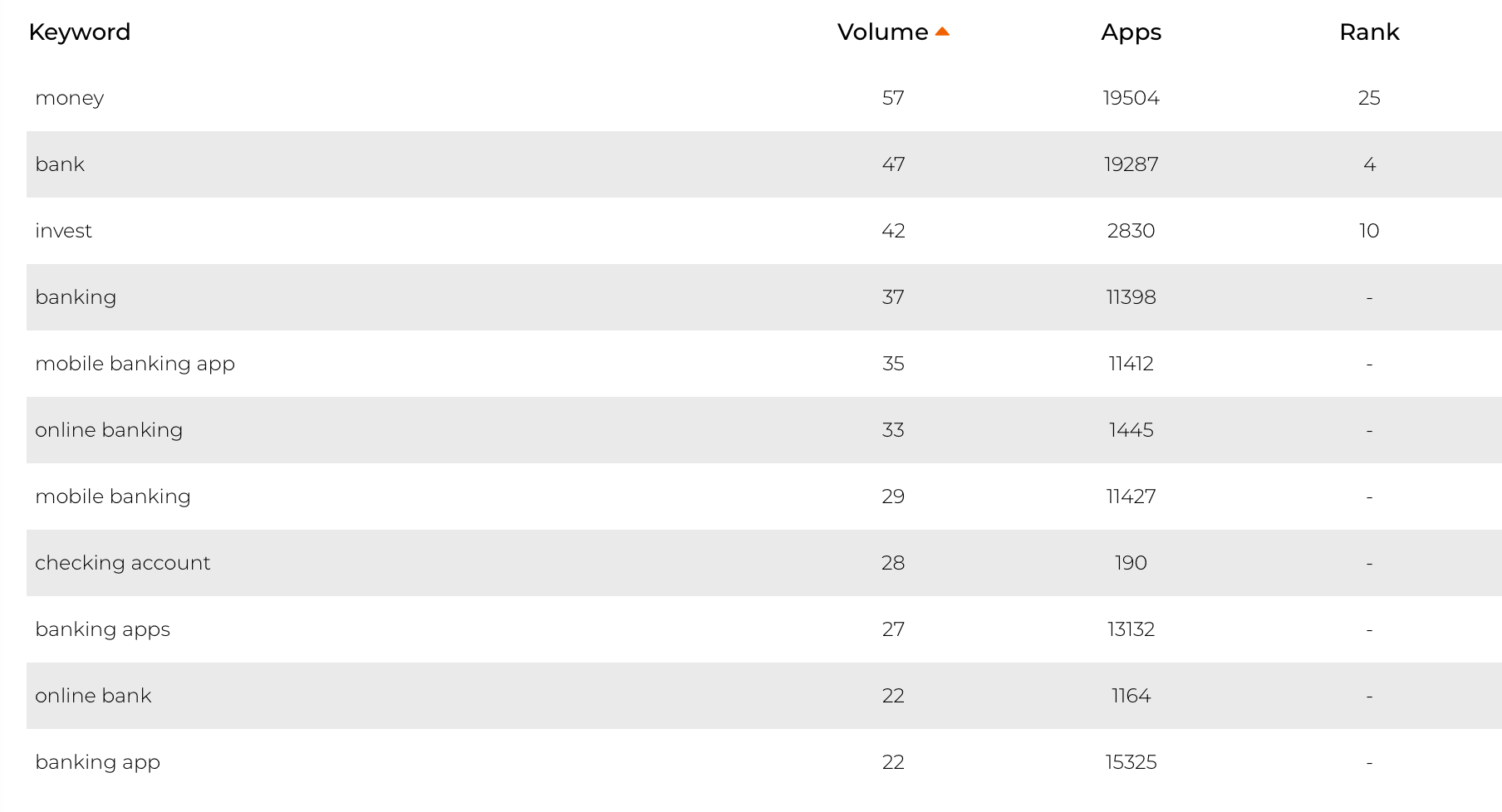 As you can see, there are relevant, high volume terms that the app does not hold a ranking for. Currently, Chase has their title set to "Chase Mobile" which only utilizes 12 of the available 30 characters. They are not utilizing a subtitle (which is a huge missed opportunity!). In terms of keyword rankings, the Chase Mobile app does not rank for "banking", "mobile banking" or "online banking" — all of which are medium to high volume terms that are extremely relevant.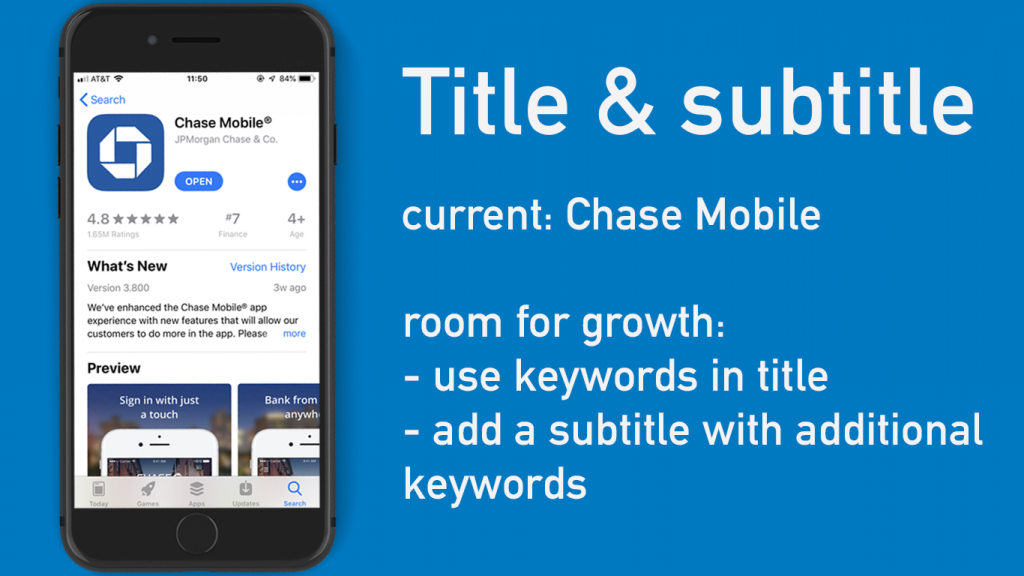 As a banking powerhouse, if Chase were to add banking or mobile banking to their title, there's no doubt they'd be in the top 10 overnight for "mobile banking" and eventually climb into the top five in search results. Adding a subtitle with relevant keywords would also help to greatly improve rankings and visibility.
2. A picture says a thousand words
The Chase Mobile app's screenshots are in area that can be tested and improved. From a style standpoint, utilizing the blurred background can be effective, as long as it doesn't make the screenshot test callouts more difficult to read. This is an area worth testing to see if using the classic Chase blue color would lead to cleaner messaging.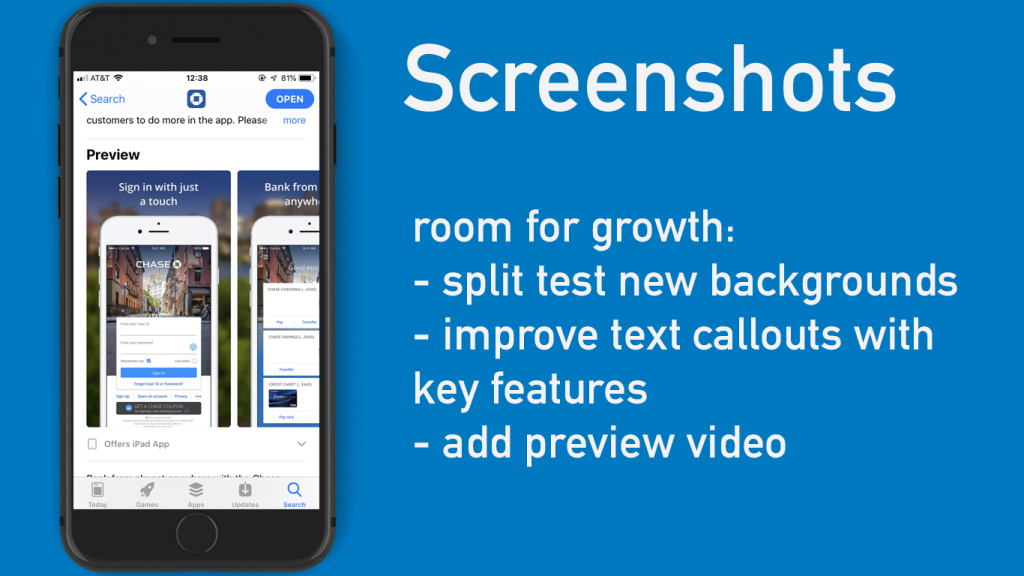 One of the most important (and commonly overlooked) aspects of screenshots are the text callouts. This is an app's opportunity to highlight the key features and differentiators from the competition. Currently, the Chase Mobile app's first callout is "sign in with just a touch" (or FaceID if you have an iPhone X). In today's world, FaceID and TouchID are somewhat standard, and doesn't need to be a highlighted point in the most visible screenshot. Focusing on the simplicity of the app, the ease of paying bills, transferring money, depositing checks or highlighting their new investment products would all be more valuable options for the visible screenshots.
Chase could also benefit from having a video preview. They've put a lot of work into their app to make it stock full of nifty features for their customers. This is a great opportunity to show off these features in an effective way.
3. Use Apple Search Ads to promote and defend your brand
When you search "Chase Mobile" on the App Store, you're often displayed an ad and the Bank of America's mobile banking app has a huge Share of Voice for Chase-related keywords. Yikes, not good. 
Now on the one hand, if someone is searching for Chase on the App Store, chances are they're specifically looking for Chase's app. But there's also the chance that someone is looking for a mobile banking app and they think "oh, largest bank in America, let's check out Chase's app." Then boom, they stumble upon BoA's app and Chase is out a customer. It's always worth defending your brand with Apple Search Ads.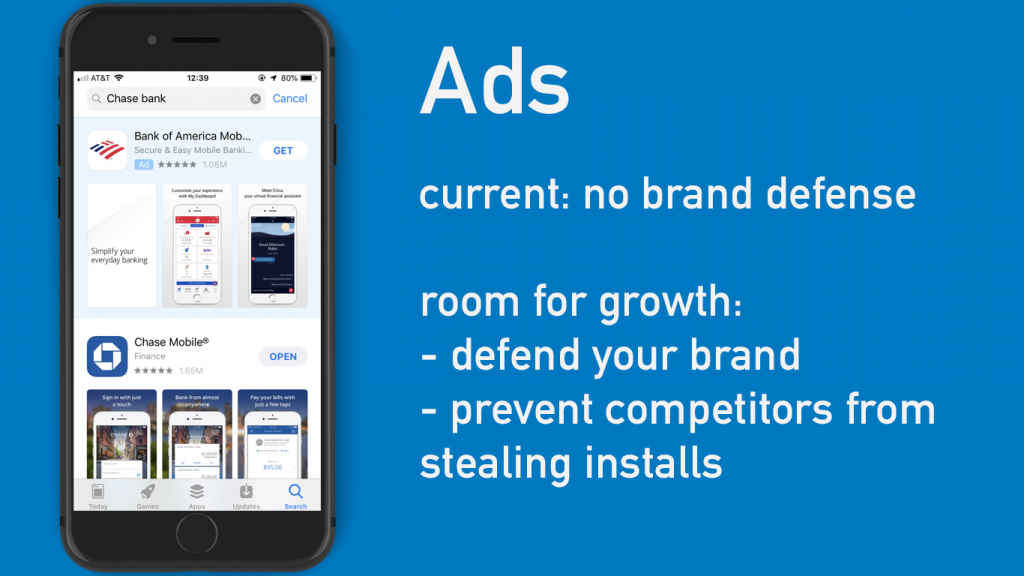 If Chase were to implement these three easy steps into their ASO strategy, they would undoubtedly see a major improvement in keyword rankings and organic installs. That's how the number one bank in America becomes the number one bank on the App Store!
Ready to start playing the App Store game like a heavyweight champ?