App Store Optimization is a proven strategy to boost rank and installs for any growing app. But what about the App Store's most famous brand names? Are the top dogs too big to lose or can they still benefit from a dedicated ASO strategy?
The truth is that in the competitive world of apps, you could rank #1 in the morning and drop significantly by the afternoon. Basically, just because you have a big name and years of acclaim, doesn't mean you are protected from the underdogs who put time and effort into their app store optimization. AND, just because you have a big name, doesn't mean your precious rankings are safe OR that you can't rank HIGHER! 
Ready for a reality check?
They currently rank #9 for the highly competitive term "Food Delivery".
Why? Simple, they have a great app with a ton of ratings and reviews.
However, they're still #9 on the list… in the world of search visibility on the app store, that's kinda like being on the second page of Google. *Hint* no one goes there to find what they're looking for.
And because of their app's "heat" (their keyword search volumes, install "velocity", ratings/reviews and retention), they could quickly jump up in rank with a fully optimized product page.
Here's how we would help Panera Bread climb the ranks
1. Get your keywords in your title and subtitle
It's highly beneficial to add keywords into your title if you aim to climb to or stay at the top of results. Just because you have descriptive keywords in your title doesn't mean your branding will be affected. Additionally, the Panera Bread app doesn't even utilize the valuable subtitle text. The subtitle provides an additional, heavily-weighted, 30 characters of keyword indexing opportunity. These are an integral part in moving up the ranks for your target keywords.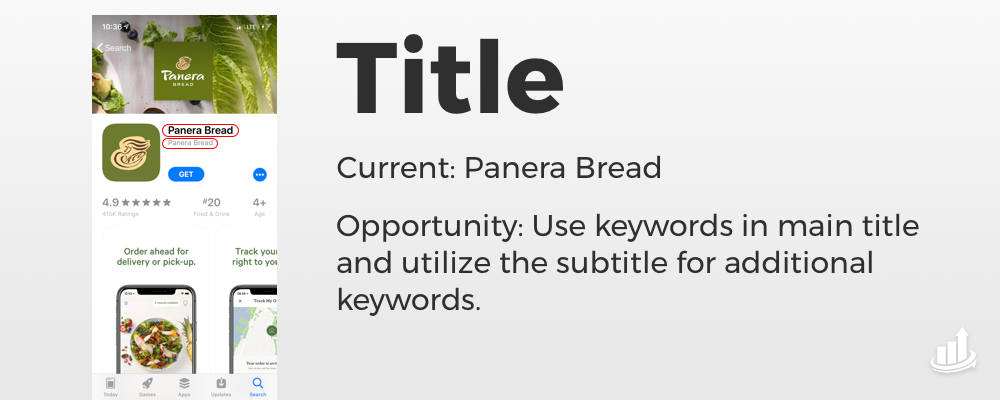 While we're on the topic of text optimization, Panera could add more info to their description as well. While the description doesn't index in the App Store, paying attention to including keywords in your Play Store app description could add a good boost to your ranking efforts as well.
2. Optimize your graphics
The Panera Bread app has opted for their graphic logomark for their app icon.
While this will resonate with true Panera brand loyals, even I, an avid fall-time soup lover, may not have recognized their lovely lady caressing a loaf of freshly baked bread 🍞.
We would definitely suggest adding the logotype that people can easily associate with Panera Bread to the app icon here.
For their screenshots, they did increase their optimization by creating unique screenshot graphics, but we would take these one step further.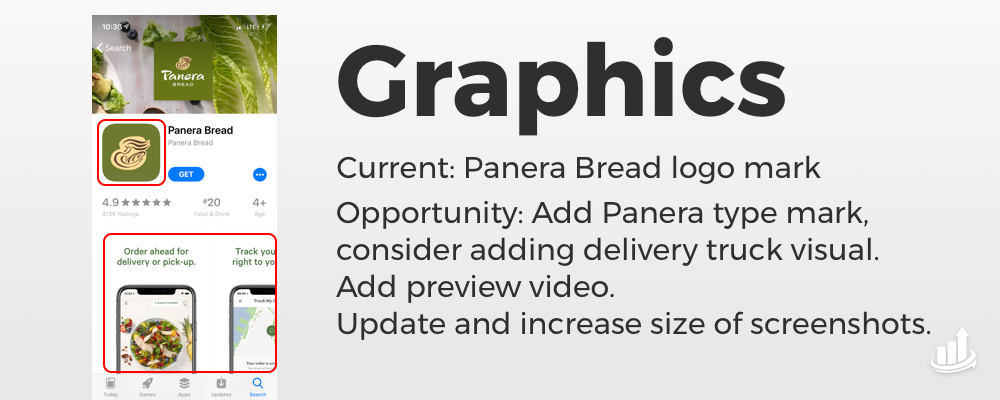 First, we would suggest Panera consider adding a preview video. Because people eat with their eyes first, this would give Panera a huge leg up on the competition (especially because none of the other top 10 have a preview video).
Secondly, we would redesign Panera's current screenshots with bigger, bolder text callouts and more enticing food imagery in the background. We would also likely increase the size of the phones within the screenshots so potential users can better see the UI of the app and know what to expect when they download and open it for the first time.
3. Paid acquisition benefits organic search visibility
Larger apps often times ride their brand name success and don't pay as much attention to organic users and rely heavily on paid acquisition.
But did you ever think about how paid acquisition user spikes can also affect your organic rankings?
When an app has a high install velocity from paid acquisition like Apple Search Ads, this also signals the App Store's search algorithm that your app should rank higher for various terms as well. It's a win-win situation (as long as your CPI is affordable).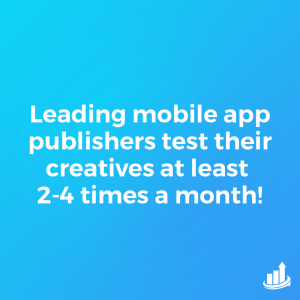 So in short, Panera should also invest in Apple Search Ads to benefit their longterm ASO strategy.
4. Don't bore new or returning users
Even if your app has national acclaim, people will still get bored of seeing the same thing from you all of the time. You can become stale and irrelevant very quickly in a 2018 digital world.
StoreMaven found that "leading mobile app publishers test their creatives at least 2-4 times a month."
This is exactly what you should do to remain on top of the charts! Test new screenshots, a new video and a new icon (isolate one split test at a time, of course) but don't be afraid to change your direction if the data supports it!
So the answer is YES, big-name brands can still benefit from a dedicated ASO strategy.
In fact, one could argue they need a dedicated app store optimization strategy to retain their rankings and future-proof their success within the app stores.
Ready to start your dedicated ASO strategy?