With school coming to a close, kids and teens are about to start spending less time together in school and more time online — specifically on social media sites. One of the big ways that apps can get conversion traction is through word of mouth. So what do you do when school-aged kids, one of the biggest chunks of the market (especially for learning and gaming), stops hanging out en masse? Go where they're going: Instagram!
Instagram has always been a mobile-first platform, making it ideal for mobile app advertising. Instagram users also have high engagement rates, which translates to more clicks and downloads for you. If you have an app and you're looking to advertise, Instagram is the place for you. Let's take a look!
Instagram Ad Formats
Instagram is a very visual platform, full of images and videos, which makes it an extremely effective place to demo your app, or show off a key feature. Instagram offers multiple types of ads for advertisers to choose from, each requiring a slightly different set of creative assets.
Instagram Feed:
Photo ad: An ad run with simply one photo, like users typically see in their feed.
Video ad: Instagram is becoming very video-heavy as more users are creating video content, and advertisers are leveraging the video spots to demonstrate and introduce their products through visuals and sound, rather than a static image.
Carousel ad: A post that contains multiple photos and will allow users to swipe through multiple images.
These three ads, while allowing you to use different creatives, all pretty much follow the same format: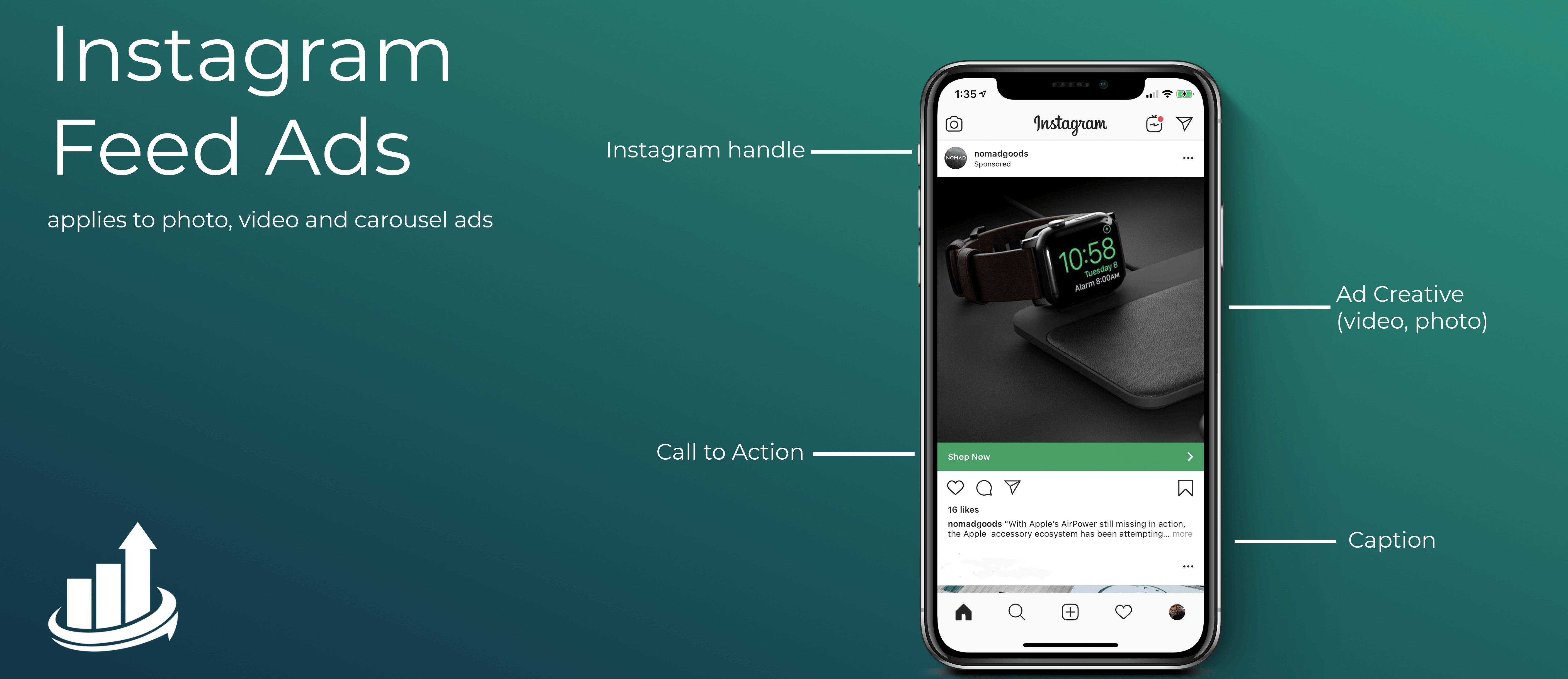 These ad formats all contain four main components: Your handle, ad creative, a call to action and your caption. If you're using an instagram page for your app, then it should already have the handle set to your app name. Don't try to get nifty by using crazy misspellings or adding in symbols and numbers. (hint: this also applies to the name of your page (different from your handle) — make sure it is as close to your app name as possible)
We'll look more at choosing ad creatives below, so let's look next at the call to action (CTA) button. Your CTAs on Instagram ads can be very important. If you're looking for someone to download your app, you don't want a CTA that says "Learn more." Make your CTA accurate to the action the user will complete "Install Now" etc… 
The fourth component of an Instagram feed ad is your caption. While Instagram is a visually based platform, that doesn't mean you should overlook the caption. The caption is your chance to ad textual content to your ad and further introduce your app.
Check out some of the captions below to see what works well on Instagram: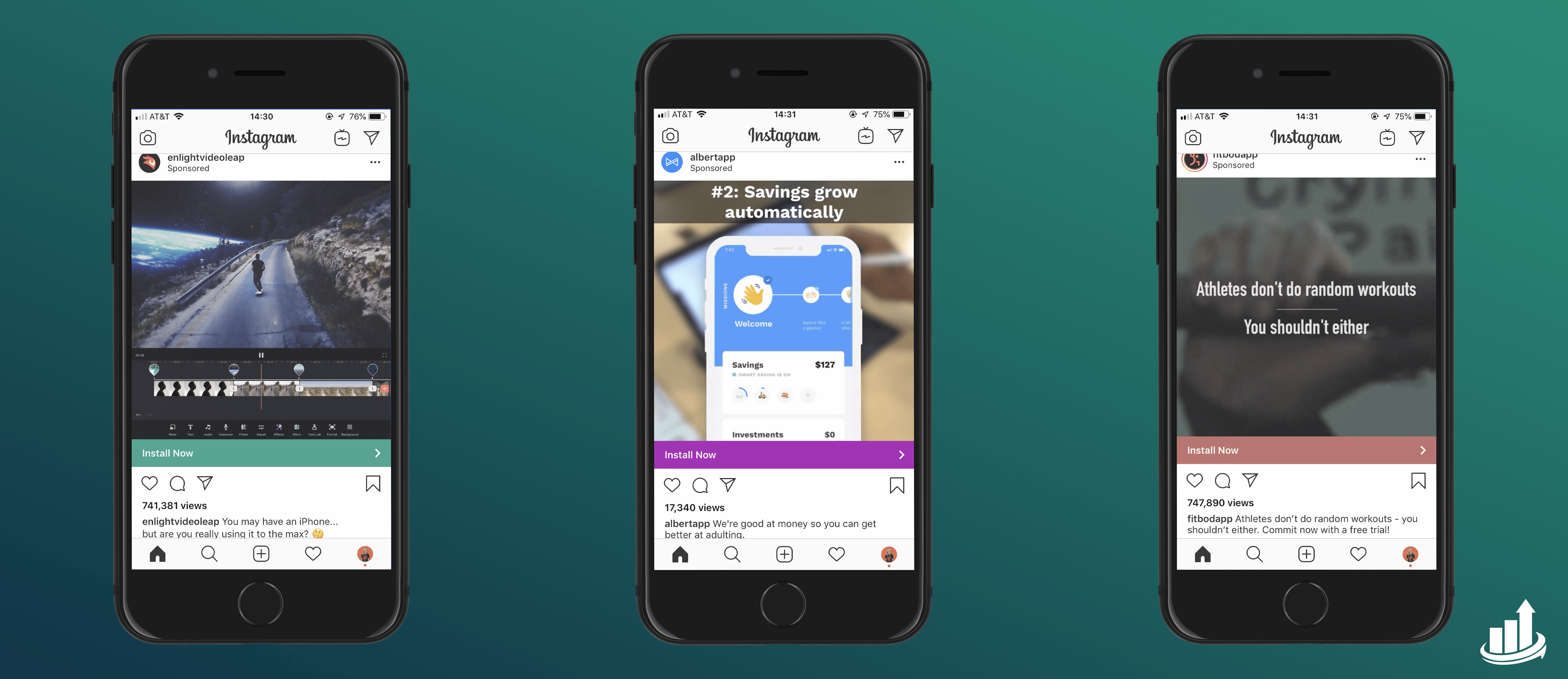 Instagram Stories:
With the growing popularity of Instagram Stories, a well-placed ad will slip your ad right in amongst a user's Stories! You can use one video, multiple photos or multiple videos to show off a fullscreen preview of your app. An Instagram stories ad almost functions as an app store preview video, except you have a lot more creative liberty. Utilizing the "Swipe up" concept creates a clear call to action for the user.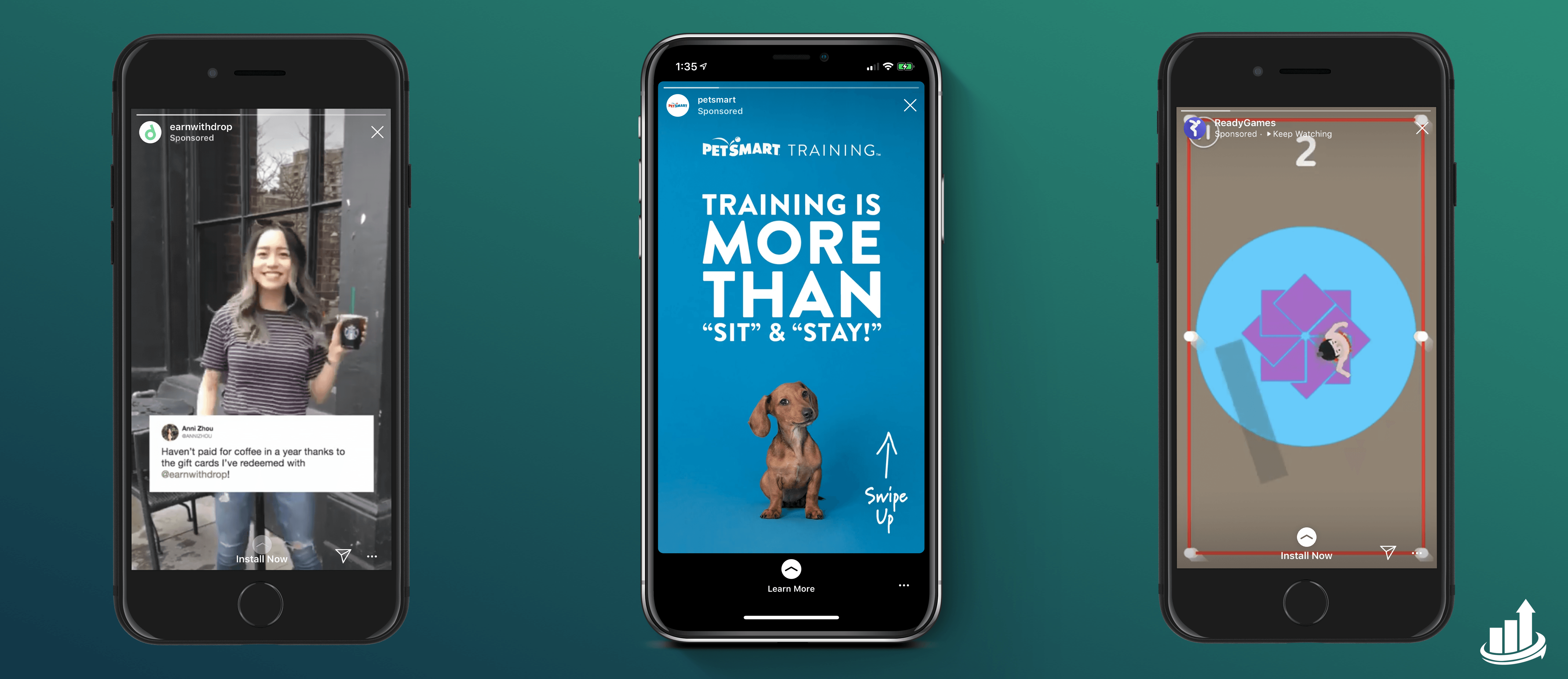 Just like with your Instagram Feed ads, your Stories ads need to be eye-catching. Instead of getting people to click and download your app, the primary CTA of Instagram Stories is a "swipe up." Your ad can have any number of CTAs ranging from "learn more" to "use app" to "install now."
Choosing compelling creatives
Now, Instagram is obviously very visual-heavy. Since over 80% of Instagram users are under the age of 35, your visuals are doubly important. A chic twenty something isn't going to download your fashion app if your carousel ad isn't just as chic as they are. Your gaming middle schooler won't be playing your new game if your Instagram Stories ad doesn't show them stunning graphics and compelling content.
Photos
As a general practice, try to avoid corny stock photos. You want your ad to seem realistic, relatable and tailored specifically for your app. Showing off screen grabs or footage from your app might be the best way to go, but that doesn't mean you can't dress it up a bit!
Something else that's important to note is the actual format or size of Instagram ads. Real estate is limited on the busy platform. To maximize the space your app is getting, we typically recommend avoiding landscape layouts. This will make your ad thinner on the user's screen and  easier to overlook. The standard Instagram post ratio is a 1:1 square, but let's look at the options: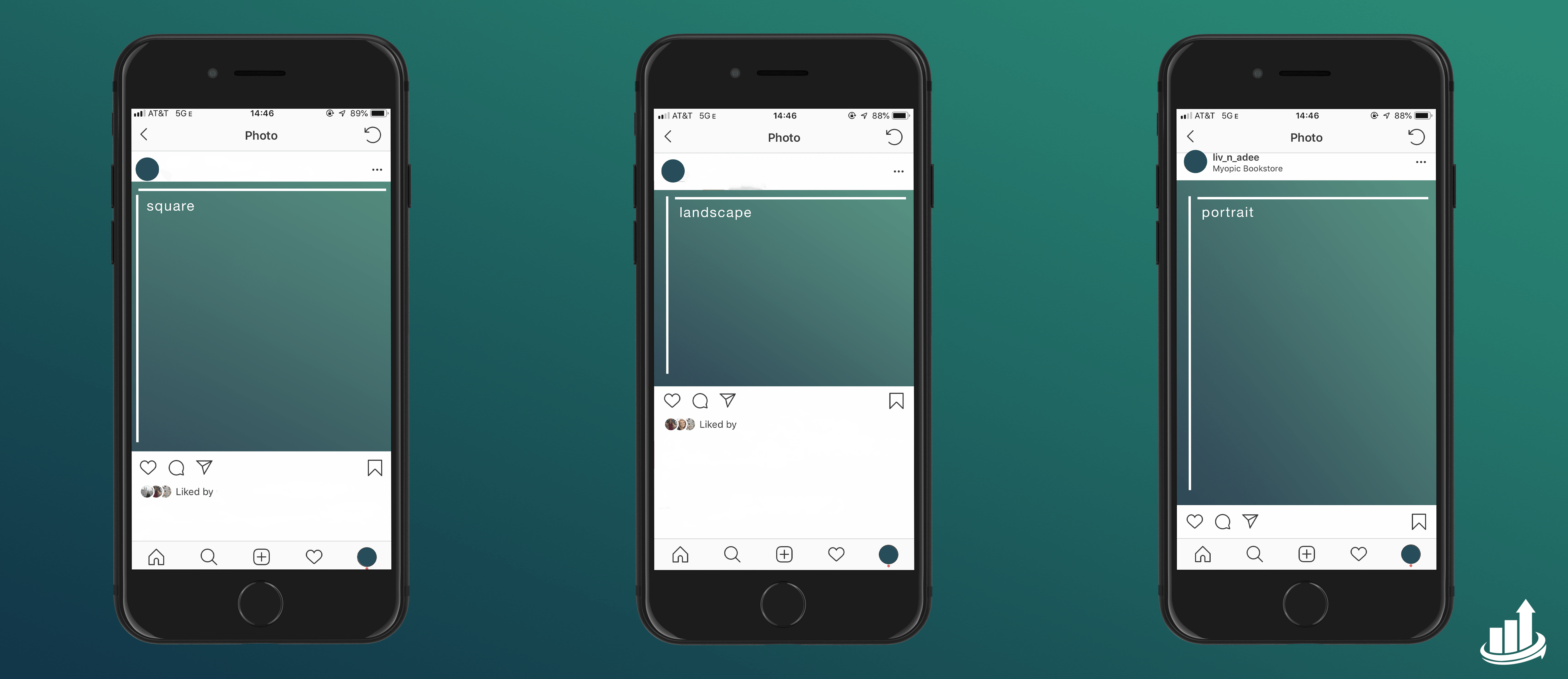 Make sure your creative and caption fit in with the aesthetic and branding that you're presenting over social media to you target audience. You need to have one consistent voice across every aspect of your ads so that users are receiving the same message every time. Another important aspect of crafting your caption is utilizing hashtags. Since you're paying to promote your ad, hashtags aren't an absolutely necessary part of your caption. However, they are a huge part of normal Instagram "conversation", if you will. If it's relevant to your app, or if you have a branded hashtag (think Coca-Cola's #shareacoke or Target's #targetvolunteers), then by all means, #hashtagitup!
Videos
Videos are a completely different ballgame from photos, especially on social media. If someone is scrolling through their feed or stories, videos can be a bit catchier and potentially hold your audience for longer. In general, it's best to focus on those initial 3-5 seconds of your video and assume your audience has a short attention span, so in other words, get right to the good stuff! Consider creative ways to grab attention, maybe through a flashy transition (think color change, background change or dynamic cuts). Also consider loud text announcing immediately why someone should pay attention (check out fitbodapp's callout to athletes right at the beginning of their video in the second graphic for a great example of this). As I mentioned with Instagram stories, make sure any videos you use in your ads make sense with and without audio!
Instagram gives you a lot of great options for advertising your app. In today's social media driven society, leveraging strong visuals to increase your installs is essential. Since Instagram is such a busy, competitive space, it's critical that you choose an aesthetic ad in a format that best shows off all the great features of your app.