It has long been assumed that Apple "gives" every app a list of keywords that are automatically included. Those "free" keywords include the words "free", "app", "apps", "the", "and", along with all primary and secondary category keywords (ex: "lifestyle", "finance", "medical", etc…). It's true that even if your app doesn't have the keyword "free" in its keyword list, you will still rank for "free" and long-tail terms where it's included. The purpose of this article is to question whether or not you can get additional "weight" on those Apple-freebie keywords if you add them into your keyword list.
Let's look specifically at the keyword "free". It was slung everywhere when the App Store was first opened. Games, fitness trackers, music platforms and everything in-between would boast in their tiles, subtitles and icons that their app was free. Then Apple changed its rules and made it a no-no to have "free" listed anywhere in your visible metadata. In fact, Apple has developed such as aversion to the word "free" in the App Store that even supposedly free apps are not advertised as such — you can simply just "get" them.
Even if you don't use the keyword "free" in your app listing or keyword list, your app will still rank for long-tail terms that include the term "free", so the assumption is that all apps are given that keyword by Apple.
But let's check out some App Store searches to see if there's any difference in search results…
Example 1: "poker" vs. "free poker"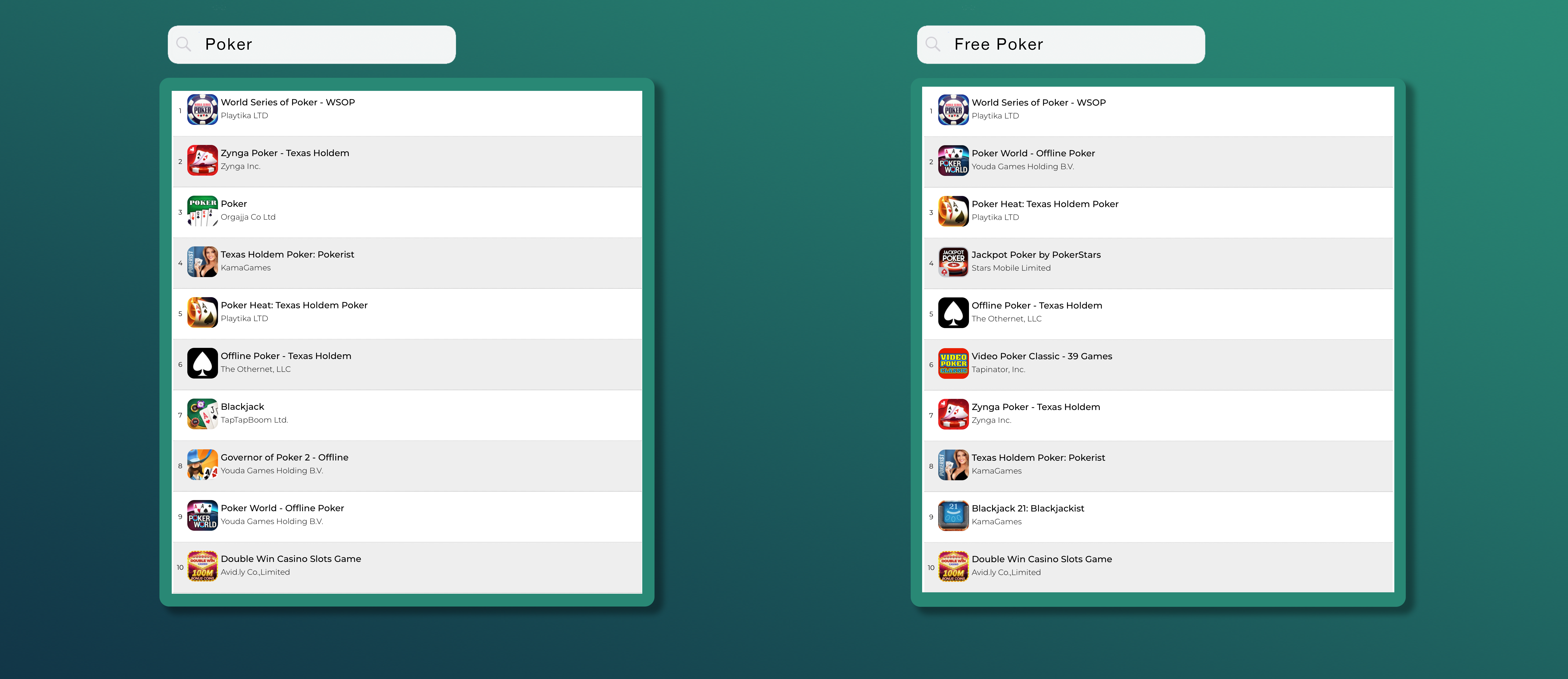 As you can see, there's a pretty big difference between those two lists. "Poker" is a high volume (64/100), highly competitive keyword. "Free poker", on the other hand, has a significantly lower search volume (27/100). Notice that World Series of Poker stays #1 for both search results and Playtika's other poker app, Poker Heat, jumps from #5 to #3 when you add in "free" to your search query. Poker World makes a big jump from #9 for "poker" and #2 for "free poker". So if we assume that all of these apps are given the keyword "free" by Apple, wouldn't/shouldn't the search results stay the same?
By looking at these results it seems as if some apps are using "free" in their keyword list and others aren't…. Maybe something else is at play here?
Let's check out the search results for some more keywords…
Example 2: "slots" vs. "free slots"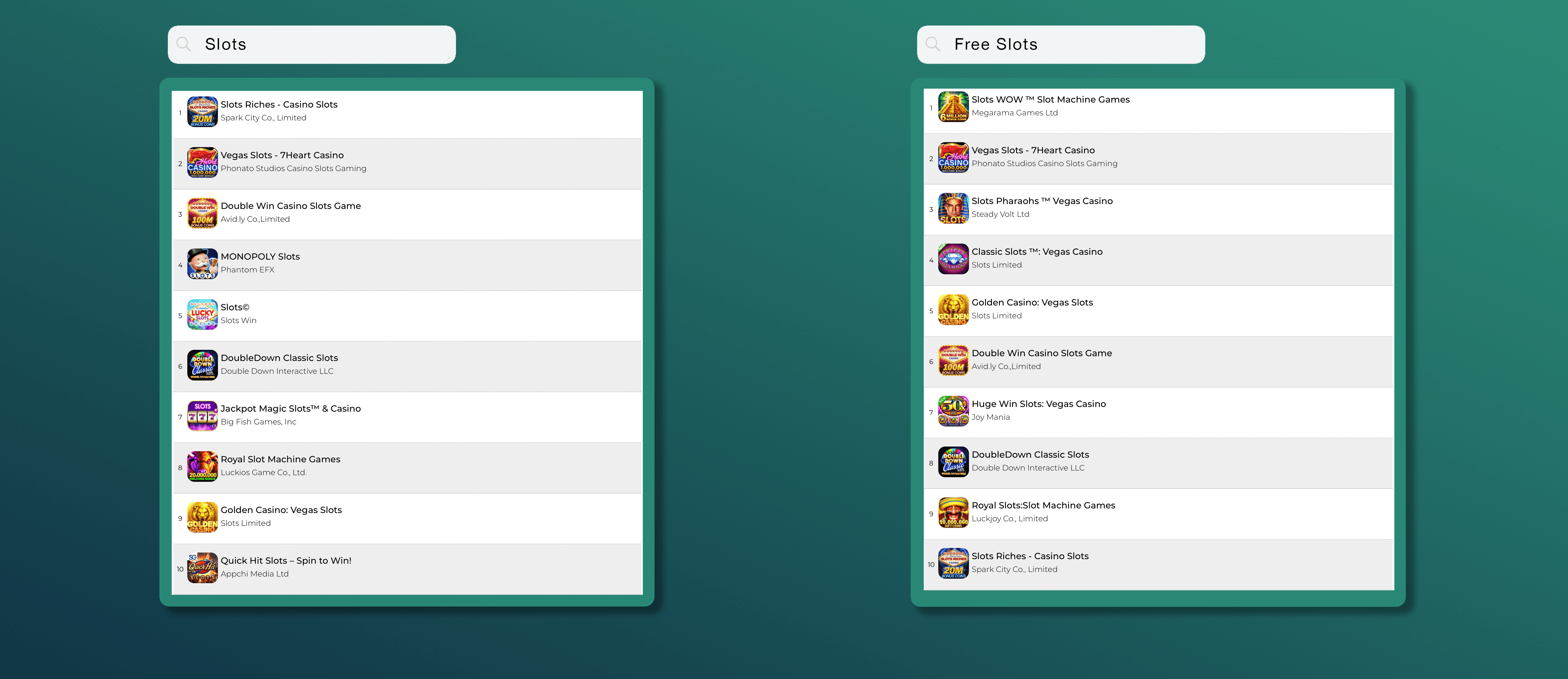 Once is an outlier, but twice is starting to look like a trend! With the Exception of Vegas Slots, the top 10 list for these two terms are almost completely different. "Slots" has a search volume of 62/100 and "free slots" has 45/100 volume, making both of these keywords something to invest in. Based on the differing search results, it looks like some apps are using the "free" keyword and others aren't.
Let's check out one more example…
Example 3: "music" vs. "free music"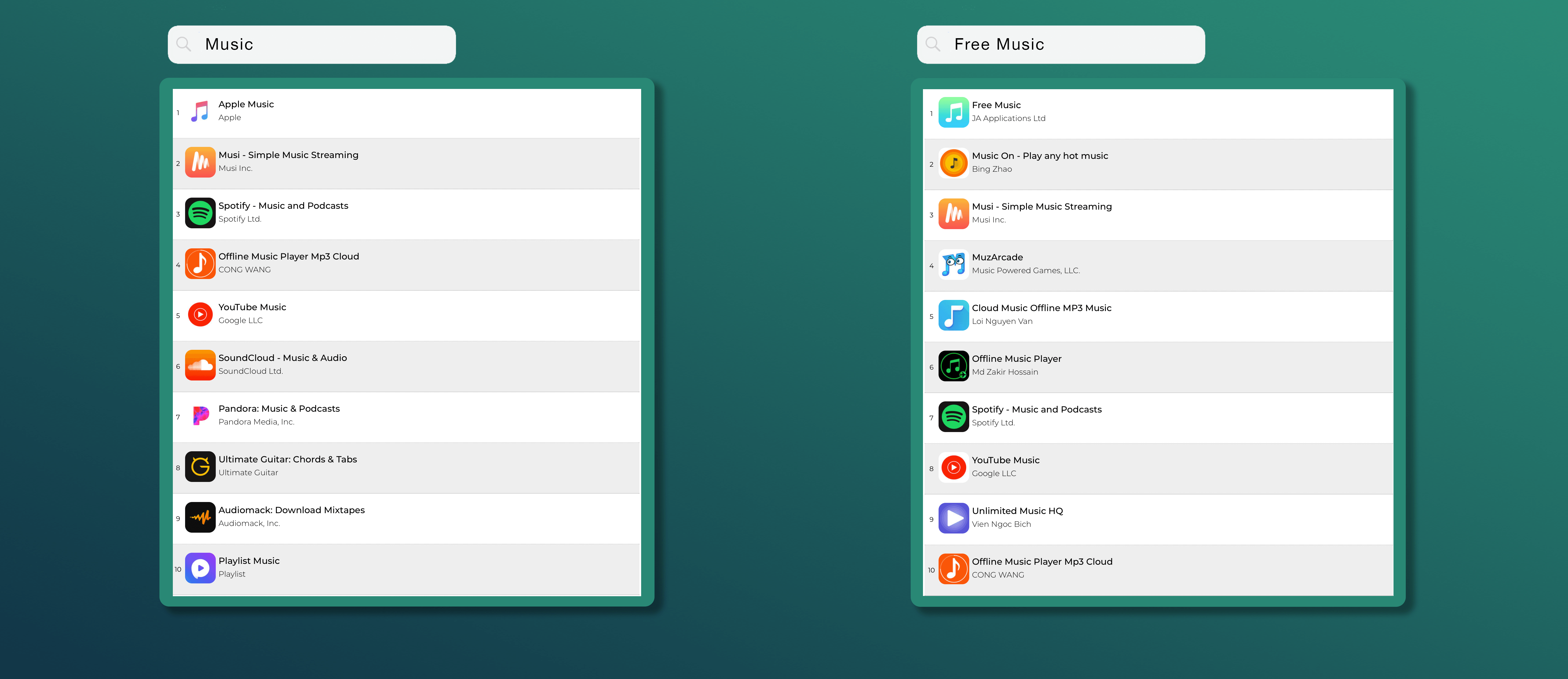 Definitely starting to see a pattern here! Both "music" and "free music" are highly searched terms — 76/100 and 60/100, respectively. Now, you might notice that in the "free music" results, the #1 app is literally called Free Music. You might ask what happened to not being able to put the word free in your metadata? A deeper looks show us that the app hasn't been updated since late 2017 when Apple was a bit less strict.
So to wrap all of this up, we can tell that Apple does in fact give you the keyword "free" even if it's not in your keyword list, but based on these example searches and the results we can see, it looks like adding "free" to your keyword list gives it some extra weight into the algorithm.
Give it a try and let me know if you see keyword rankings improve for "free" searches!