As we've learned in the past, just because you're a large brand like Chase Bank or Bed Bath and Beyond, that doesn't mean you can skip out on an ASO strategy! Let's take a look at the Best Buy mobile app to highlight some opportunities for improvement.
Title and subtitle
I've pointed this out in the past, but the title is the best place to put your heftiest keywords! Currently Best Buy's app is simply titled "Best Buy." Best Buy is an electronics store, so it would be logical for them to add something related to electronics or shopping in their title. Best Buy is already doing this on the Play Store with their "Best Buy Home" app and it's making a difference — the title of the app is "Best Buy Home: Tech Support, Information & Repairs." When you search "buy tech" on the Play Store, the Best Buy Home app ranks higher than the normal Best Buy app and you can be sure having keywords in the title plays a part.
Additionally, Best Buy is currently lacking a subtitle, which is a *huge* hole in their ASO. Mentioning something about buying tech or getting hot deals could be a great booster for their rankings in the App Store.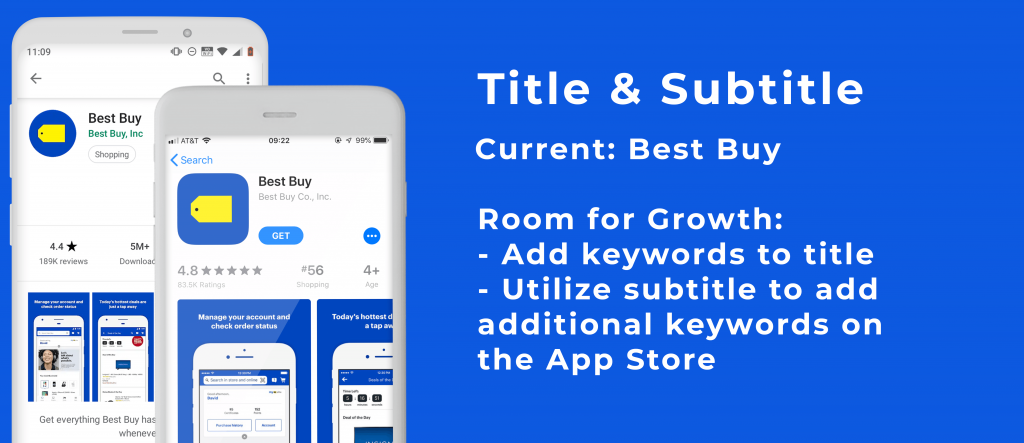 Screenshots
Your screenshots are something that you should always be looking to improve. If you read our article on A/B testing, you know that there's never a time to stop improving. For Best Buy, there's the opportunity to better highlight the app's main features to appeal to a mass audience. The first screenshot focuses on account management and order status, which is a great feature for returning, loyal Best Buy customers. But we also want to target new customers. Therefore, it would be worthwhile for Best Buy to test screenshots that better highlight mass-appeal features from their app such as, "Today's hottest deals", "Get additional information on products" and "Easily view add ons and required parts." Those are the things that a mobile commerce consumer would be immediately interested in.
Best Buy should also look at investing in an app preview video. Preview videos are great for highlighting key features in your app and making sure you stand out from your competitors. It's also been proven that having a preview video increases your conversion rates! We create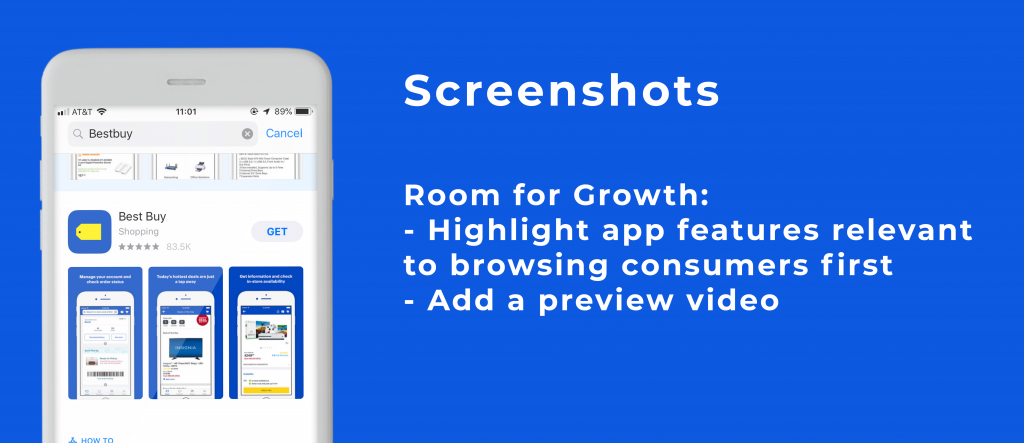 Search Ads and Brand Defense
A very effective way to acquire new users is through the Apple Search Ads and Google UAC platforms. After running a number of test searches, it looks as though Best Buy has passed up on Search Ads in both stores. You might think "well, it's Best Buy, a major brand and people are searching for them so they'll pass the ads" — but what if the user is looking to purchase a TV or laptop, decided to check out Best Buy's prices but came across an app that offers discounts on TVs and laptops? They may be more inclined to check out a competitor first and Best Buy might lose out on that install and a potential paying customer. That's why we would recommend that Best Buy focuses on a brand defense strategy to avoid losing customers to competitors.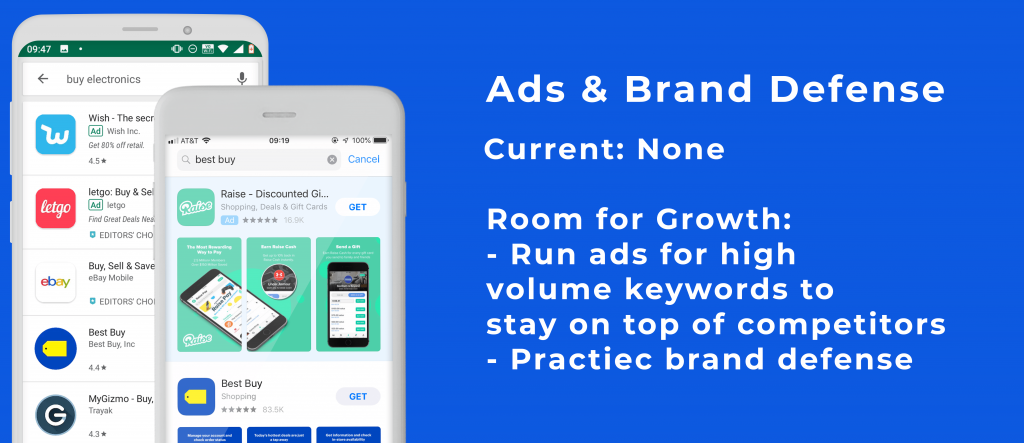 Best Buy is another great example that even the biggest brands can benefit from an effective ASO strategy!