In this age of Amazon delivery drones, it's of paramount importance to stay relevant for e-commerce shops. But how do you take it up a notch to best serve the global shopping community with an ever-shortening attention span? Mobile e-commerce apps, or more simply m-commerce apps are the best way to create generate new customers, increase brand loyalty, and boost repeat purchases.  In today's article let's walk through a 2-step approach for your mobile commerce optimization strategy:
Why go mobile?
Apps like Wish and Aliexpress have surged to new heights with a solid mobile commerce optimization strategy. Their personalized shopping experiences learn what you search and show you more of what you're most likely going to buy. This has spelled success, coupled with their rock bottom, direct from manufacturer pricing.
Mobile Commerce Optimization Strategy
Step 1: Optimize your app & product page
Graphics with global appeal
The first and most important step is getting a solid brand look across your m-commerce app collateral: icon, screenshots, preview video and user interface design. These creative pieces need to draw the attention of users who are constantly scrolling at the speed of light. Learn more about designing graphics for the App Store and Play Store here.
Localization
If you're taking your e-commerce business global through your app, make sure to include localization in your mobile commerce optimization strategy. Optimizing your app and app store product page to show a user's native language is a huge growth tactic. Kissmetrics stated that 75% of consumers prefer to buy products in their native language.
Don't speak every language in the app stores? Get help from native speakers with our localization service.
Emphasis on ease of checkout mobile pay solutions
It's important to make the barrier to conversion as small as possible. Mobile payment solutions like Apple Pay, Android Pay and PayPal are essential for ease of checkout and add a sense of security to mobile transactions for your users.
Importance of push notifications
Using smart push notifications to push promotions and special offers can result in a surprisingly high reengagement rate, purchase conversion rate or repeat purchase rate! Wow! That's a lot of positivity from a simple push.
Step 2: Market your optimized app
Partnering with influencers
Influencer marketing isn't new anymore but there are new areas influencers are reaching their customers. Platforms like Snapchat and Instagram stories allow users to include links to web pages (or app store pages!) which are huge, virtually untapped opportunities for brand partnerships. What's more is that these type of partnership promotions have tangible, measurable results.
Influencers are the ticket into niche communities and what they say to their followers doesn't fall on deaf ears. These social media celebrities have a true peer to peer influence on what their followers think, wear, eat and do in their free time.
We offer curated influencer advertising opportunities to boost m-commerce conversion rates. If you are interested in talking about a custom influencer marketing campaign for your app, contact us for a free discovery session.
Remarketing campaigns
Use remarketing ads via Google Adwords, Facebook and Instagram to further convince customers to return to your app to place an order. Learn more about remarketing to Play Store app users online here.
Mind your reviews
Poor app store reviews will dissuade users from even downloading and installing your app in the first place (no matter how good your graphics look). It's important to respond to user reviews whether their sentiment is positive or negative to show that you do care about your customers (especially if they're spending money on your m-commerce app).
The other half of your review strategy should be implemented within your app. Social proof is one of the greatest contributing factors to increasing conversions with a mobile marketing strategy. If your app is populated with tons of user reviews, and better yet, rich content like photo and video reviews of your products, more users will be likely to purchase with confidence.
See the below example from Wish.
They have an entire landing page on their site dedicated to ensuring users that they should trust the app and exactly why they have low prices.
The takeaway?
Be honest and transparent and your tribe will keep coming back.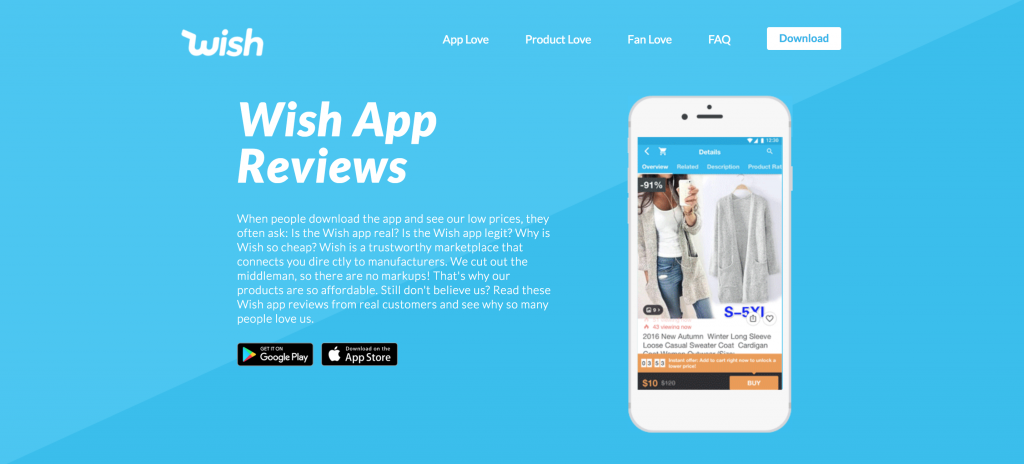 There are many more marketing tactics to get the most out of your app. ASO for ecommerce is a growing field and we're constantly testing the newest tactics to generate more installs for our clients.
Interested in optimizing your m-commerce app and increasing your conversions? Get in touch with our team of ASO pros today for a free discovery consultation!