2018 is the year we challenge you to think outside the box when it comes to user acquisition advertising. There are a huge number of unbelievably gifted individuals making compelling content every day for every possible interest base out there. An ever-increasing number of developers are partnering with social influencers for their ability to motivate their followers to install and regularly visit apps.
Why join forces with influencers?
Influencers regularly serve hyper-particular specialty crowds, which makes it easy to get your app before a particular group of individuals.
But how can you use influencer advertising for app store optimization?
Simple: Link building.
The key to building rank on search engines results pages is a good backlink structure. When you partner with influencers you get two very important things:
1. a backlink to your app store page which helps your page to rank higher in search for targeted keywords and
2. honest, entertaining, valuable content that convinces people to consider using your app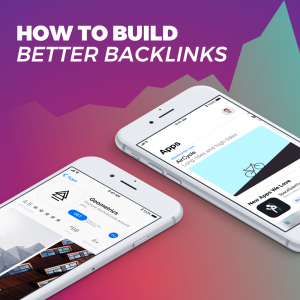 Where do influencers live?
Influencers are all over the web. While bloggers are the oldest, most tried and true method of influencer link building, the most effective, in the realm of user acquisition for apps. Specifically, the most effective are those that create audio-visual content. Vloggers and podcasters have a leg up on the written word as they can fluidly explain why you might see a use or peak an interest in installing an app.
Here are a few social sites we suggest hunting for influencers: Youtube, Instagram, Facebook (Facebook Watch), Podcast providers, Musical.ly, SnapChat, or even get in on Vine2 (coming soon!).
Different ways to partner with influencers:
Giveaways – consider giving away an in-app purchase or currency bundle to your influencers following
Download Codes – offer your influencer an exclusive code for their followers. This can be out of goodwill or benefit the influencer as a form of an affiliate program that incentivizes them to keep talking about your app long term.
Contests – another potential long-term partnership can be a contest style relationship. Your influencer would host a giveaway that takes place over a certain amount of time and incentivizes their followers to use your app in a certain fashion for a period of time to have a chance at winning the prize at the end.
For example, you could give your influencer an iPhone X to giveaway that is loaded with all of your apps. The contest could be based on which of the influencer's followers can pass the most levels or whatever action is appropriate for your app genre!
ASO PROTIP: Influencers should disclose if this is a paid partnership and remember, paid partnerships don't necessarily have to involve an exchange of money for service. An #ad also applies to free access to your app or other free items or promises (commission links) in exchange for content creation with your backlink being created.
Need help starting your influencer advertising for app store optimization? Get in touch today for a free ASO discovery call and get on the road to a more well-rounded user acquisition strategy in 2018!