So you've been nailing your ASO efforts lately. Keyword optimization is on point, graphics are looking sharp but you're having issues with install volume, user retention and generating revenue. Time to give your app monetization strategy another look.
How does your app make money? It's okay if it doesn't yet. This is great food for thought for all developers. There are a number of app monetization strategies that exist, but let's focus on the following pricing options available directly through the app stores:
Paid app download
In-app purchases
Subscription models
Apps can create revenue by charging a certain amount for users to download (paid app), or by charging for things inside the app which can be in-app purchases (IAPs). Some apps also offer subscription models with optional free trial periods.
But did you ever think that the way you charge users for your content could be hurting your ASO efforts?
Here are a few things to keep in mind when determining what works best to get you paid and keep users happy:
Creating a barrier to entry
How many times have you gone window shopping and fallen in love with an item in the window display, only to be turned off when you enter the store to check the price tag? The same thing happens across the app stores! You could have the best looking, coolest, value-adding app, but if you're charging… anything… for users to download it, this can create a barrier to entry and can deter potential users from installing your app in the first place.
This is one very weighty reason to consider IAPs over a one time install cost. 
Consider another real-world example:
Have you ever received a free-trial in the mail? This year I got a package in the mail from Dunkin' Donuts (mmm… coffee ☕️). It was a few trial packets of their new Pumpkin Cold Brew Instant Coffee that was being launched in grocery stores nationwide. I am more likely to go pick that up in store after trying a freebie or two and getting hooked.
Same goes for your app. Give your users a free taste of what's to come. Get 'em hooked, over deliver and then, finally, give them a reason to pay you.
Listening to user sentiment to determine the best monetization strategy
In last week's update, we mentioned a situation where consumers became disgruntled over a paid expansion pack in the popular game, Monument Valley. The game's developers, Ustwo Games, quickly noted that mass negativity in their reviews. They responded to the public sentiment on Twitter stating that they would release the expansion and instead, in the future, offer 500 coins of their in-app currency for $2 as an IAP.
👏 This is the kind of sentiment monitoring we like to see, people!
It's best practice to adjust accordingly to your user base to keep people happy and returning. The loyal users won't mind spending a little here and there to support their beloved games.
Stay away from Sneaky Subscriptions
Another way to create a ton of hateful noise around your app is to trick users into a free trial turned paid subscription 😤 This has become more of a problem over the last year.
These sneaky subscriptions are tricking users into "power tapping" through to sign up for a "free trial". What users don't read in the fine print is that they will be charged "x" amount when the free trial is up (sometimes a week or a month later). I mean, who remembers to cancel a free sub after a month?! Check out the image below for an example: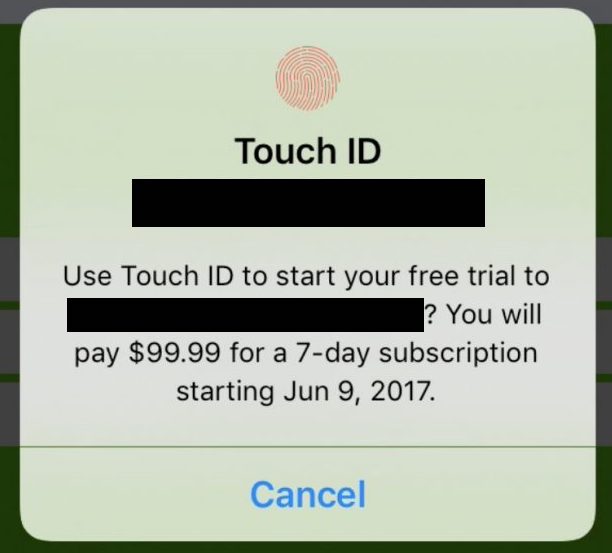 No better way to lose users that by charging them without them being prepared for it. This comes down to a transparency issue. Not only will people demand their money back, they will spread word to their networks not to use your app and most likely leave negative reviews on your product page (and wherever else on the web they can find a platform to bash you).
Instead, try pushing your subscription sign up to the appropriate time.
Be clear what you are charging and when they will be billed and that they can cancel at any time.
Like we mentioned in the "Barrier to entry" section above, it's better to get real users really hooked on free content first, and then offer your paid portion. 
The best yet would be to allow users to continue to use your free app forever and restrict certain features to the subscription model. This way they can take as long as they need to convert when they feel ready to commit to a recurring fee.
Want to discuss your app monetization strategy and ASO efforts? Contact us today.