Negative feedback. We all hate it, but the truth is, none of us are perfect. Being a developer means always being open to ways to improve our apps. No one is an exception to negative app reviews; it's what you do with this information that can make or break your app. Here's how to deal with negative app reviews:
How do reviews work?
In the Apple App Store and Google Play Store, users can leave a rating of 1 to 5 stars accompanied by a written review. Developers can only respond once, so it's crucial users get the answer they need to retain them. When you leave your response, the user who left the review will be promptly notified of your return response. This will also be visible in the app store.
Why do they matter?
Simple. Apple said it best:
"Positive ratings and reviews can encourage customers to download or purchase your app. By delivering great responses to users' comments and assisting those who have questions about your app, you can create a better user experience, drive increased engagement, and improve your app's rating."

Want to know more about Why Ratings and Reviews really matter? Read this previous article.
How to approach negative app reviews
Responding to app reviews is a complex combination of customer service, public relations, technical help and customer appreciation. Your users are the biggest asset to the success of your app, so treat each and every review with the care you would want in return. Most importantly, when someone leaves a harsh review, do not get defensive. This is the best way to lose users indefinitely. Instead, see where they are coming from and do your best to solve their problems.
Listen and respond to the mass negative sentiment
It's important that users know that their feedback is heard. Many times, users will be upset with something as a group. For example, changes in service offerings, price structure changes or the discontinuation of an out of date UI they had grown used to. Check out this example from the devs behind Monument Valley: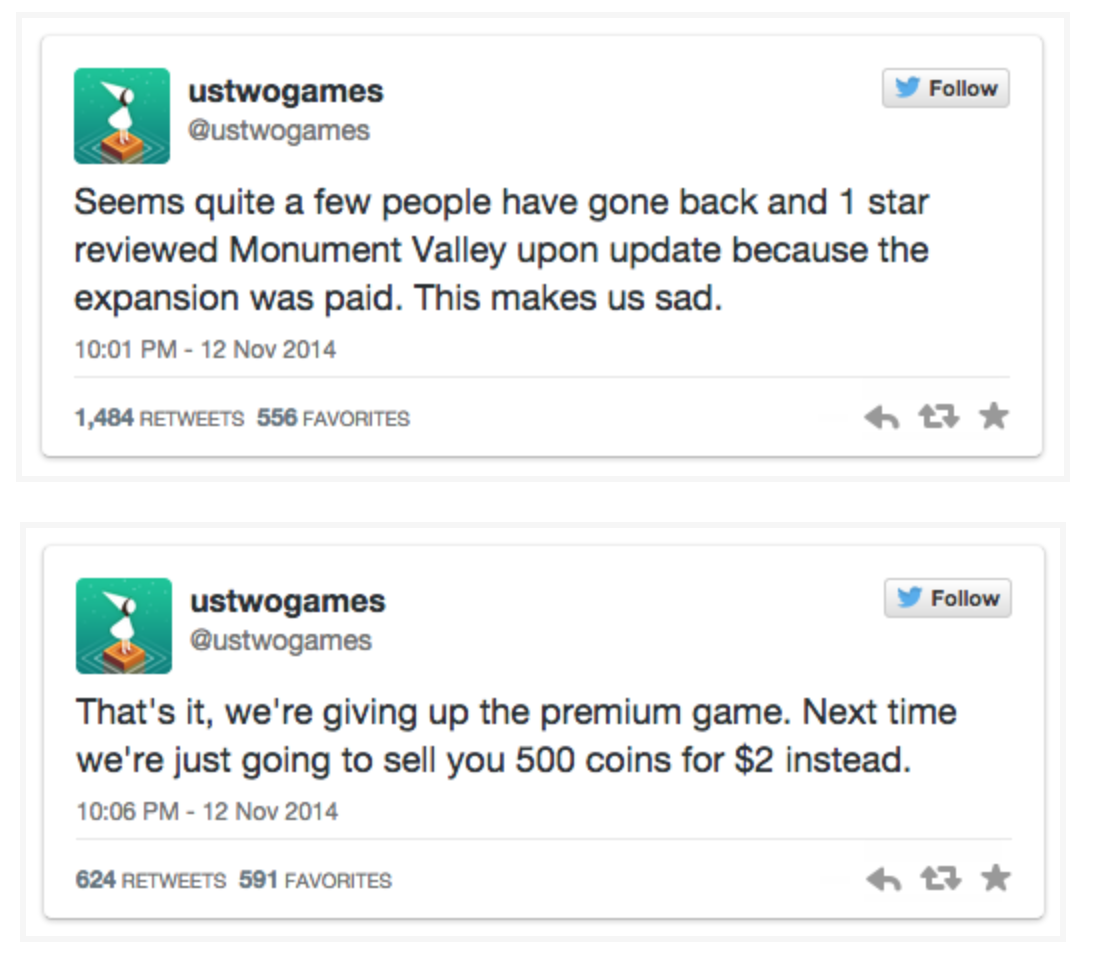 This is a great example of a large segment of users speaking their mind through the power of negative app reviews. What this is an even better example of is an excellent negative app review response. Ustwo Games knows that there's always a solution to their users' problems. Devs gotta eat too. Everyone needs to make money to make a living but this dev worked around the problem with their pricing structure to best suit the needs of their loyal user base.
Move the issue off of the app page
In responding to negative reviews that require additional context and further discussion, it's good practice to offer to speak with a user via email, customer support phone line or chat. If someone is experiencing technical issues that require significant effort to resolve, offer a response like:
Thanks for your review. We have read your message and we'd love to speak more with you about your concerns and get this resolved for you as soon as possible. Can you please contact us at (#XXX.XXX.XXXX) or at website.com/chat
Don't even think about buying reviews
You're thinking, "how can I cover up these negative app reviews? Oh, I know! I'll just bury them with an influx of 5-star positive reviews!" There are plenty of shady areas on the web to buy app reviews (Facebook groups, websites like Fiverr, etc.). But whatever you do, resist the urge to "take the easy way to the top". Why? Because you won't find yourself at the top. Google and Apple are smarter than you and will remove your false reviews lickety-split. Don't waste your money (or worse, risk your app)!
There's still hope
Just in case you felt like all was lost, there's still hope. Your negative reviews can turn into positive reviews if you adequately solve the issue or answer the question your user was upset about. Users are able to update their reviews in both the App Store and Play Store. All the more reason to do your very best to assuage disgruntled users!
Looking for assistance managing your apps across stores? We've got a knowledgeable team of optimizers ready to help you get the most out of your product page listings. Get in touch for a free consultation today.