"America runs on Dunkin" might be one of the most iconic slogans of our time. Dunkin' Donuts is one of the most prominent donut companies across America and they've successfully been able to burst onto the coffee scene in recent years as well. But does the App Store run on Dunkin'? Let's take a look at their ASO Strategy to see where they could use a few more sprinkles 🍩🍩
Title and Subtitle
As we've mentioned in the past, the most most most most important place to be putting your keywords is in your title and subtitle. Currently, the Dunkin' app title and subtitle are both set to "Dunkin' Donuts." We would (of course) recommend adding keywords into the title and subtitle, some how fitting "coffee" into the mix as this is a main focus on Dunkin's business, and a keyword they currently rank #9 for.  A lot of major brands like to keep their app title focused on their brand name, but even these small additions would impact rankings.
The subtitle is an area where these major brands typically have more flexibility for adding keywords. The Dunkin' app's subtitle is currently non-existent, which provides a huge opportunity to add some of the keywords that they should be targeting. While most of Dunkin's installs are coming from branded search terms, there is always an opportunity to acquire new customers via their mobile app. Generally speaking, users that signup for rewards programs are more likely to be consistent and long term customers.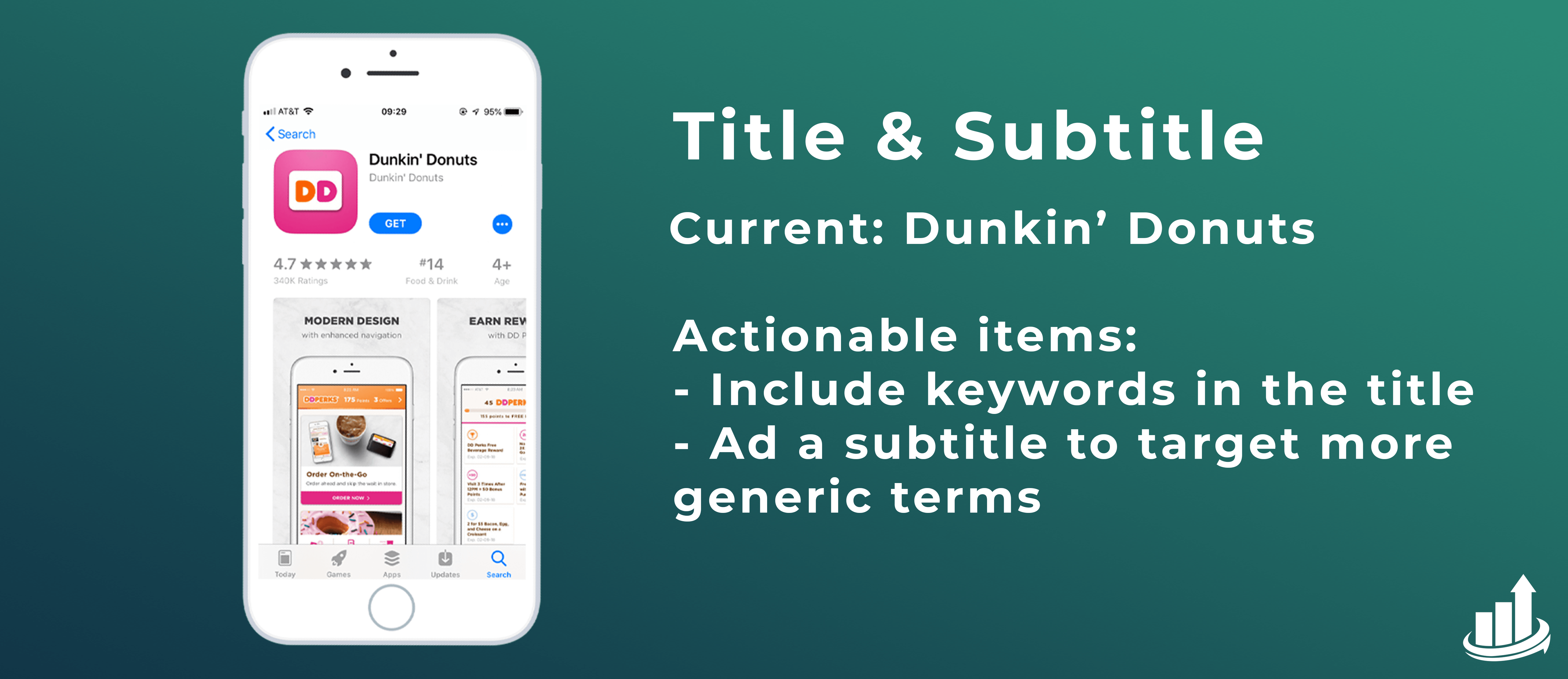 Keywords and Search Ads
Dunkin' currently ranks ninth for the keyword "coffee" and third for "donuts". These are two keywords that Dunkin' should be dominating. By focusing on their subtitle and keyword list, their overall keyword landscape can be improved to help rank for more generic, non-branded terms.
We always analyze an app's Search Ads presence to determine their bidding strategies and missed opportunities. Something that always sticks out to us is the concept of brand defense. When users search for your app, we don't want a competitor's ad to display, potentially taking away a customer. Competitors and other restaurants are actively bidding on Dunkin's branded terms, including Starbucks. Dunkin' is actively bidding on "donuts" quite effectively, but defending your brand should be a top priority. Additionally, splitting Search Ad campaigns into "New users" and "Returning users" can give insight into the behavior of users and allows you to tailor the ads, bids and Creative Ad Sets to the specific user set. Returning users may be interested in new app features and benefits, where new users could be more interested in sign up deals and promotions.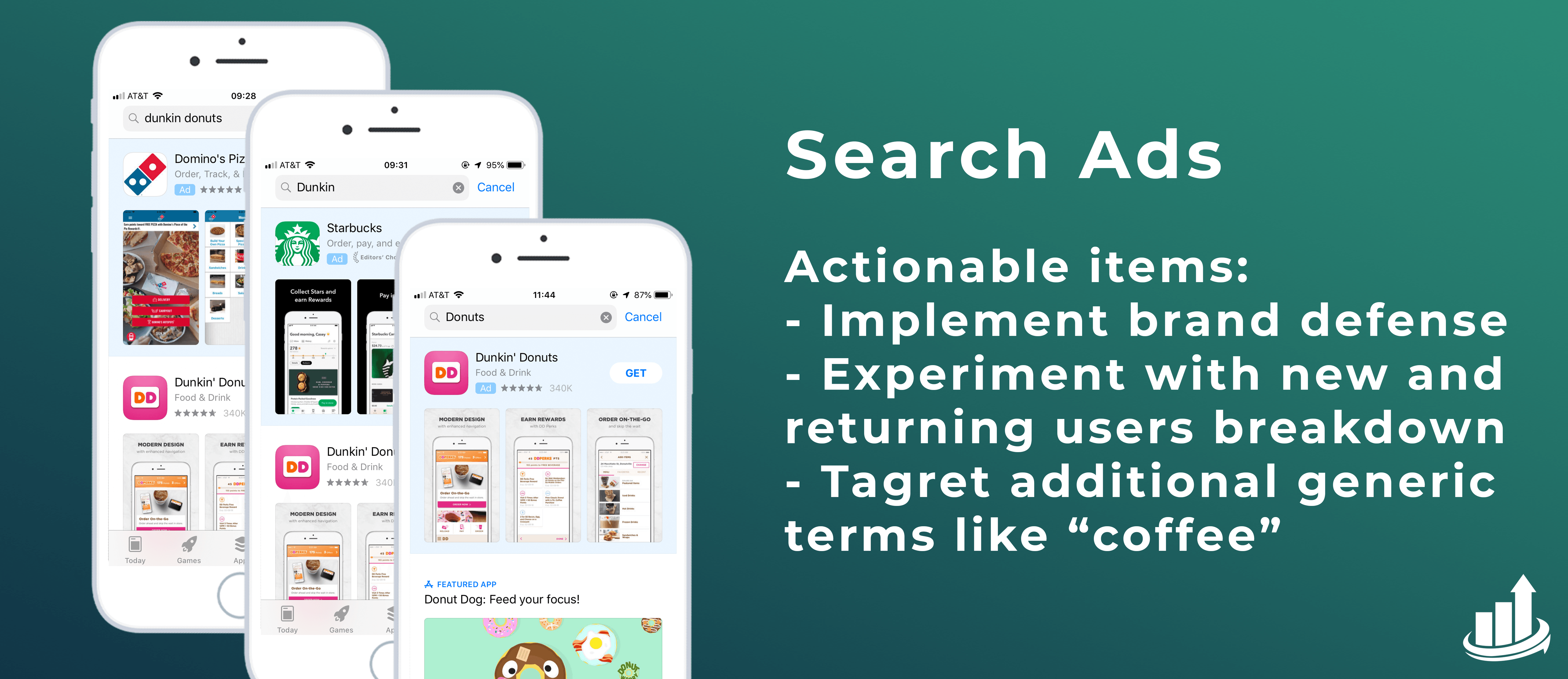 Screenshots and Video
Dunkin' has updated their app's UI over the last few months, and while it looks much nicer, the design of the app does not necessarily need to be a main text callout of the screenshots. Dunkin's app screen grabs should do the "design talk" for you, and instead the screenshots should focus on the key features and benefits of the app.
Your screenshots should feature aspects of your app that would most entice users to download it. If I were a consumer looking at the Dunkin' screenshots, I'd be much more interested in earning rewards, ordering on the go and customizing my order, rather than the enhanced navigation and "drool-worthy" imagery that the app offers. We would recommend that Dunkin consider updating their screenshots to show off features more relevant to users and let the app's redesign speak for itself. 
Additionally, Dunkin' doesn't have a preview video in their app listing. A preview video would also give Dunkin' the chance to show off that fancy new app layout without using up a valuable screenshot space. A preview video is a very effective way to demo all of the main features very quickly. Dunkin's video should focus on the mobile ordering, customizing your selections and the concept of earning rewards to entice users to download.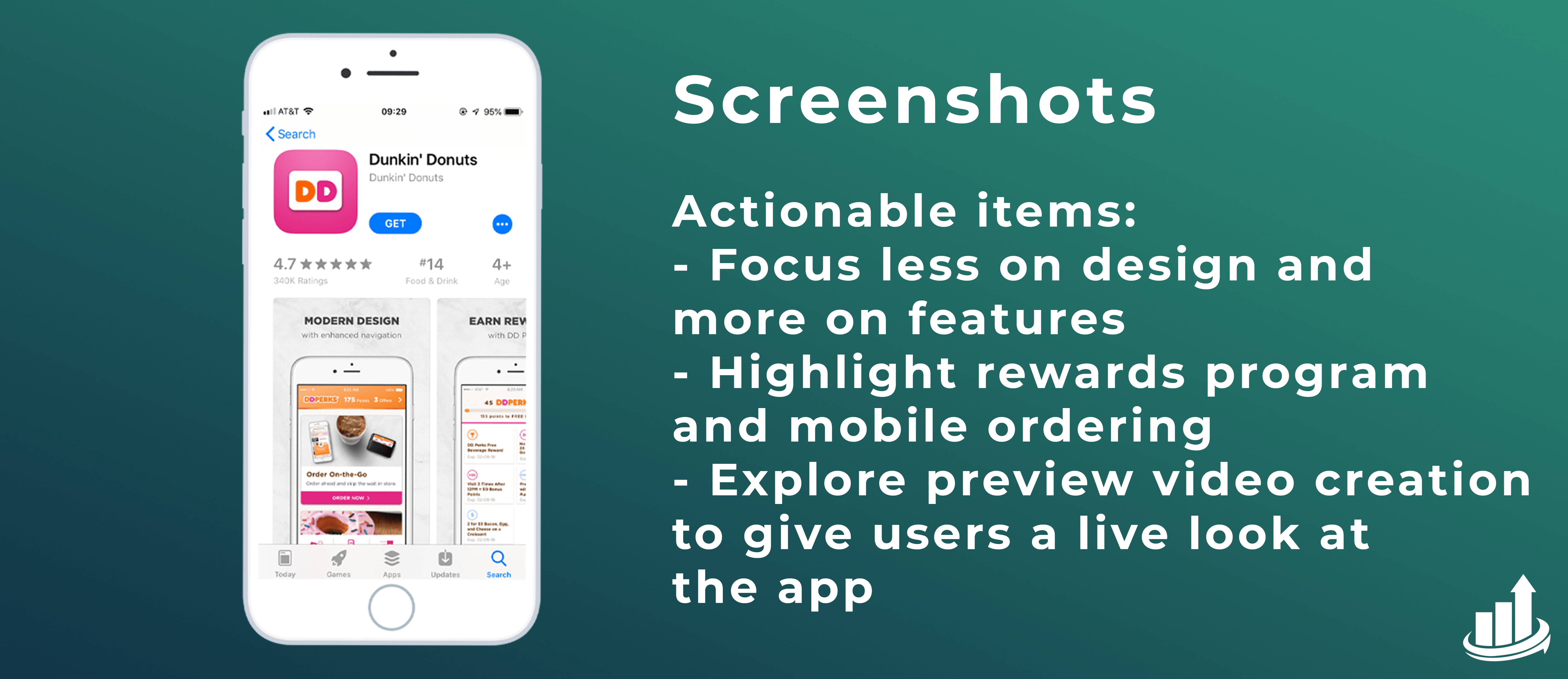 While America may run on Dunkin', there's still more that they can do to spruce up their app listing. By upping their ASO game, Dunkin' can be an even bigger competitor in the donut and coffee game.
As always, we're seeing how even the biggest and most recognizable brands can improve their ASO strategy to lead to more customers.