Localization is an essential part of ASO if you want to see you app do well beyond just your native country. Part of localization, obviously, includes having your app's metadata in the language of the country in which you're trying to grow your app. Up until recently, this has been a particular challenge in the Middle East due to the App Store's lack of Arabic or Hebrew support.
Apple announced that Arabic and Hebrew metadata will be supported in the App Store with iOS 13. The Arabic expansion will include Algeria, Bahrain, Egypt, Jordan, Kuwait, Lebanon, Mauritania, Oman, Qatar, Saudi Arabia, Tunisia, the United Arab Emirates and Yemen. Hebrew will be available in Israel.
PROTIP: The App Store will NOT display the Hebrew and Arabic app listings until iOS 13 is released in the fall, but the Arabic and Hebrew localizations of your app will instantly index in the App Store. If you add localized metadata for Arabic or Hebrew, keep an eye on the keywords rankings in the associated countries.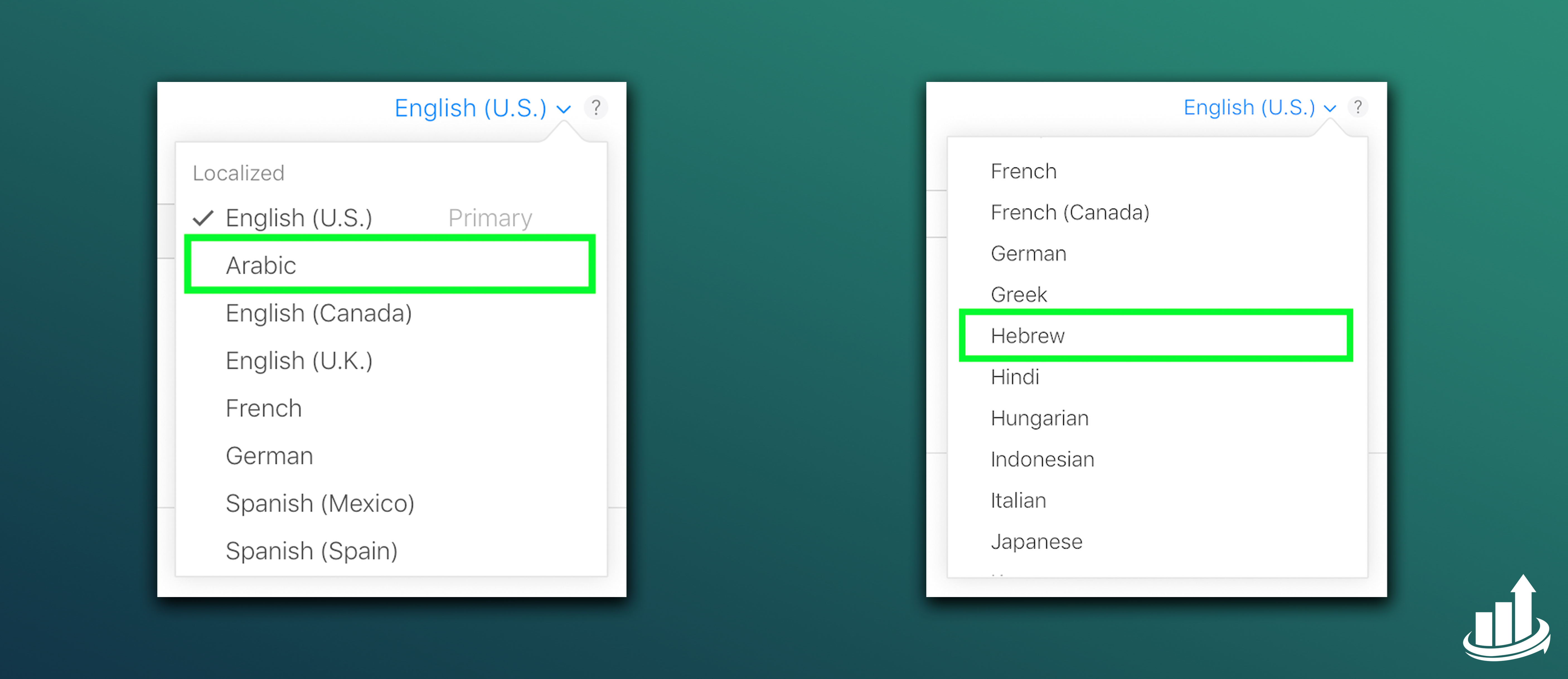 Update your keywords
You can go ahead and start adding Arabic and Hebrew keywords to your keyword list. By doing so now, your app will begin to index for these keywords before iOS hits iPhones everywhere. Effective ASO optimizations may not happen overnight, so by updating your keywords now, you'll get a jump start in your metadata.
Since different keywords have different volume in different countries, you can also start doing research for what will cause your app to flourish in Arabic and Hebrew speaking countries. You can download our easy to use Chrome extension to easily evaluate keywords!
Tailor screenshots and videos
It wouldn't make sense to update your keyword metadata but then leave your screenshots exactly the same. What happens when your new Arabic/Hebrew speaking users find your app only to not understand what's happening on your screenshots? Take time now to specifically tailor your screenshots and preview video for the countries that you're going to start targeting.
Start building your network
By network, I mean people who can help you. I'm assuming that you don't know native Arabic/Hebrew speakers just sitting around waiting to help you localize your app. As mentioned in our previous article on localization, having people in-country can greatly help your localization efforts. Your app can't afford for you to miss the numerous cultural and linguistic nuances that exist.
iOS 13 is definitely bringing some exciting changes to iPhone users (#darkmode). The additional of Hebrew and Arabic localizations being high up on the list of things we at The ASO Project are most excited about. Make sure you stay ahead of the game by updating your metadata for Arabic and Hebrew support today!
Need help localizing your app? Contact one of our ASO experts today!