Today, the news world can be harsh and unforgiving. You have to constantly be on your A game or risk being fed to the media sharks. The same can be said in the ASO world. If you aren't on your A game, then you can fall off the rankings. Today we're going to look at the NYT News app and see where they're making headlines and where they're falling below the fold.
Title & Subtitle
The title for NYT's App Store app is currently "The New York Times." Their subtitle is "Breaking National & World News". Their title only utilizes 18 of the available 30 characters you can have in a title. The title is the heaviest weighted area for keywords, so experimenting with squeezing in one or two more keywords could be hugely beneficial to NYT. Their subtitle is pretty well optimized, but the rankings for the keywords are not ideal. The NYT App doesn't rank in the top 10 for "Breaking news" (35) or "national news" (17). They do rank sixth for "world news" (32) and for the highly competitive "news" (65). Experimenting with new keywords in the subtitle and "shuffling" keywords between each metadata section can help stimulate new rankings.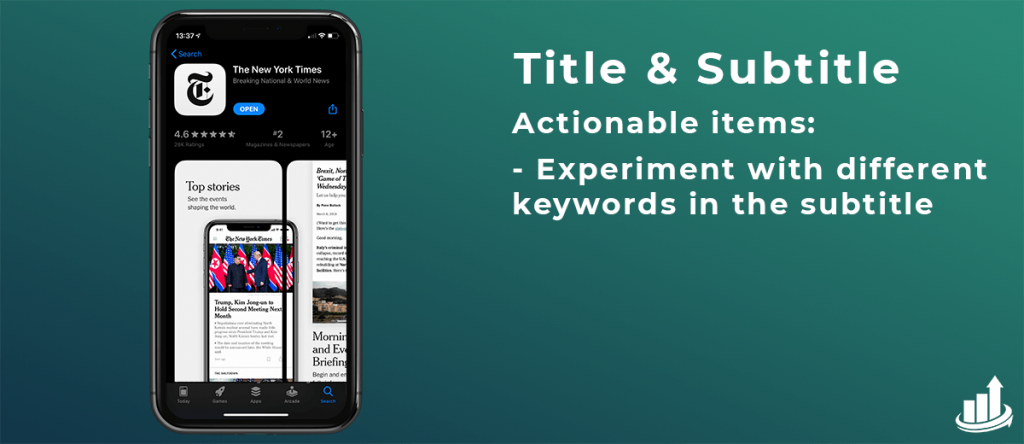 Screenshots & Video
Every app should at least test a preview video. NYT doesn't utilize a preview video, and as we've discussed in prior posts, adding a preview video to your app's listing can improve conversion rates by up to 30%. It's also a prime opportunity to show a live, in-depth look at your app's UI.
NYT's screenshots are somewhat unique in their layout, and they fit the overall branding of the company.  They have pretty large text callouts that highlight the main features of their app: "Top Stories", "Morning and Evening Briefings", "Podcasts", etc. I specifically liked how their "podcasts" screenshot is colored with a blue, green and yellow gradient to highlight this specific feature of their app.  With news apps specifically, it's important to regularly update the screenshots of the app to reflect the most recent stories. You don't want your screenshots to look out of date. Valid split tests in the case of NYT could be focusing a bit more on using the most recent news, avoiding (or focusing) on polarizing news stories to exclude readers with certain political views.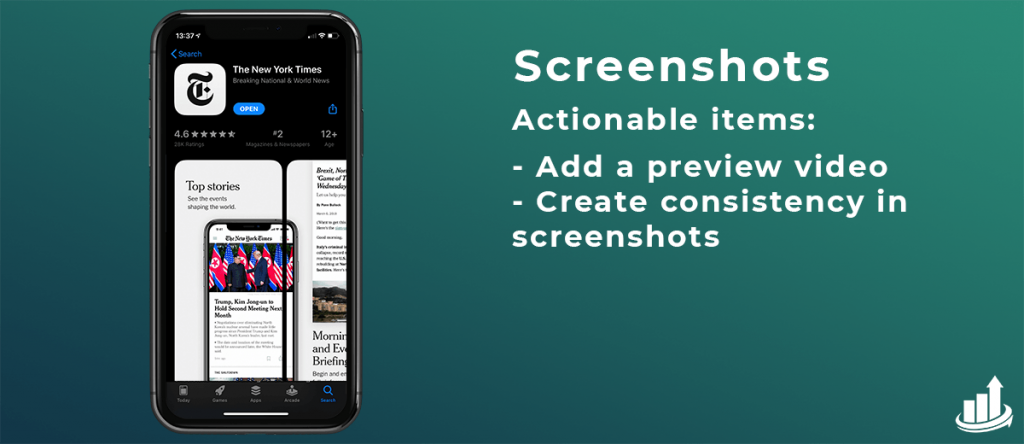 Managing your ASO presence is a full-time job. The New York Times has a strong ASO foundation and a major brand name, but it looks like they're missing a few keyword rankings that could break this ASO story wide open. With a full strategy of testing, iterating and improved keyword targeting, the NYT app can take their ASO to the next level!