Most of the year, your ASO strategy is similar — optimizing and testing different ideas and concepts based on data. You should find what works for your app and iterate on it. However, there are a few occasions for which you should break out special screenshots, descriptions or app icons: Holidays. Holidays are the perfect opportunity to add in a bit of festive flair to your app's listing. For those who've missed the pumpkins and ghouls haunting grocery stores since the beginning of September, Halloween is right around the corner. Here are a few ways you can use your app to capitalize on spooky season:
1) Spooky Screenshots
If it's appropriate, add some halloween themed elements to your screenshots. Maybe throw in a pumpkin or skeleton. If your app has new Halloween-specific elements for the season, then this is a great time to highlight those in your screenshots. You can even consider unearthing a themed preview video, similar to Animal Crossing: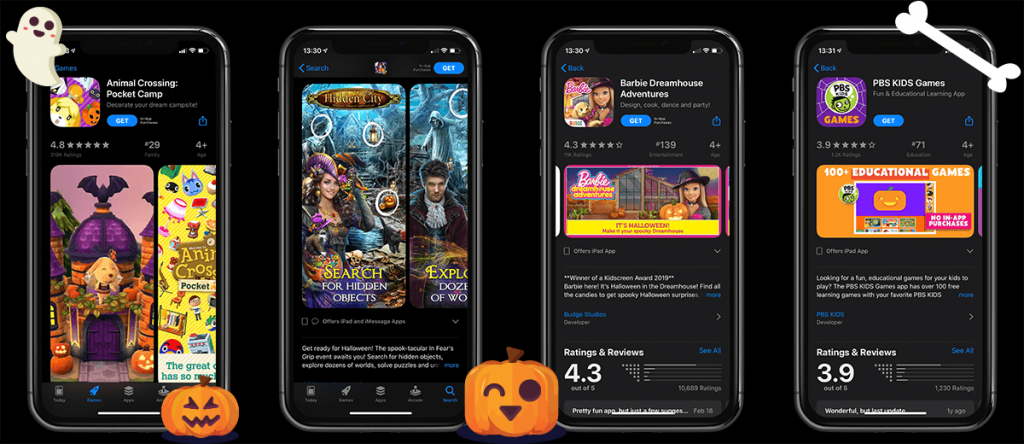 2) Imp-ify your icon
Don't let the frightening festivities end at your screenshots. There are endless ways to add thrilling Halloween spirits to your app. Consider adding a more orange, purple, or darker themed app icon. Throw on a bat, zombie, jack-o-latern, etc. Madden NFL appropriately added a Baltimore Ravens player to their icon to get in a frightening spirit as a Raven fits in much more with Halloween than the Chiefs' Patrick Mahomes did.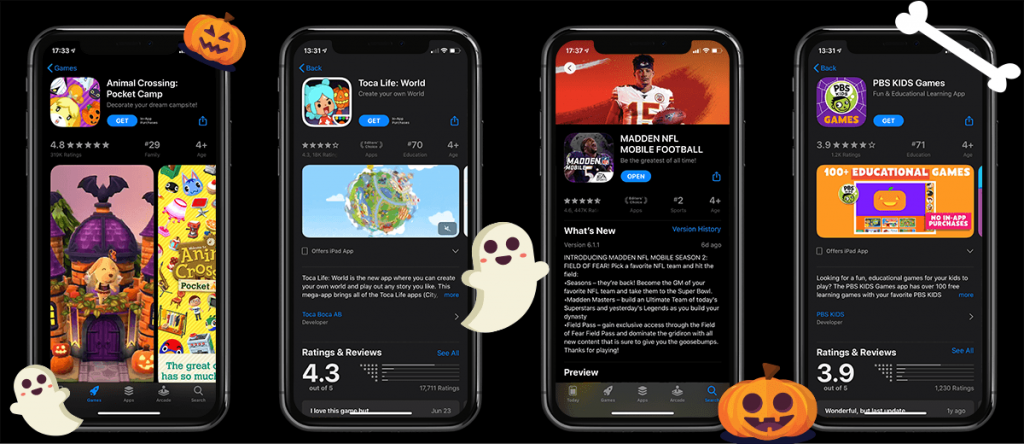 3) Add Petrifying Prizes
Consider updating your app to have seasonally appropriate challenges or limited edition prizes. Take the Madden NFL app. Their most recent update announced season 2 of the "Field of Fear" challenge that they offered last year. Even the Barbie Dreamhouse Adventure game has thrown in some Halloween fun. It's also important to note that most of these updates have happened in the past week or so, so it's not too late to brew up your very own petrifying prize!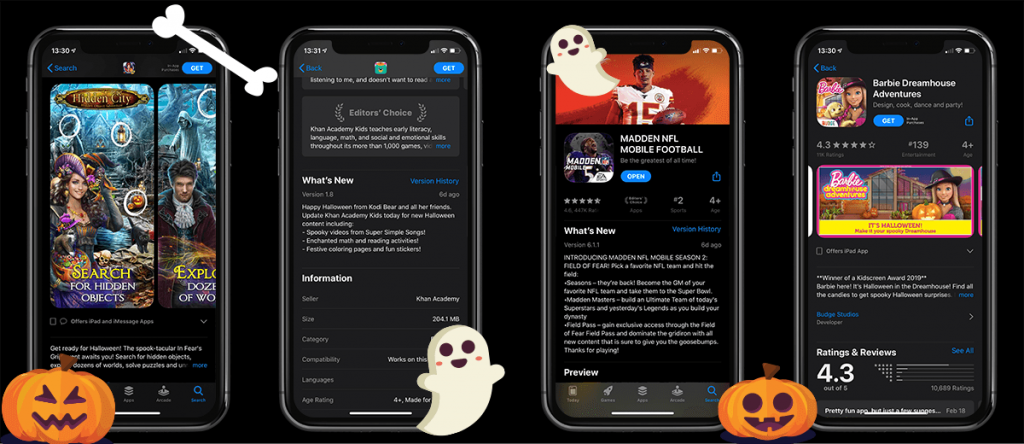 Horror Highlight: If your app is based around a horror/scary movie theme, it's your time to shine! Night Terrors, from the creators of Paranormal Activity is an AR horror game that provides a unique terror experience. The app is not explicitly centered around Halloween, but this time of year is a fantastic opportunity for them. They could really stand to gain by capitalizing on people's newfound fixation on all things creepy and undead.
Even if you aren't doing a huge Halloween revamp for your app this October, that doesn't mean you can't reap some treats. Adding in little Halloween elements to your ASO or even just upping your marketing efforts could go a long way if you put together the right spell this year. Tweaking your ASO strategy for seasonal changes and holidays can both help boost your organic installs and keep users engaged throughout the year.