It's the most wonderful time of the year — and that means it's time for your most wonderful ASO strategy! Holidays are the perfect opportunity to add in a bit of festive flair to your app's listing. In case you've missed the sound of sleigh bells and taste of magic in the air, here are a few ways you can use your app to capitalize on Santa's sleigh:
1) Icy Icons
Bring a little holiday cheer to your users home screens. Add snow, reindeer antlers or a Santa hat to your app icon. If your icon features characters, give them a little festive flair. Candy canes, presents, ugly Christmas sweaters and twinkling lights are all seasonally appropriate.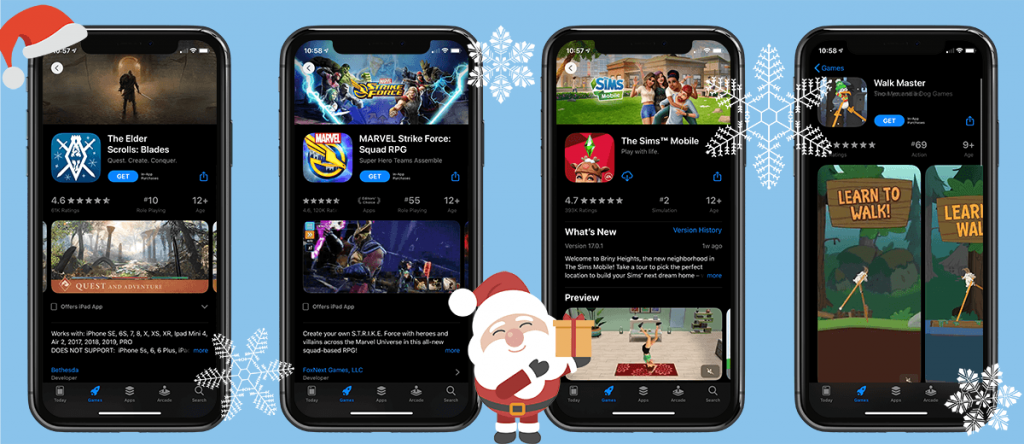 2) Snowy Screenshots
Don't let the festivities end at your icon. Deck the halls with holiday screenshots. Similar to your icon, you can add in snow, festive characters and all sorts of holiday cheer. Ornaments, wreaths, reindeer, sleds — all waiting to make their debut on your app listing! Your screenshots can be a prime spot to highlight any seasonal events your app has going on.
3) Have Santa craft a sleighing subtitle
What's the best way to show users that your app is exactly what they want for Christmas? A sleighing subtitle! This can be another spot to highlight seasonal events going on in your app. Adding holiday keywords to your subtitle can also help you to rank for these search terms. Be careful though — removing keywords from your subtitle to make room for your festivities might hurt your regular rankings. Make sure you're positive in any changes you make.
4) Add some prizes for those who made the nice list
Consider updating your app to have seasonally appropriate challenges or limited edition prizes. Take Clash of Clans or Candy Crush for example. Both apps have updated recently to include holly jolly holiday content.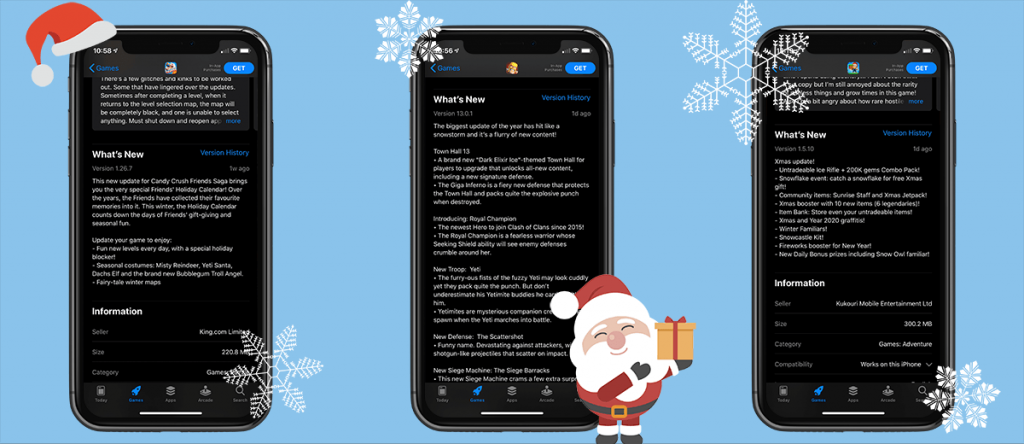 Even if you aren't doing a huge holiday fiesta for your app this December, that doesn't mean you can't partake. Tweaking your ASO strategy for seasonal changes and holidays can both help boost your organic installs and keep users engaged throughout the year.