FINALLY! Apple is implementing a split testing platform into the App Store! The Google Play Developer Console has long offered split testing via their built-in tool, but Apple has never had a similar solution. To date, the only option was a third party testing platform or utilizing Apple Search Ads Creative Ad Sets as a meager substitute. Now, Apple is rectifying that. With WWDC21, Apple announced that we'll be given new ways to optimize App Store pages by comparing different visual assets. Let's look at what will hopefully be coming to App Store Connect soon (very, very soon).
Product Page Optimization
Apple will be releasing the ability to try different app icons, screenshots, metadata and app previews. You can test up to three different "treatments" to improve your store listing. Tests can run up to 90 days and results are available in App Analytics. ASC will display your change in impressions and conversion rate. Apple has some stipulations for running tests:
Consider limiting how many elements you test at once so you can more easily determine which one led to a particular result.
Any alternate metadata you test needs to be submitted for review.
Treatments that only include alternate screenshots and app previews can be submitted for review independent of a new app version.
If you want to test alternate app icons, all variants of your icon (including the 1024 by 1024 pixel version for the

App Store

) must be included in the binary of your published app.

Custom Product Pages
In addition to adding split testing, developers will be able to create multiple versions of their product page. This will be particularly useful for highlighting different features. Sports apps could have football, basketball and soccer listings. Streaming apps could highlight their top shows. Custom product pages will have their own unique URL and contain different screenshots, app previews and metadata from your regular listing. The most exciting part of custom product pages? You don't need to submit an app update for them. Here are Apple's guidelines for custom product pages:
Create new pages at any time in

App Store Connect

and submit them for review independent of your app updates.
Publish up to 35 custom product pages at a time.
Monitor the success of each custom product page by viewing impressions, downloads, conversion rate, and more in App Analytics.
Measure retention data and average proceeds per paying user for each custom product page, so you can see how it performs over time.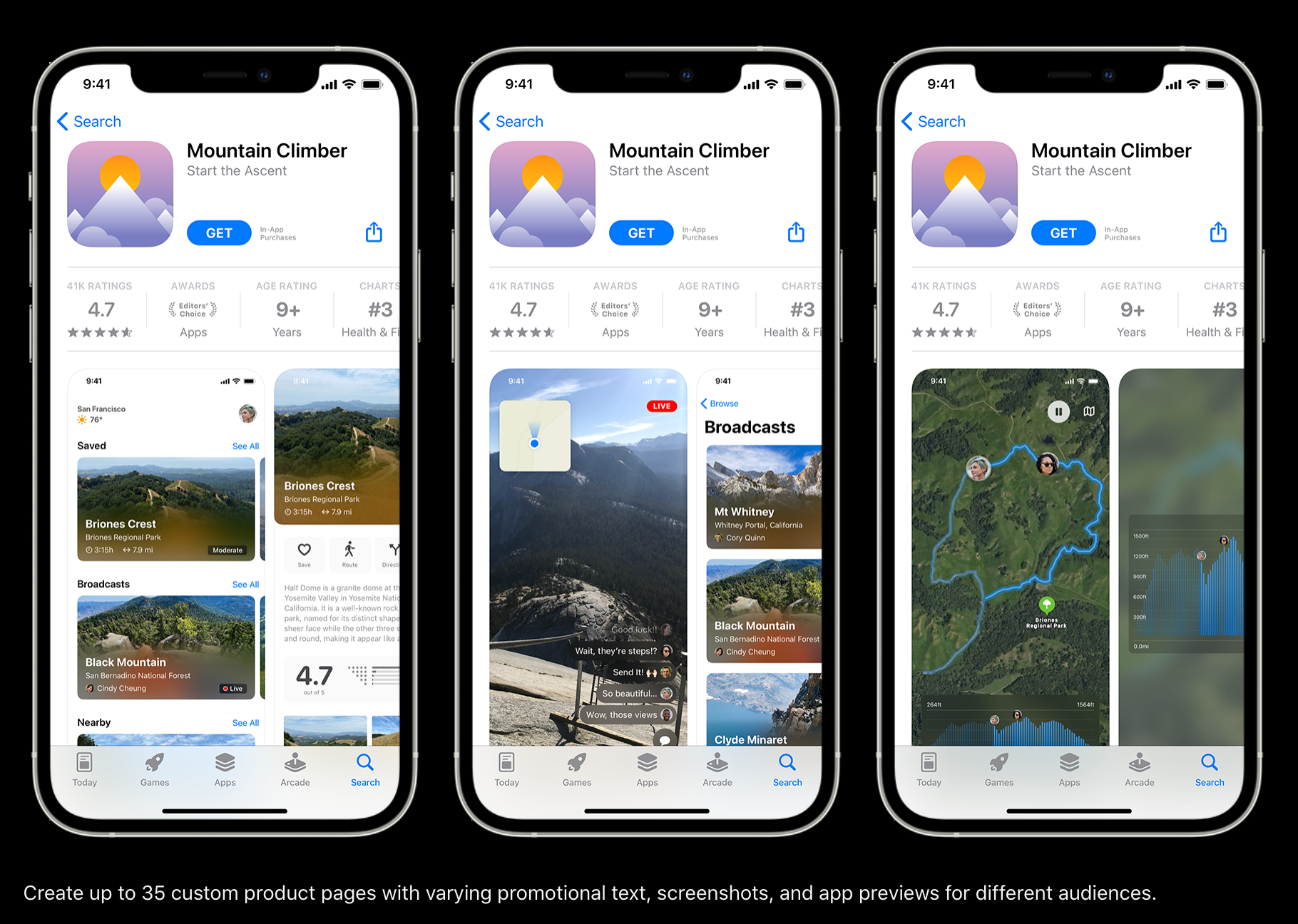 While we don't know exactly when these new features will hit ASC, but we're definitely excited for these new features. Check out our last blog post to see some more of the changes we expect to see from both Google and Apple.