The day has finally arrived, iOS13 is now publicly available! If you're like any of us at The ASO Project, then you've already had the new iOS live on your phone for a few hours (or you've had the beta for a few months). Regardless, it's exciting times in the app world. Anybody else feel like it's Christmas in September? In our excitement over iOS13, we noticed something funny happening with the search tab in the App Store.
What are users seeing on the Search Tab?
When we pulled up the search tab on iPhone X, it looked pretty similar to how the search tab has always looked. You've got your typical "trending" words. However, take another look. At first glance, these look like trending keywords. "Toon blast", "candy crush", "mobile legends", "heads up", "youtube" but in reality these aren't "keywords", they are actually just trending app names.
Now check out the App Store on iPhone 8. We're seeing two separate lists, one titled "Explore Apps" and the other "Explore Games." When you click on any of the "keywords", it still takes you to search results, so you do have the option to explore other apps (and see ads).
We're not done yet though. Now, take a peek at an iPhone 7 Plus. We've got the same apps as the iPhone 8. But check out how they're listed. In contrast to the iPhone 8, the iPhone 7 Plus search tab takes you straight to the suggested apps. You also have the option to download the apps straight from the suggested list because these apps are displayed with the app icon, title and subtitle along with the "Get" button. There's also no separation between games and apps. Tapping on the app opens they app's page, and the "Get" button downloads the app directly from the Search tab.
Take a look at the screenshots below: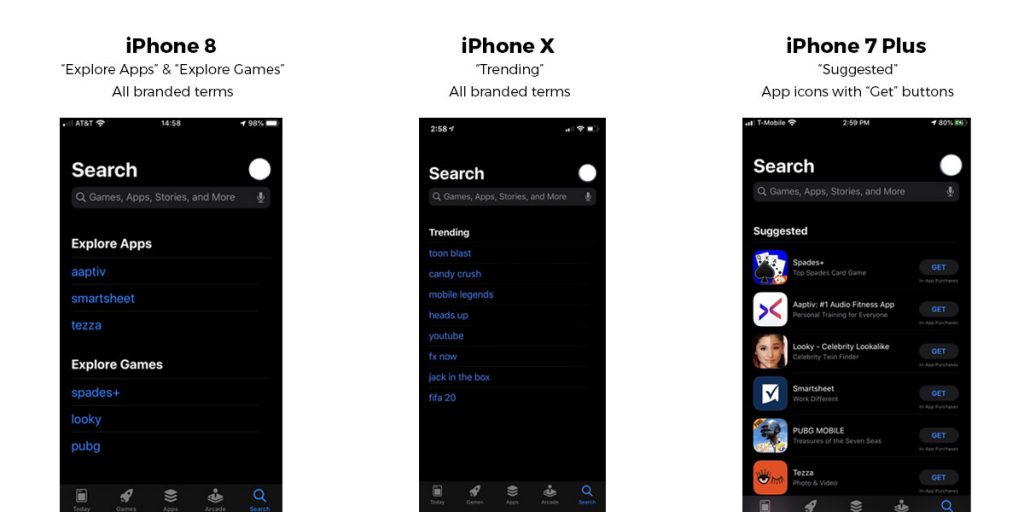 As with any new iOS version, iOS13 is bound to need a few tweaks. We already know iOS13.1 is coming in the next week or so. Maybe we'll see the App Store across devices become more similar, but could Apple be split testing the App Store across its different devices? Or it could choose to keep this slightly bizarre divergence across devices. Either way, only time will tell what will happen with the App Store and ASO as iOS13 develops.