American Eagle is one of the more prominent clothing brands for younger people, but do they take flight in the App Store? Let's see where AE could spread their wings a little bit more with their ASO.
Title & Subtitle
The current title for the American Eagle app is "AE + Aerie", which is great if you're looking for AE or Aerie. It's not as great if you're looking for shopping, fashion, clothes, etc. American Eagle has room here to add in an important keyword or two — which could be hugely beneficial, especially considering they're currently ranking #48 for "shopping", and outside of the top 50 apps for "clothes shopping". 
The American Eagle app listing also needs a subtitle. As we've seen in the past, the subtitle holds important weight that can help make or break your rankings. Without utilizing their subtitle, American Eagle is giving up a valuable opportunity for additional keyword rankings.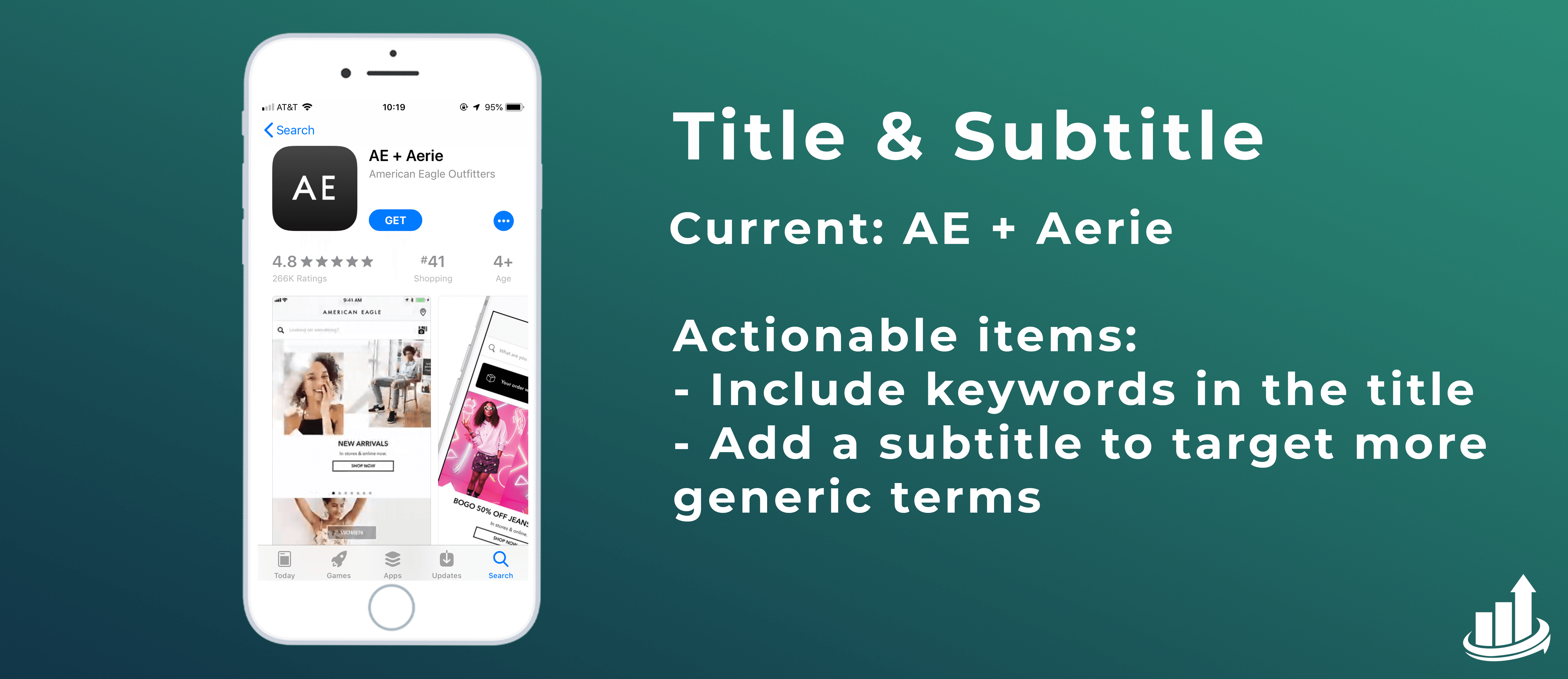 Screenshots & Video
American Eagle does currently have a preview video — but only on iPhone 8 (where's the iPhone X love?)! As we've discussed in the past, adding a preview video can help boost conversions by up to 30%! On the other hand, the AE screenshots show some room for growth. With the preview video, the first two screenshots are visible in search results, which means utilizing them to display key features and messaging is a must. Currently, the text on the screenshots is pretty difficult to read, and we always stress the importance of legible text on screenshots!
Additionally, AE is using the tactic of the "continuous" layout where the device from the first screen is overlapping into their second screenshot. While this is definitely something worth testing, it could be beneficial to highlight multiple screenshots with different products and features in order to show users what their inventory of clothing looks like. The current first screenshot highlights a "BOGO" (buy-one-get-one) sale, which is a great highlight to draw in users, but additionally, it may be interesting to test displaying the products that are currently on "BOGO" sale with an additional screenshot.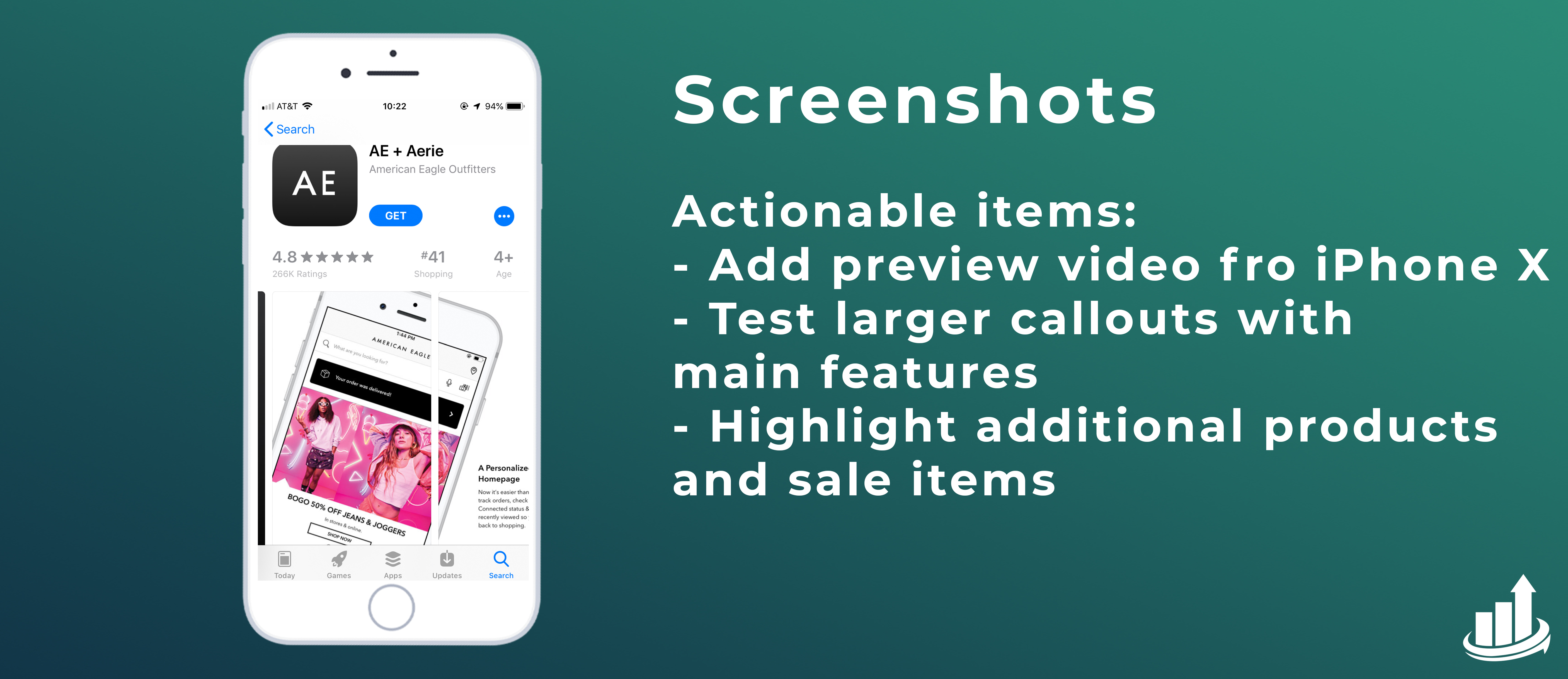 Keywords & Search Ads
Based on AE's keyword rankings for "generic" terms (#11 for "clothes", #8 for "clothes shopping", etc…) we can assume there's a huge reliance on branded search terms. By expanding the app's title and subtitle, the goal should be to rank for more of these generic terms in order to capture a larger audience of potential customers who may not be totally familiar with the AE brand.
We talk a lot about "brand defense" strategies when it comes to Search Ads, and in the example of AE, it looks like that's missing. After performing a number of searches, we can see multiple competitors are bidding on their brand keywords, and potentially stealing customers away. Implementing a branded campaign into Apple Search Ads can definitely help to protect their app from competitors and make sure their customers are reaching their app.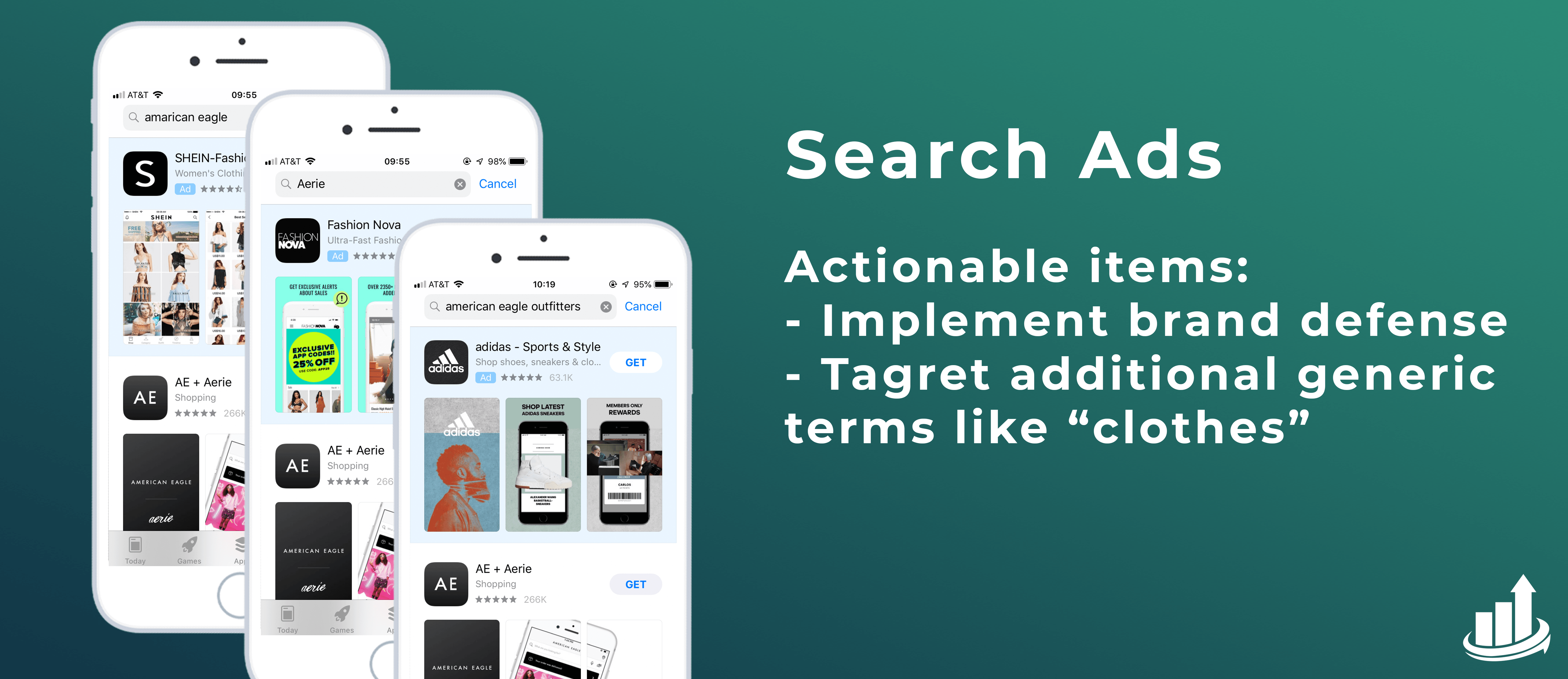 American Eagle is yet another example of how important it is to stay on top of your ASO no matter how big or small your company is. Improving their ASO Strategy could allow American Eagle to really fly in the App Store and acquire even more valuable customers.