The App Store is a highly competitive market. You need to be on your A-game to rank well and drive your organic installs. One of the most competitive keywords on the App Store is "photo editor." With a volume of 77 and over 30,000 apps across iPhone and iPad, getting into the top 10 is a feat. The current top ranking app is simply called "Photo Editorº" by Easy Tiger Apps, LLC. Let's take a look at their ASO to see what they're doing right and some areas where they could use an edit or two. 
Title and Subtitle
When it comes to competitive "generic" (non-brand) keywords in the App Store, apps that utilize an "exact match" for the searched keyword will inevitably rank higher than those that are not an exact match for the searched term. No two apps are allowed to have the same title in the App Store, so a common strategy can be adding some sort of symbol. In this case, the app utilizes the "º" symbol. The thought process behind doing this is that Apple's algorithm does not index the symbols and will read the title as simply "Photo Editor".
If you've read our previous ASO audits, you'll know that we just about always recommended adding keywords in to an app's title, but in the case of an exact match title for a competitive term, adding keywords would more than likely be detrimental here. The reason is that the app would no longer have the direct match for the keyword "photo editor" and would potentially lose ranking priority.
That being said, the subtitle would be an area to actively test and modify keywords. Currently, the subtitle is "Filters & old picture effects." This subtitle has helped the app achieve rankings in the top 5 for high volume keywords like "photo effects" (41), "photo editor free" (49) and "photo filters" (49). While the character count limit may prohibit additional keywords, replacing "old" with something like "edit" may prove beneficial.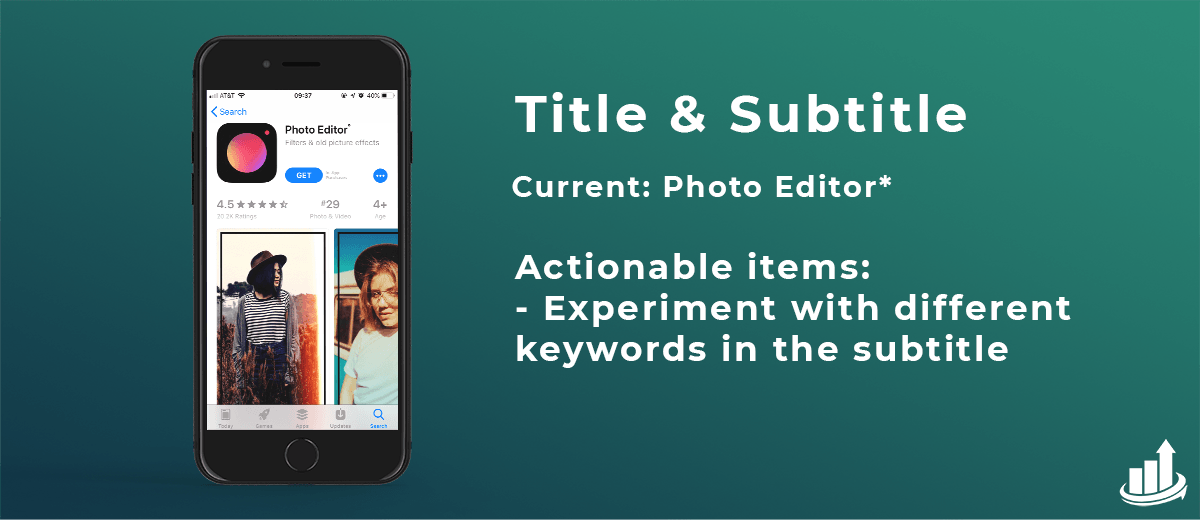 Screenshots
Photo Editorº's screenshots are currently mixed with image-only and image + callouts. They have two cool, trendy photos with no callouts and then three screenshots showing their interface with simple text callouts. With a keyword like "photo editor" users may download multiple apps to find the ideal app for their desired editing outcome. Showing the app's UI and introducing the many features and editing capabilities may be helpful from a conversion standpoint. There's no doubt that the two artistic photos are exactly what younger Millennials and Gen Z'ers are looking for. However, some descriptive text can still be highly useful.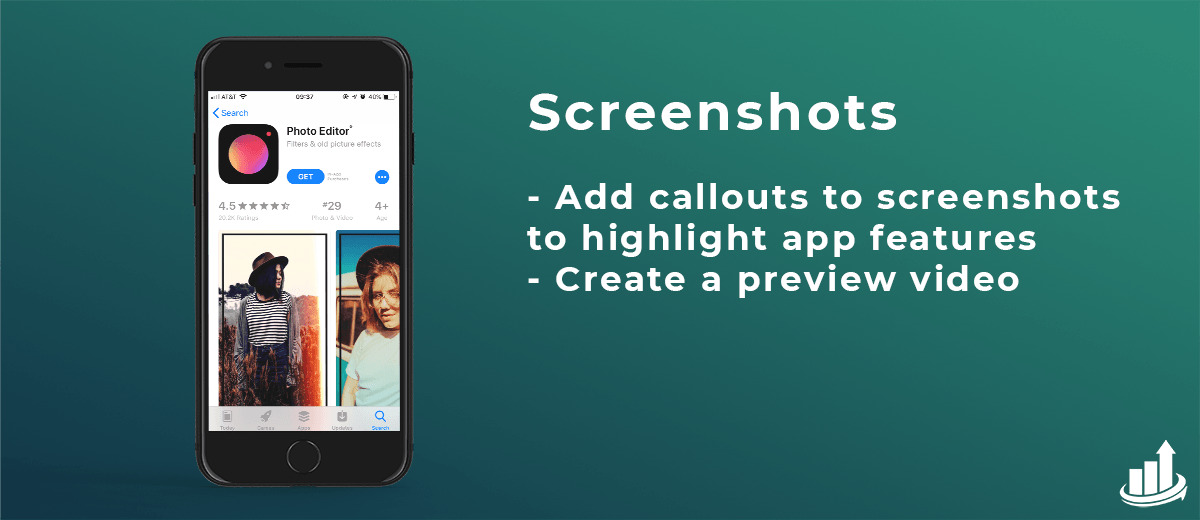 Photo Editorº also doesn't currently have a preview video. We know that preview videos can add up to 30% more conversions for apps. With competitors like Bazaart, Photoshop and PicsArt all sporting videos, it's something Photo Editorº should definitely look into. The video would be a great solution to run through all of the editing capabilities of the app rather than highlighting still images in screenshots.
Search Ads
One might think that because an app is ranked #1, Search Ads are irrelevant. This is definitely not the case for a keyword like "photo editor". At some point, the app Darkroom was featured as the App of the Day. Now, whenever you search "photo editor", you get an ad, Darkroom's App of the Day story and THEN the #1 app. So Photo Editorº isn't even displaying above the fold for its highest ranking and volume keyword. The same is true for the keyword "photoshop" (71), "photo filters" (49) and "photo editing" (48). This makes bidding on these keywords (and others!) pretty important. Not only will your app be the first that users see, it'll be the ONLY app on the screen.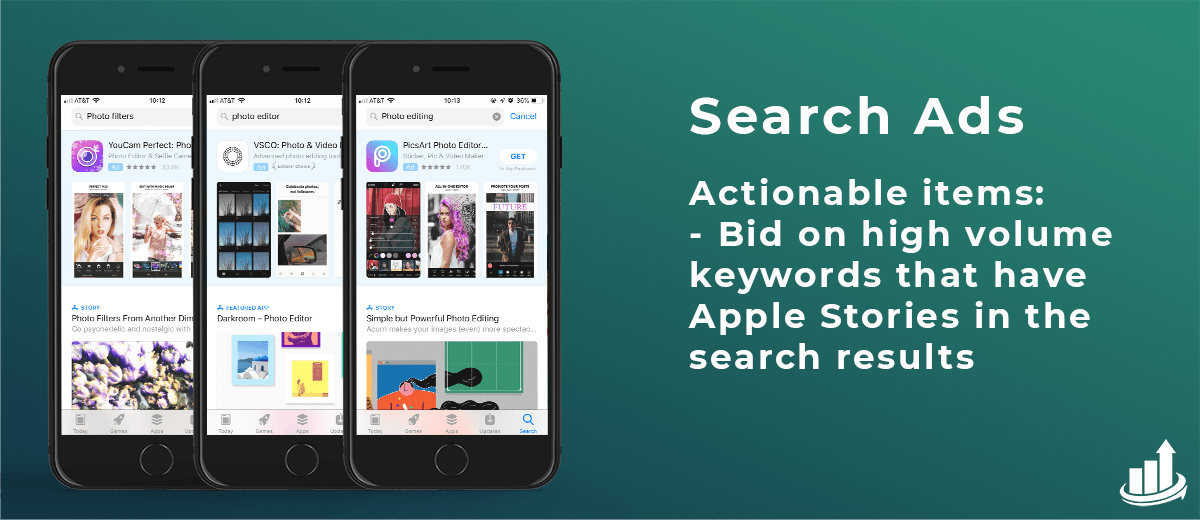 There's no doubt that Photo Editorº is succeeding on the App Store. To be the #1 ranked app for a keyword like "photo editor" is a pretty impressive feat, but it doesn't mean the ASO work is done. ASO is an ongoing process, which means you should be constantly improving and exploring new opportunities.