When's the last time you reinstalled an app you've had in the past? We all know you've probably gotten stuck on a Candy Crush level, deleted the app in frustration only to reinstall it every Thanksgiving when you're sitting around listening to your weird uncle's childhood story you've heard a 87 times before. Turns out, 42% of app installs are actually reinstalls (Tune).
Let's dig into the anatomy of a reinstall campaign and give you some ideas to take advantage of this sleeping giant with ASO.
What is a reinstall?
Reinstalls are app installations from users who have previously downloaded and installed that app.
Why do people reinstall?
Think about your reinstall history. There is a misconception that reinstalls come from users with poor phone storage space who have to delete apps to swap the space for other apps. While this is a small percentage of the reason people reinstall, what actually happens is that users get tired of apps or complete all available features/levels/offerings. Still more people just want to give apps another try; maybe the app was too buggy, or they deleted by accident, or maybe they needed the app to save using a mobile store coupon or savings app.
ASO PROTIP: Reinstalls make up almost 30% of all app downloads in North America, with Mexico at close to 40% reinstalls, Canada at 33.5%, and the United States at 27% (Tune).
Reinstall rates vary by app category with some of the most reinstalled categories being: productivity (how ironic and yet, so real), social networking (think about all the bad dates people went on and then went back to swiping right), travel, education, and business.
How can you increase reinstall rate with ASO?
What's New Text
Your "What's New" text could be a big conversion factor. It's important to draw reinstalls by telling users what is new in your app and giving them even more reason to redownload after searching for you or finding you again organically.
For example, games are reinstalled 55% more frequently than non-game apps. Some great ways to bring game users back are to:
add new levels, characters or challenges
add daily returning rewards
discount in-app purchases
Apple even has a featured section for the "Best New Updates" to help large apps that put in the work to re-engage users to gain reinstalls.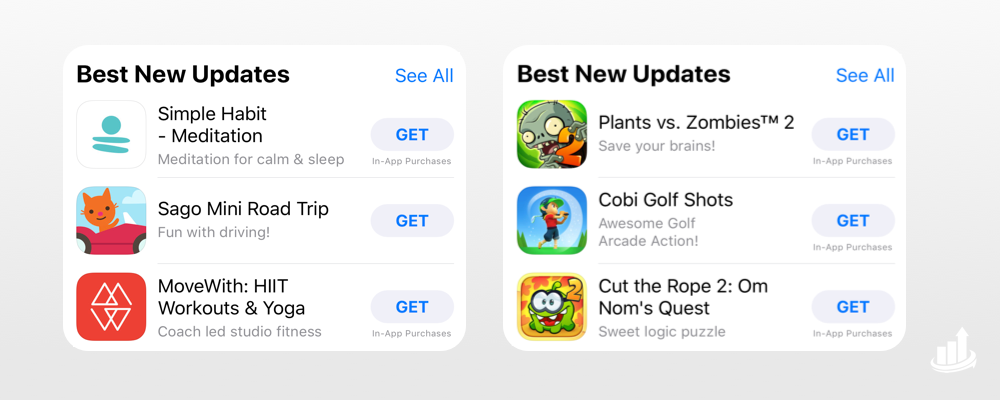 Illustrated value adds in creative
When attempting to acquire a user that's already familiar with your app, you need to show your new value adds in your creative. Consider updating your app's:
icon
screenshots
Play Store header image
with visual and textual callouts that illustrate your commitment to always evolving and improving your app for your valued users!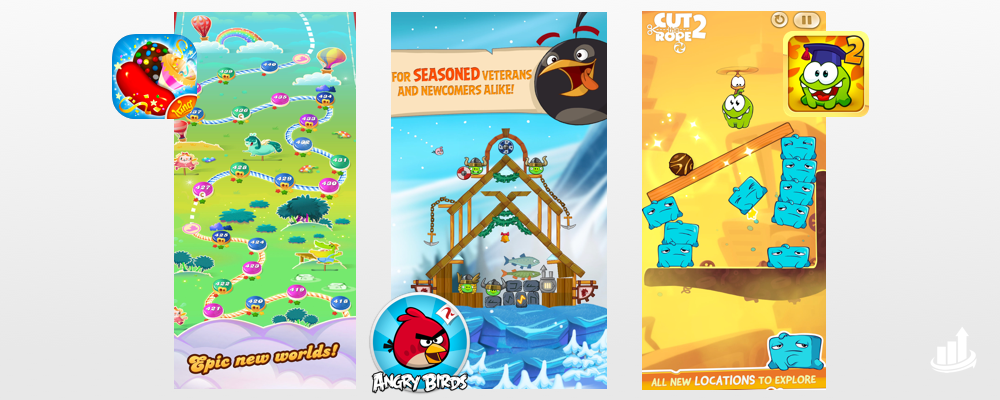 Apple Search Ads
After testing reinstall campaigns, we found that acquiring returning users cost only 30% – 60% (depending on the app) the cost of a new user. That's some serious savings. The conversion rate of these Search Ads campaigns has also been upwards of 80% higher than that of a new user acquisition campaign.
The other great part of using Apple Search Ads in your reinstall efforts is the ability to split test your screenshots with Creative Sets. If this sounds new or confusing to you, check out our previous article, How to Split Test on iOS with Search Ads Creative Sets.
Try splitting your creative like this: show regular promotional screenshots to your new user target segment and show new features oriented screenshots to your reinstall target segment. This will help you further serve the audiences you are advertising to and get the most out of your ad spend.
Now you're ready to rock your reinstall campaign!
Still need some help? Let our team of ASO experts help!
Contact us today for a free discovery call and be on the road to more reinstalls tomorrow!