From crackdowns on fake reviews to Google Play Instant gameplay previews, 2019 is shaping up to be an exciting year for the app industry. Let's talk about 6 key trends we see on the horizon for ASO in 2019 and beyond:
Evolution to a holistic ASO approach
Traditionally, ASO has been heavily focused on text optimizations. Over the last few years, graphics have become incredibly important for conversion rate optimization. By focusing on and improving the conversion rate of your app's page, you'll be able to capture a higher percentage of users that are already discovering your app.
Additionally, a higher conversion rate also leads to improved keyword rankings. Apps that convert a high percentage of users for a specific keyword get "relevancy points" in Apple & Google's algorithms.
In general, both of the app stores are looking more and more at retention and engagement as ranking factors, indicating a shift toward post-install metrics playing a factor in ASO and keyword rankings.
Crackdown on fake and meaningless reviews
The Google Play Store and Apple App Store have had it with spam.
This year, fake and/or meaningless reviews are actively being removed and flagged in both of the app stores. These reviews are those that contain substanceless feedback that appears to be purchased or driven from outside third parties.
It will become increasingly important to encourage real users to rate and review, as well as to respond to their feedback with answers to their queries/complaints.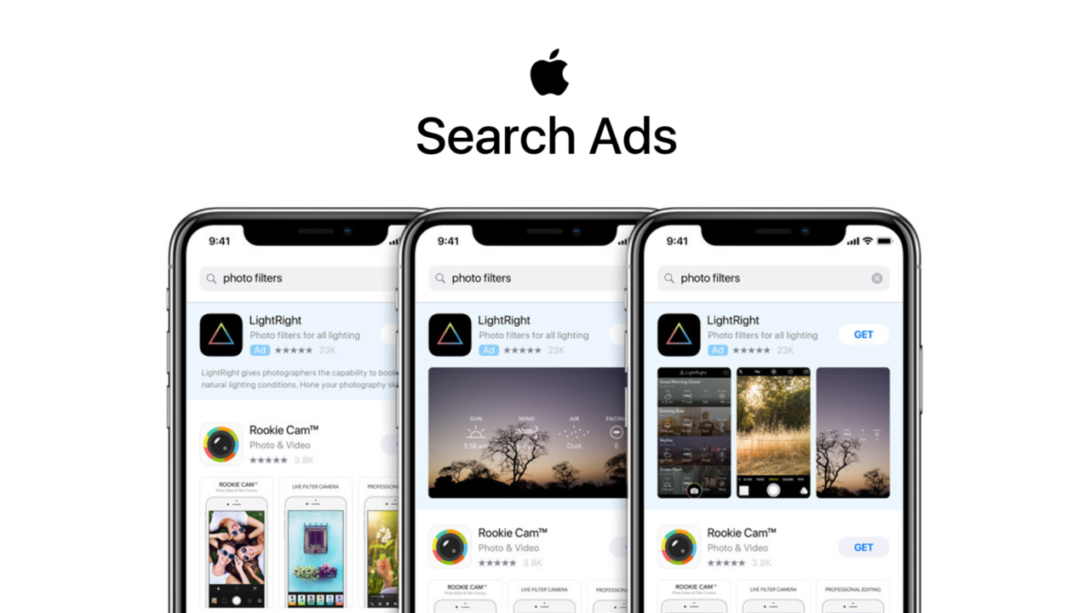 Apple Search Ads growth
As Search Ads expands to other countries, developers will be able to improve visibility by creating new campaigns in new markets.
Additionally, developers will be able to learn more about the keyword popularity of terms in specific countries. As an ASO agency that relies heavily on accurate data, we have been able to leverage this expansion for keyword research and developing more effective optimizations for our clients.
With APIs that tie directly into the Popularity data from Apple, we're able to quickly and effectively build keyword landscapes and identify major opportunities in new markets for our clients.


Preview videos
As video is becoming a standard necessary to attract new users, we predict eventually a preview video will be required.
Preview videos are an extremely effective way of boosting conversion rates by giving users a quick look into the app and key features. By split testing designs, messaging, and other video elements, we've been able to create very concise and high-converting videos for our clients. Developers need to leverage videos to capitalize on the conversion opportunity.
We're seeing this everywhere, not just in the app store. Think about your preferred social media channel. No matter which one it is, Facebook, Instagram, Snapchat
Enhanced attribution tools
With the expansion of Search Ads and the ever-growing world of paid user acquisition, it's more critical than ever to know what's going on with your ad spend. This year, there will continue to be a better understanding of which keywords and channels are driving the downstream performance for your UA efforts.
Having a mobile analytics and attribution platform like Appsflyer enables you to understand your high converting keywords in Search Ads and apply that to your organic ASO along refining your Search Ads campaigns. In short, attribution is one of the best ways to understand the true ROAS of your campaigns.
Pre-install app demos
This year at Game Developers Conference, Google announced Google Play Instant (GPI). This feature allows developers to offer playable game previews to users without requiring that they download and install an app.
This feature is enhancing enhance discovery in 2019. If your ASO strategy is healthy and making a positive effect on your rank, then Instant will allow more users to test out your app.
If users complete your Instant play, they will receive an install popup that prompts them to install the game to keep playing the full version.
How to take advantage of GPI for ASO in 2019:
Start by evaluating your product page. Remember, you won't get a sudden burst of installs due to GPI if you're not ranking for relevant keywords, or if you are ranking but your listing isn't optimized.
According to your audit, it's important to then optimize your creative elements, keyword list, title, subtitle, and description. Furthermore, you should highly consider running split tests to know with a higher certainty that your creative is the highest converting set you have. Do these things before taking advantage of GPI to best have a shot at succeeding with the new gaming preview feature and enhance your user acquisition and ASO this year.
The ASO Project will be partnering with AppOnBoard to create and launch customized App Store Demos for our clients. Stay tuned in for our announcement later this spring.
Conclusion
With all these predictions, it's important to understand the root causes and effects they will have on your app. Using a tool like AppsFlyer gives developers a greater understanding of user behavior and can be used to understand retention and engagement patterns for ASO in 2019.

Ready to rock your ASO and take advantage of these new and emerging trends? If you factor them into your strategy this year and let your data work for you, you'll be well on your way. Good luck, and happy searching!
The ASO Project is your full-service ASO & App Marketing agency. Feel free to reach out to me at erin@theasoproject.com for anything ASO related and we wish you the best on your road to optimizing your User Acquisition Strategy!