In today's digital age, the world around us is constantly evolving. Social media, apps, laptops, phones, smart watch — they barely existed a mere 10 years ago and even then in no way resemble what we've evolved to today. One industry that has had to completely shift how it works is the news. Some companies have managed to adapt to the digital and app world while others have lost readers/viewers. Let's take a look at how media giant USA Today is doing at trying to stay afloat in the app world.
App Store
Title and Subtitle
USA Today uses a branded title of "USA Today" alone. That takes up nine of the 30 characters available to them which is under-utilizing the most valuable position for keywords. A title that includes keywords, such as "USA Today – Breaking News" could help USA Today break into the top rankings for a number of very "news" relevant keywords (because they currently only rank in the top 10 for 2 of the 17 news-related keywords we researched). 
We know the title is the heaviest contender when comparing keywords so it would be best for USA Today to take full advantage of the 21 empty characters that they left. The only keyword search that USA Today ranks #1 for on either the App or Play Store is "USA Today". We can assume that a vast majority of USA Today's search installs are coming from branded terms.
USA Today's subtitle on the App Store is currently "Latest World and US News." This isn't a bad subtitle whatsoever. The opportunity that exists is the ability to shuffle these terms by moving additional keywords into the title. Something else to consider is that the keyword "latest news" has a search popularity of 5/100, whereas other news related keywords had much higher indexes.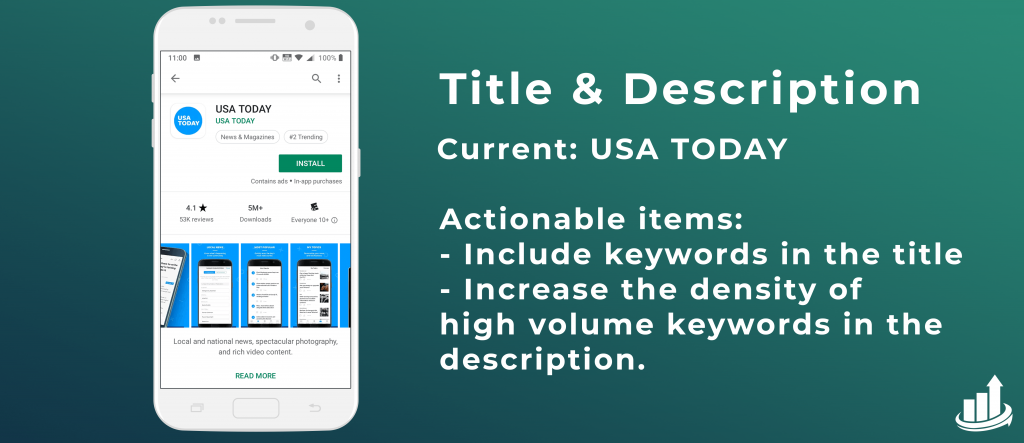 Screenshots
Being that USA Today is a news app, it makes sense to continually update the app's screenshots with current articles that are in the news cycle. USA Today's current screen shots contain only 2 text callouts for 6 screenshots, the first of which is a bit small and difficult to read. Contrast this against the USA Today Play Store listing which highlights additional features like local news, popular headlines and personalized topics. Tells you a little bit more about the app and why you'd want it, right? Messaging is a major part of high-converting screenshots, and in the News category, there's big time competition. By creating some differentiation in features and capabilities is key to acquiring new users.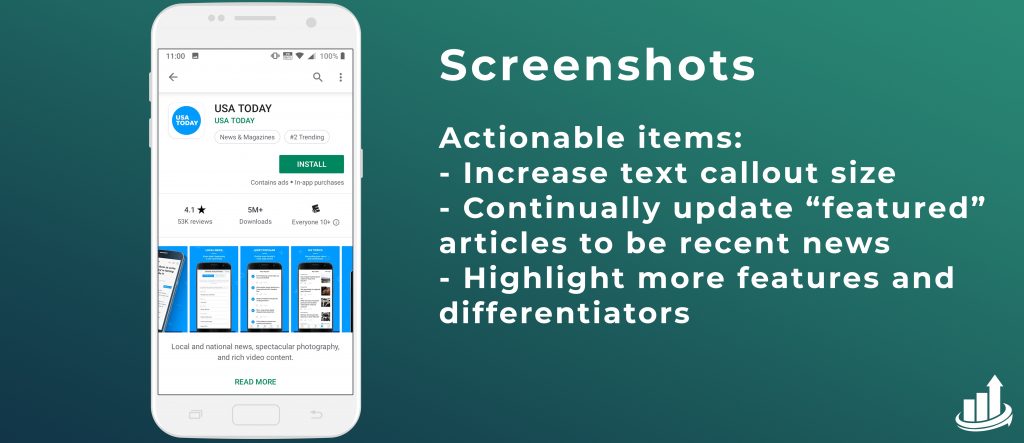 Play Store
Title and Description
USA Today stays consistent with their "USA Today" app title. As I mentioned with their App Store title, adding additional high volume keywords such as "breaking news" or some variant would help USA Today to improve rankings in the Play Store.
Looking at the density of keywords in an app description plays a heavy role in keyword rankings. Among other factors, Google's algorithm is determining rankings and keywords based on the frequency of the specific terms. Currently, USA Today has four keywords that they have (relatively) substantial density for: award-winning, today, updated, podcasts. Our initial recommendation for USA Today on their Play Store listing is to do an overhaul of their app description and improve density for keywords like news, newspaper, live, breaking, etc. This will help to get them on the board for the Play Store keyword rankings.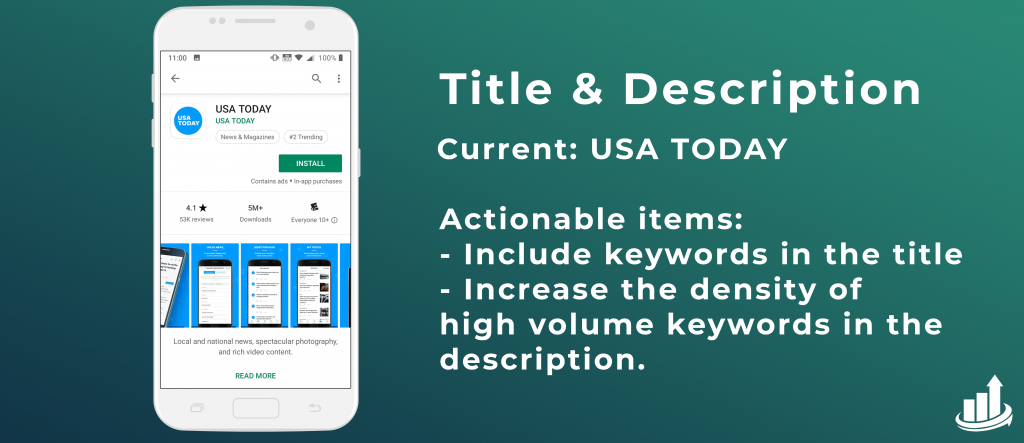 Screenshots
As I mentioned previously, USA Today's Play Store screenshots do a better job of showcasing features and benefits of the app. You could make the argument that the screenshot callouts on the Play Store are a bit small, but the Play Store isn't as screenshot heavy as the App Store. Testing horizontal screenshots has proven to be beneficial when using a preview video because of the resizing that happens within the Play Store due to the feature graphic's aspect ratio.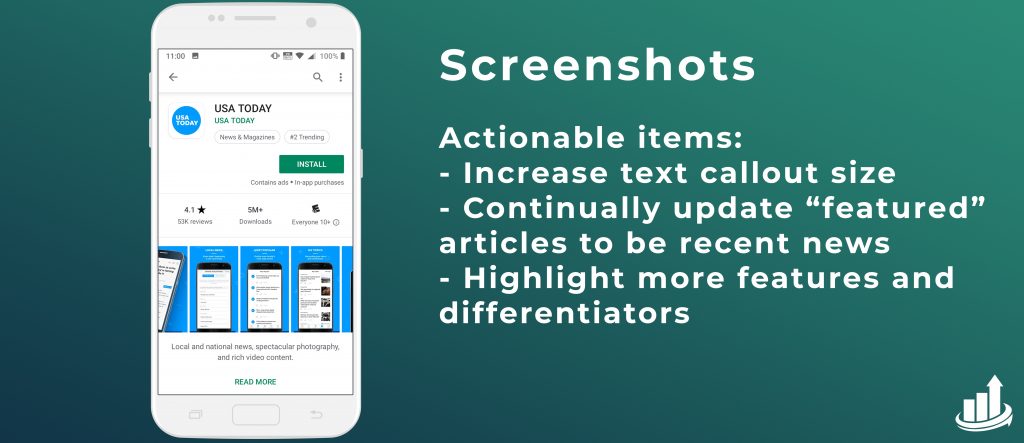 With USA Today acquiring installs via their branded searches, ASO may not be a priority, but the competition in the News category is fierce and the keyword landscape is large. Expanding and focusing on new keywords is definitely the key to growing their organic install numbers.