As a developer, you have enough on your hands as it is. When it comes to launching a paid acquisition strategy, the time and learning that goes into ads management is enough to intimidate many devs. This is why Google created the Universal App Campaigns structure.
What is Google UAC?
UAC allows you to seamlessly advertise your app across Google's Search and Display networks as well as on the Play Store and YouTube.

Why should I invest in UAC?
UAC is a relatively low cost per install, low maintenance platform that allows you to advertise at scale.
Set up is easy as Google pulls info from your existing Play Store app listing (or App Store for iOS).
All you have to do is define the following 4 variables:
Ad text ideas
YouTube video (optional)
Targeting Locations (and/or exclusions)
Bid strategy (max cost per install or most likely to engage in in-app actions/purchases)
ASO PROTIP: Before engaging in a serious advertising campaign like UAC, it is essential that you have a fully optimized app listing. Because UAC pulls its core data from your app listing, having full app store optimization on your page sets you up to succeed with Google UAC. A fully optimized product page includes tested text (title, subtitle, description) and graphics (icon, screenshots, video). If you need help optimizing your app on the app stores, contact us today.

How to set up UAC in 4 steps
1. Create your first ad
To start, you'll need a Google Ads account (formerly Adwords). Log into your account and navigate to Campaigns -> Universal App Campaign.
Next, set a clear campaign name that you'll be able to identify later on. Go to mobile app and select your app. An automatic preview will load under the Ads section. This is a preview of how your app will display across the different networks.
Then, ad your text ideas. It's important to always use all available spaces for the best chance at optimizing your campaign.
Next, add your YouTube video URL. Don't have a video ad for your app? Let our team create one for you!
Finally, set your target locations. Many times it works well to start with broad targeting and then narrow in by adding exclusions over time to optimize your campaign.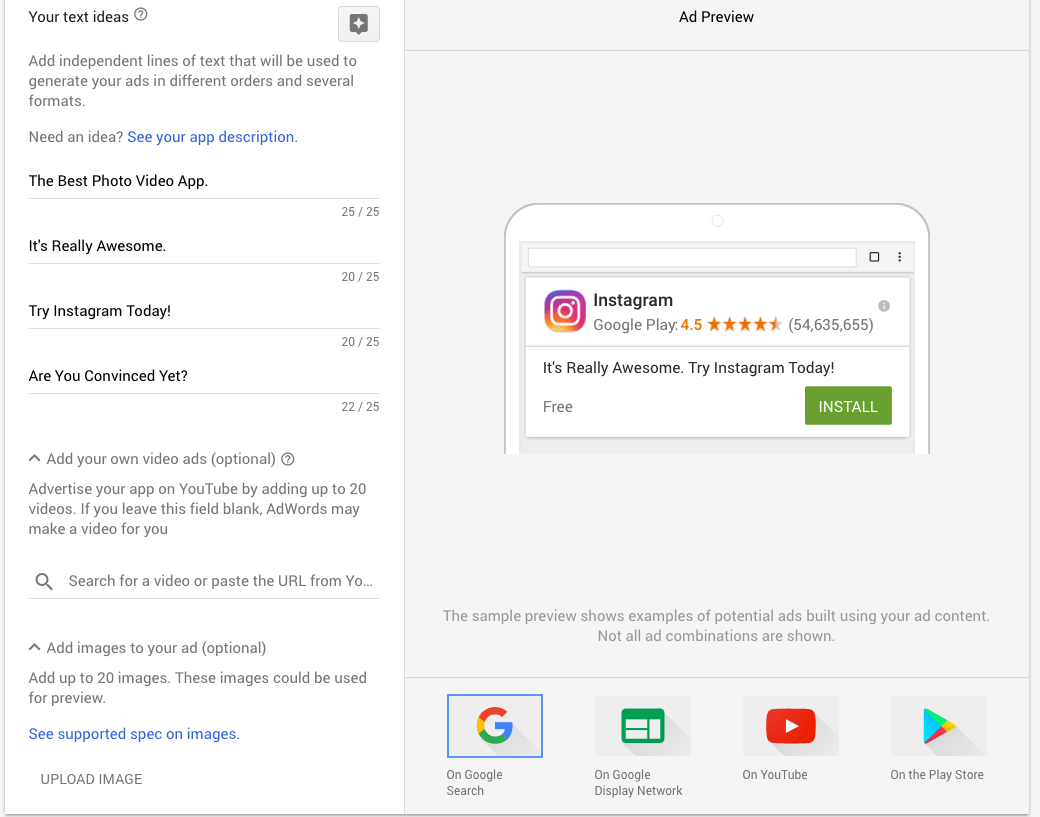 2. Decide on your bid strategy
There are 3 options for bid targeting:
Getting more installs (get the greatest number of new users for your budget)
Driving in-app actions (get the greatest number of engaged users for your budget)
Focus on driving in-app purchases (get the highest lifetime value/target ROAS users for your budget)
Google recommends starting your campaigns by optimizing for installs or in-app actions first, before attempting to use in-app purchase behavior as your bid strategy.
3. Management & Optimization
Depending on how things are going with your Target Cost Per Acquisition (TCPA), you may want to make changes to better optimize your campaign.
You can always go back and assess your TCPA, change ad text options, add or change your YouTube video and even alter or narrow your location targeting down to the city or even zip code of targeted users
4. Record & Analyze
As is with any advertising campaign, it's important to track your budget, impressions, conversions, and cost per install on a daily or weekly basis.
Always designate what changes you made, why and then you will be able to easily draw from your results if your hypotheses were correct and inform your decisions to go from there.
Use data to decide on whether you need to increase or decrease your TCPA.
Ready to start your Universal App Campaign?
Let our team of app store optimization and creative pros set up and manage the campaign for you!