One of our promises we make to our clients is our commitment to being on the forefront of ASO industry knowledge, trends and tech. Holding true to that promise, we are excited to announce our Client ASO Dashboard!
This dashboard gives all of our clients a fast, easily accessible look at the state of their app's optimization. The ASO dashboard visualizes all the data surrounding your apps in one interface making it easy to see where you are succeeding or falling short. This arms you with the data you need to make informed decisions about your App Store Optimization strategy.
Features include keyword rankings, review tracking, backlink data and much more!
Let's dive into the features of the ASO Client Dashboard:
The Overview Section
This feature allows you to quickly check your app's overall health. View category rankings for the last 30 days, a quick list view of your biggest "winner" and "loser" keyword changes over the last 24 hours, a review visualization & breakdown for the last 2 weeks along with a quick graphical view of your link metrics to measure growth and quantity of backlinks and referring domains.
App Details
Ready to spy on the competition? Research any app in any country in any language. In this section you can review the app's graphic elements, along with their metadata. In the ASO dashboard you can measure keyword density of the description and app, along with how those terms are used in the app title and subtitle (or short description). The dashboard also provides category ranking data, along with the valuable backlink and referring domain history for the last 30 days.
Keyword Tracking
The core metric of any successful ASO strategy: keyword tracking. Now you can track keywords across any country and view your app's 24 hour ranking change. In addition to rankings, you can research the top apps with a list of real-time search results for that term. The dashboard also provides Search Volume for keywords utilizing Apple Search Ad volume data for App Store keywords and assigning an estimation of volume on Google Play Store keywords.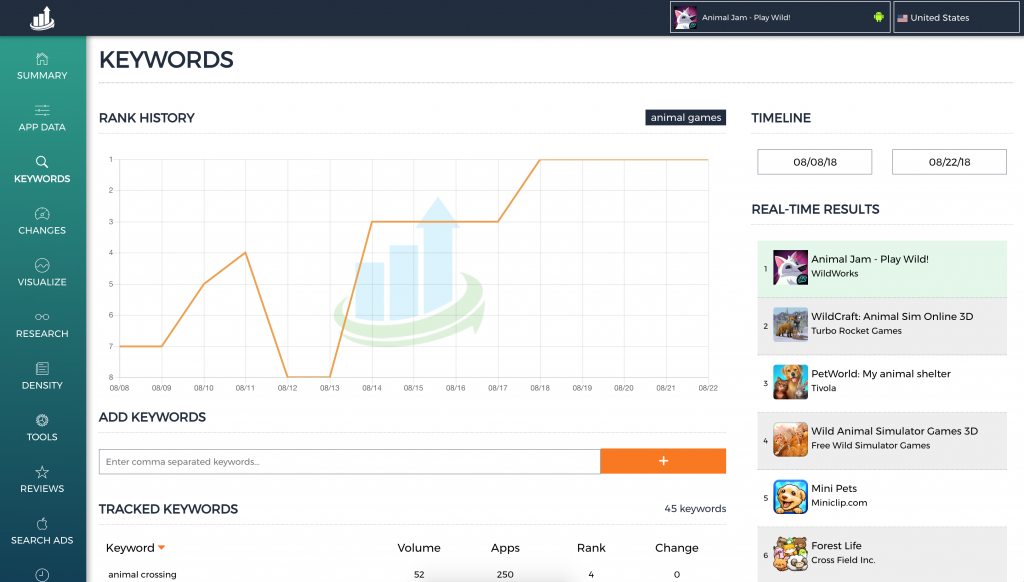 Keyword Research
Keyword research is a crucial part of the ASO process. Understanding Search Volume and competition is important to decide if that term is a target for your efforts. The ASO Client Dashboard provides Search Volume, along with the number of apps that are displayed for that search term. You'll also be presented with a list of apps that rank for that term in real-time, along with a list of recommended terms.
Density Analysis
Keyword density is a huge factor in Google Play optimizations. Where, along with how frequently, you use a specific has a huge impact on how an algorithm indexes that term. With our keyword density tool, you can quickly dissect an app's metadata to understand the most commonly used keywords.
Review Tracking
Understanding user feedback enables you to improve your app and pinpoint issues. The ASO dashboard pulls in reviews in [almost] real-time to provide the most updated list of reviews for your research. Your dashboard can pull breakdowns for any time period and filter only the best, or only the worst reviews to find out what users do and don't like. Talk about sentiment management!
Backlink Data
Build a better backlink strategy with The Client ASO Dashboard. Link Building is a commonly neglected, yet important factor in an effective ASO strategy. By building backlinks and creating content, we are able to influence web rankings and the Google Play Store algorithm. Link building can be a challenge, so the dashboard provides a quick and easy way to track where your links are coming from, and understand the value coming from those links.
Backlink Comparison Tool
Backlink and referring domain metrics are not strictly a quantity approach. Growth, link to domain ratio and link quality all come in to play. In the dashboard you'll find a comparison tool that researches the link data for any app in the store so that you can quickly build a comparison chart to understand what the landscape looks like across your competitors.
Top Charts Research
In this feature you can research the top apps in any category, in any country, on both the App Store and Play Store. Find out what the top apps are doing in order to stay ahead of the rest. Watch the biggest movers, identify trends and optimize accordingly. Understanding what the tops apps are doing in other countries is the first step to a successful localization strategy. Research the charts to stay ahead!
Helpful Toolbox
Sometimes you just need a quick hand to simplify your ASO tasks. The client ASO dashboard includes helpful tools like a character counter, column to CSV and a unique keyword extractor.
Mobile Optimized
One of the best part's of the client ASO dashboard is that it's fully optimized for mobile use. Take it on the go and never be far from your beloved data!
Learn more about all the ASO dashboard's features here.
Interested in learning more? Have a feature suggestion? Contact us today.