As Apple and Google's app store algorithms evolve, more and more factors are coming in to play for App Store Optimization success. The focus is dramatically shifting to app quality and user behavior of your app. The algorithms are quite literally determining if your app is relevant, and if users like your app.
How do they make this determination? The algorithms are factoring in your app's usage statistics, and app vitals including things like: engagement, sessions, deletions, crashes, etc… Apple has gone so far as to define (per spokesman) "The four factors that most influence the rankings are downloads, ratings, relevance and user behavior".
Understanding these metrics for your app can be a crucial piece to any successful ASO strategy. Let's look at some ways to better understand your app's vitals and user behavior.
App Deletions
Apple recently added "Deletions" to the App Analytics section within App Store Connect. While the "Deletions" metric is for iOS 12.3+ and for "opt-in" users only, this allows you to gain some insight into how many users are removing your app from their devices. You can organize deletions by sources in order to see the types of users who are deleting your app. This can help you to better refine your target audience so that your app is appearing to those that will use it. The Google Play Console also tracks app deletions. Google gives you a comparison so you can see how your deletions are behaving over time.
App Analytics in App Store Connect

Google Play Developer Console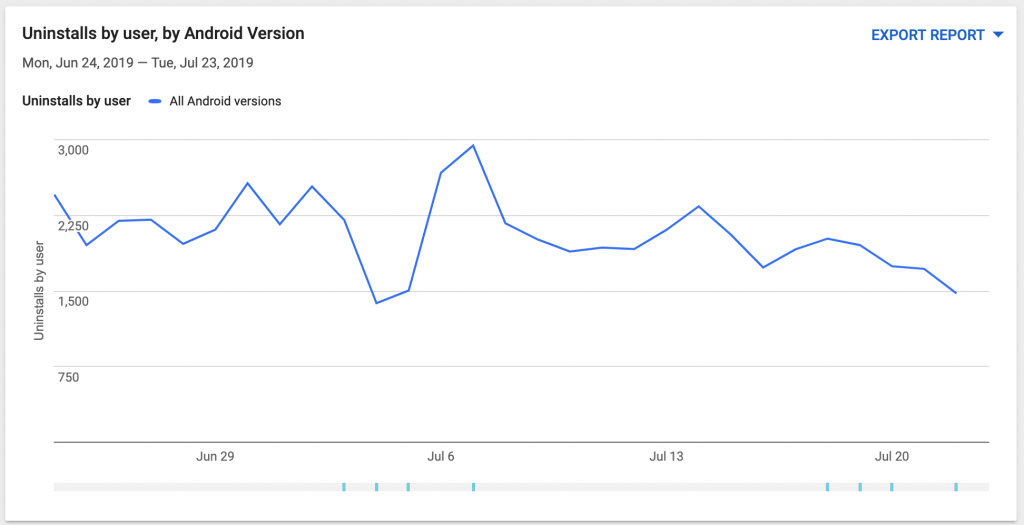 Why do deletions and uninstalls matter? Because an app with a high deletion rate is an app that won't succeed in Apple and Google's stores. If your app has a high deletion rate, then figuring out why (or even who) and making the corresponding changes can go a long way in improving your app's performance on the app stores. 
Crashes
The number of times your app crashes (closes out unexpectedly) can greatly influence your app quality, along with your rating and reviews if users are unhappy with the performance of the app. By monitoring crashes and understanding crash logs, developers can stay on top of issues and quickly fix them to avoid consistent crashes.
User Engagement
Low user engagement goes hand in hand with deletions. If people aren't using your app, they're more likely to delete it. Both Google and Apple allow you to track user engagement through various metrics. Google will show you statistics such as how long it takes your app to load and how many users who have your app installed have actually used it. Viewing detailed retention metrics on each platform can provide insight into a user's "stickiness" or how likely they are to stick around. You can use all of these metrics to see how often people are using your app — and if they're getting a decent experience while doing so. You can also check your uninstalls to see if there's been a mass exodus from your app. This could signal that your app is taking too long to load, eating up battery, crashing often among other factors.
Apple also gives you crash data so you can see if your app is having a problem on a particular device or iOS version. Apple also gives you metics such as the number of sessions, active devices and your average retention rate. Having high user engagement metrics signals to Apple's platform that your app is worth having on a user's device. 
Google Play Developer Console Vitals

Using Push Notifications
One of the most effective ways to increase user retention is through push notifications. These are designed specifically to aid developers in bringing users back into their app. Utilizing well-crafted calls to action and sending them at the correct times for your users to see them can make push notifications a great leverage factor in your daily user retention.
Check out this push notification from Gas Buddy. Who doesn't want free gas and music?

Ratings & Reviews
Possibly the Holy Grail of app performance, ratings don't just tell you how your app is doing — they tell the world. Having a good app rating is crucial to having a successful app. One swanky feature on the Google Play Console is the ability to create a "peer group". You can compile a list of your competitors to determine their average rating. With a peer group, you can see how users think of your app versus your competitors. If your app rating is higher, then you know you're doing well. If it's lower, then some changes might be in order. 
You can also use reviews as direction for where your app could use some improvement. If you notice your app store review consistently complain about your UI or having login issues, those might be two areas that you want to focus on in your next update. The Google Play Console does this for you through a Reviews Analysis. It combines all your reviews and finds the common topics that users mention and what the average rating for the topic is. 
Google Play Developer Console Ratings Peer Groups

In the app world, getting a user to download an app is only half the battle. Keeping your users engage is an important factor in how your app will do on the app stores. By analyzing the metrics that Google and Apple give you, you can gain insight into how users are (or aren't) using your app.