If you have an app on the Play Store and have heard of or experienced recent drops in installs over the last month, we've got answers for you.
The Google Play Discovery Algorithm update
As is the case across app stores, Google Play has released an update to better serve users in their search for apps. This update affected both their search and discovery algorithms and has impacted apps based on quality and user engagement.
Let's drill down what that specifically means for developers like you:
Here are some high-level quality control areas that you need to check if you've noticed a dip in install velocity:
Retention Rates
How sticky is your app? Do users return hourly, daily, weekly?
Crash Rates
Is your app constantly crashing users out preventing them from progress? Yikes! This is a huge contributing factor to losing favor with the algorithm.
Uninstall Rate 
How often/quickly are you losing users? This signals to the algorithm that your game isn't quality or your app isn't providing a solution that meets the user's needs, perhaps in an easy to understand or affordable way.
Sentiment & Ratings
Sentiment and rating signal a lot not only to the algorithm but to users who read your app's reviews. Monitor, respond and adjust/update your app according to your users' feedback. Afterall, you can't succeed without pleasing your core userbase.
Apps and games that have high retention rates, low crash rates, low uninstalls (as well as a number of other contributing factors) are recommended more often.
Here is the official update from Google: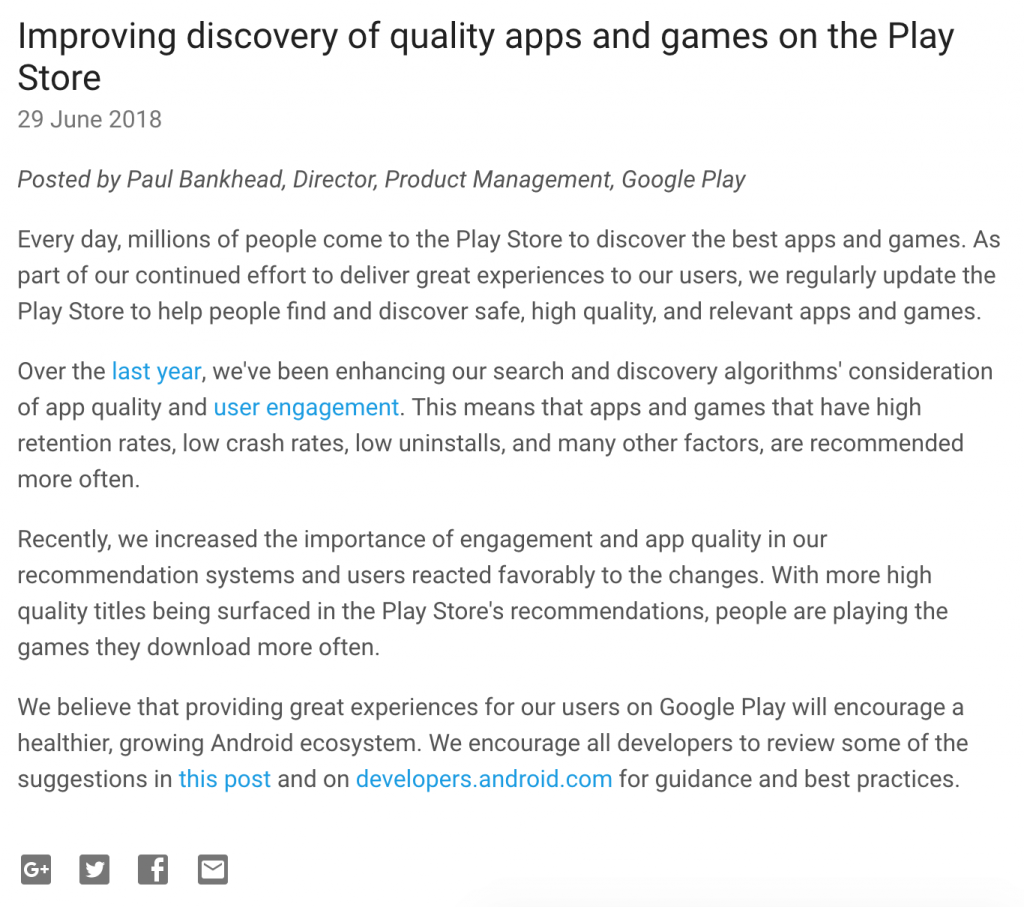 How to recover from the update if it affected your app negatively:
The bottom line is that Google Play, along with all major app stores, are continuing efforts to demote spammy, low-quality apps that do not serve the end user.
The best way around the Google Play Discovery Algorithm update is to audit your app for the key quality factors listed above and adjust accordingly.
You need to constantly be pursuing the best version of your app to keep up with the ever climbing quality standards that the app stores are enforcing.
Furthermore, you need to do these things with white hat ASO methods and stay away from black hat tactics like fake review building, keyword stuffing or other lazy ways of creating small bursts of installs.
Ultimately, these will hurt your app even more in the not distant future.
Need help increasing your app's search visibility?