App Store Optimization is always evolving and changing. As Apple and Google look for new ways to display apps modify their algorithms, and fix a largely broken app discovery process, ASO becomes a greater challenge for a lot of app developers and marketers. In this article, we'll touch on a couple of the most recent trends and opportunities for developers to improve their ASO strategies.
Read the full post on AppsFlyer's blog.
1) Utilizing Apple Search Ads for ASO
Apple's Search Ads are a fantastic way to gain visibility for your app, and in a lot of our experiences, a relatively cheap way. The platform provides a great way for developers to inject their app in front of users for even the most competitive keywords. Due to the bidding system that Apple has implemented, smaller developers still have a fighting chance!
We are going to look at Search Ads from a few angles:
· Paying for installs to gain competitive keyword insight
· Leveraging the "Search Popularity" data
· Understanding the "Search Terms" section of your Ad Group
Let's dive into a couple of best practices for setting up your Campaigns and Ad Groups. In your campaign settings, you have the option to enter negative keywords. We'll come back to this, but this is a field in which you would enter terms where you specifically do NOT want your app to be displayed (again, we'll revisit why shortly).
When creating your Campaigns and Ad Groups, we generally advise the following:
1) Branded Keywords – Target your brand keywords to make sure that competitors are shown less frequently. This is in order to insulate your app from your competitors swooping in to collect your direct brand traffic.
2) Non-Branded Keywords – Target keywords that you know are relevant to your app and that have high Search Popularity. It's a good idea to target the keywords that your app doesn't rank well for in order to improve your app's visibility.
3) Competitor Keywords – The names of your direct competitors in order to collect [steal] traffic from them.
4) Search Match Only – Toggle "Search Match" on, and don't enter any specific keywords. We utilize Apple's Search Match in order to discover and gain data on the keywords that Apple deems relevant for your app, and what terms are leading a user to your app.
Setting up your Ads like this will maximize the visibility of your app across a number of different channels, including your own brand, generic & competitive terms, your competitor terms and by leveraging the Search Match functionality, you'll discover exactly what users are searching for in order to find your app. From there, you'll be able to measure tap through and conversions on a per-keyword basis.
How can we leverage this learning toward our ASO strategy? The most valuable piece of the Search Ads platform is researching the "Search Popularity" data of keywords and understanding the highly searched terms. The drawback of the platform is that it displays the Popularity value in a sliding scale representing the "score" out of 100.
In order to simplify this for developers, we've created a simple Chrome and Safari [direct download] extension that adds a numerical value to the platform screen, which makes a developer's research much easier! Both extensions are free to download and open to the public.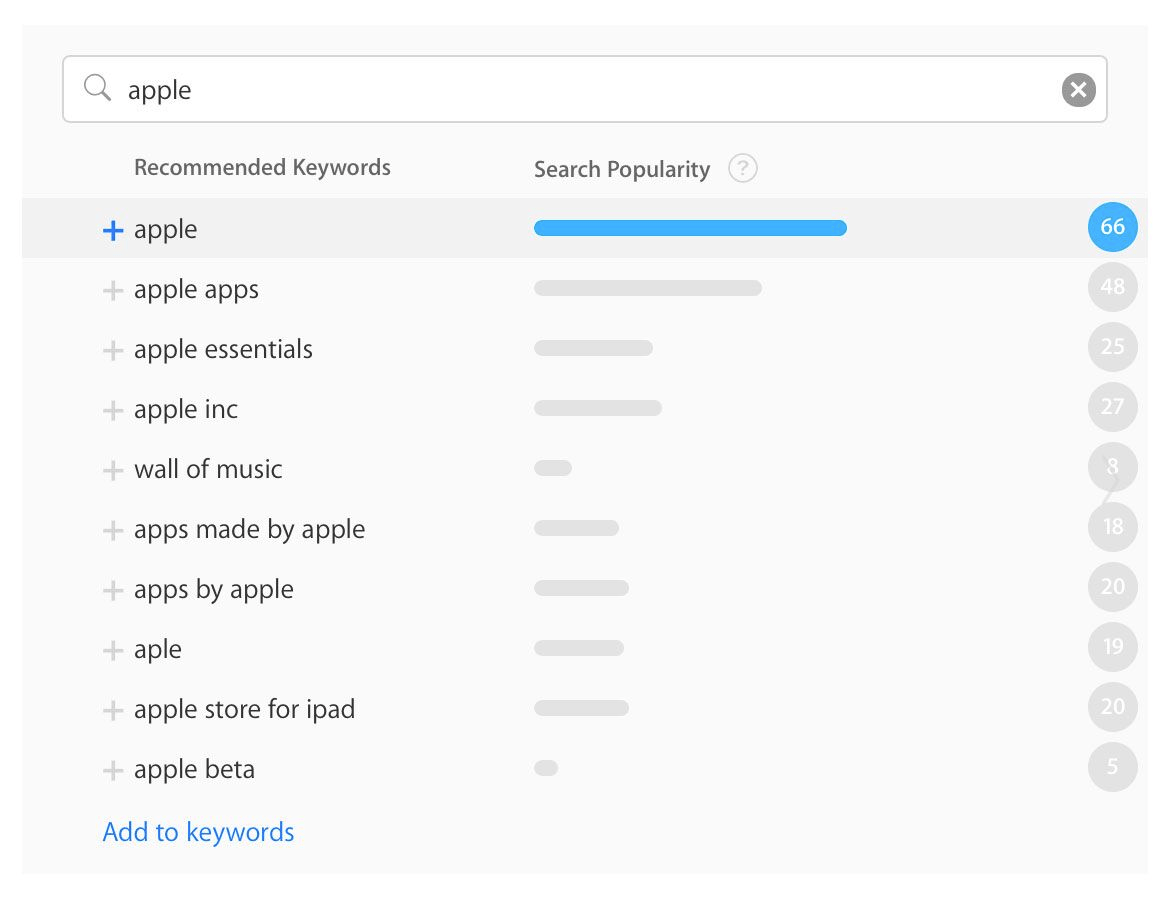 In addition to the Search Popularity data, developers can look into the "Search Terms" section of your Ad Group to see which keywords are performing. Sorting the results by different parameters (impressions, TTR, Conversion, etc…) you can gain a lot of insight into your highest performing keywords and those that convert the highest percentage of users.
Remember that "Negative Keyword" field I mentioned earlier? Here's another opportunity to refine your campaigns and narrow down the poor performing keywords. From there, you can also apply changes to your optimization based on these findings.
In all, the Search Ads platform can improve visibility and provide a ton of valuable insight for developers and marketers.
2) Improving Retention & Re-engagement
Retention and re-engagement have always been important for an app's success, but now these terms are becoming a hot topic in the world of ASO. In a past conversation I had with Shani Rosenfelder of AppsFlyer, we talked about Google Play's algorithm changes that began to weight the retention and in-app metrics of apps when it comes to top charts and rankings. In order to achieve these metrics, it all starts with a great app, but there are definitely a few points to focus on that can help.
Updating your app is crucial to keeping your users engaged. By providing meaningful updates to your app, you can encourage users to re-discover portions of your app and improve overall retention (and revenue!).
Let's look at Pokemon Go, it's really the perfect example of how to recapture lost users and re-engage users who may have lost some of their interest. The updates that they release are long awaited and usually pretty substantial, all of which end up driving users back into the app.
During Christmas, Pokemon Go released an update that included special Pokemon in the game, along with discounted items for users to purchase. Months later, an update came that introduced their "Generation 2" Pokemon characters caused a massive amount of previously lost users to revisit the game for a fresh experience.
By implementing changes like this into your app, and framing those changes well in the "What's New" text, you can easily engage users who may otherwise pass over your app.
3) Push The Emojis 😀📱📈🔥
We wouldn't be done discussing re-engagement without mentioning push notifications. Push notifications are an extremely important part of re-engaging your users, and a well-timed notification can drive users back into the app and ultimately lead to higher revenue. Shopping apps like Amazon and Overstock.com execute this very well. These apps will notify users if they leave something in their cart without purchasing, and also provide push notifications containing recommendations based on browsing habits. These are fantastic examples of how you can leverage push notifications to encourage re-engagement and sales.
A few months ago, Leanplum and App Annie released a report that highlighted a mere 2.44% open rate on a standard push notification. That means, on average, only 2.44% of your users open your app after a notification! In this same study, they stated that push notifications containing emojis were opened 4.51% of the time! Something so simple can lead to a huge difference for your app from an ASO and revenue perspective. Now, in the same token, you don't want to send just an emoji-laden message all the time, but again, a well-timed, well-placed emoji can play a huge role in your notification's success. Something so small as a 😏 can improve your app. To note, in testing with a few of our clients, we did see some improved open rates with emojis. It sounds crazy, but give it a try and let us know if you see any benefit!
4) Using iOS 10.3 to Gain Reviews
Everyone knows that reviews are key to an app's success. Having a high review count and star value is essentially par for the course in 2017. To this point, most developers have utilized 3rd party or custom software to prompt users for reviews and gain feedback.
Apple's iOS 10.3 update provides developers the ability to actually post these reviews in-app, and even more importantly respond to reviews. In the past, developers have been able to respond to Google Play reviews, but Apple never had this capability. By opening this functionality to developers, it provides a great opportunity to identify bugs/issues with your app, reply to those poor reviews and, in a perfect world, fix the user's problem and change the 1 star review to a more positive one.
This new feature by Apple will create a need for developers to focus very carefully on where and when they prompt a user for this feedback, because Apple is going to limit how many times you're able to prompt the user to give feedback.
5) Short Description for Rank Benefit
A lot of developers that we work with, and a lot of the Short Descriptions we see in the Play Store are focused exclusively on conversions. While this is an important part of the overall approach to Short Descriptions, there is also keyword rank value!
Developers absolutely need to test their Short Descriptions for conversions, but also stay vigilant of the keywords that they use. With all of our clients, we focus heavily on injecting keywords, and working to improve conversions. A "good" short description introduces the main value of your app and is the developer's biggest opportunity to "sell" the user. This is no easy task in only 80 characters!
A good way to understand what type of Short Description will work for your app is to research your competitors and find out what features they highlight in this 80 character snippet. This is an important piece to any ASO strategy, but it can be a little bit tedious to click through apps on an Android device to view their Short Description. This is another problem we wanted to solve for developers, so we created another simple Chrome and Safari [direct download[ extension, which adds the Short Description text into the app listing on the web!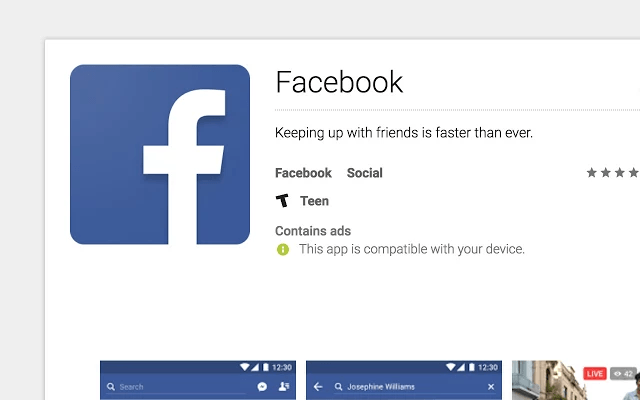 To sum up, looking at the ASO landscape as a whole, it's becoming more challenging to gain visibility over competitors. It's important for developers to understand the new technologies available for their apps and utilize every possible research avenue. By leveraging Search Ads and gaining keyword insight, developers can quickly get a clear picture of their app's "wins" and "loss" areas. Give some attention to each little piece of the ASO pie and you'll realize what your app has been missing!
Check out AppsFlyer's blog for the full post and more information!