As one of the fastest growing marketing tactics, ASO sometimes gets a bad rap from those who have tried but failed in the optimization game. Because of this, we are here today to debunk 5 ASO myths.
Our mission is to arm you with the necessary information to make better decisions when it comes to choosing an ASO strategy or dedicated partner.
Let's dive in and discover why you shouldn't believe these 5 ASO myths:
Myth #1 My awesome app will rank better on the app stores because it's awesome
Let's face it. You could have the best freaking idea in the entire world that solves a huge pain point for people around the world, an excellent in-app purchase model and the potential to become a viral sensation. But if a tree (app) falls in the woods (search results) with no one to hear (download) it, does it really make a sound (convert)?
You have to armor up with a well-optimized product page to have a fighting chance in the app stores.
Even if your app is the best idea in the world, who will it possibly help if no one can discover it? If you are looking for a place to start, take our ASO Checklist Challenge to audit your current standings and identify clear areas to optimize!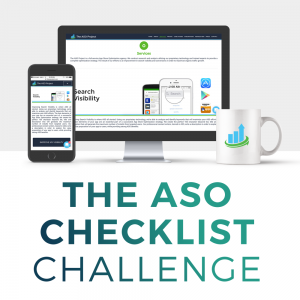 Myth #2 Descriptions aren't that important for ASO
The description is not dead. Many developers neglect the description thinking that no one is going to take the time to read it. Well, while many people won't read your entire description word for word, some may skim it for more details on how to use your app or for bulleted key points of interest. Further more, you should use your description as an opportunity to work in keywords.
ASO Protip: Remember to write for the reader and not for the algorithm and include keywords in a natural tone of voice.
Myth #3 Screenshots are only for showing users what your app looks like
What?! Lazy. When considering your screenshots and preview, it's time to get creative. While you should make sure your UI is not obstructed by overly canted devices or additional graphic elements in front of the screens, it's important to make an extra effort to illustrate your app's key points of value in a visually enticing way.
Check out this high performing set of graphics we created for our client, The Great Courses Plus. The app was featured by Apple on the App Store recently!
ASO Protip: iOS 11 search results now display 3 screenshots instead of 2. Utilize the extra screen, but remember that the screens are smaller, so text needs to be a little larger and maybe bolder!

Myth #4 Change your title a lot to rank for more keywords!
You must resist the urge to change your title (and overall optimization) too frequently. The app stores can take time to index keywords (Google Play especially) and the title is a very valuable place to add your most important terms. Changing it too much will result in a lot of keyword fluctuation and a lack of consistency in rankings. Try to give a new optimization at least two weeks to index and watch the rankings closely to see if there is a plateau, or if they continue to climb. Data-driven decisions are the most important! Don't make changes based on a calendar!
Myth #5 You should include as many keywords as possible to rank higher
Please, for the love of apps, don't keyword stuff your description. What's keyword stuffing you ask?  Keyword stuffing is the practice of including a long list of "keywords" in an attempt to manipulate an app's ranking in search results. As we previously stated, it is important to work keywords into your description but in a natural tone of voice way. Keyword stuffing is a blackhat tactic and Apple doesn't take kindly to it:
"Repetitive and/or irrelevant use of keywords in the app title, description or promotional description can create an unpleasant user experience and can result in an app suspension." – Apple
So please, don't do it!
And there you have them! 5 ASO myths you shouldn't believe. We've got the answers, so feel free to ask questions. We're here to help.